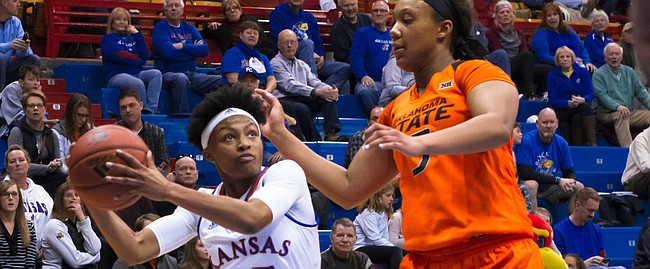 After Kansas earned its first Big 12 win over TCU earlier this season, the team doused coach Brandon Schneider with Gatorade as he entered the locker room. This time, as the Jayhawks picked up their second conference win, the coaches returned the favor.
"We were definitely blindsided," sophomore Aisia Robertson said.
"Not at all," senior Timeka O'Neal said with a laugh when asked if she saw it coming.
Before that, the Kansas players blitzed Oklahoma State on the court in what Schneider called one of their best team defensive efforts of the season.
Kansas held Oklahoma State to 31 percent shooting, and forced 25 turnovers to earn its second Big 12 win of the season, 67-49, at Allen Fieldhouse on Wednesday night.
Oklahoma State (13-10, 3-9) junior Kaylee Jensen entered Wednesday's game as the leading scorer in the Big 12, but she was held to 11 points on 4-of-14 shooting.
"We had to have ball pressure, and obviously whoever was matched up with her (Jensen) had to be in position and have great weak side help," Schneider said. "We just tried to make her feel crowded as much as we could."
The Cowgirls entered Wednesday's game ranked fourth in the conference in rebounding margin, but the Jayhawks — who ranked last — outrebounded them 43-42.
"I thought our team showed a lot of toughness," Schneider said. "To even be in the neighborhood in the rebounding battle with these guys (Oklahoma State) is something to be proud of."
Junior Jessica Washington scored 12 points while sophomore Kylee Kopatich added seven points, but both players were saddled with foul trouble in the second and third quarters. So the Jayhawks needed somebody to step up on the offensive end.
O'Neal and Robertson did just that.
Robertson scored a team-high 14 points, and O'Neal added 13 points and made three shots from beyond the arc. The scoring outputs were season-highs for both players.
"They were terrific," Schneider said. "It's nice to see Aisia be aggressive. Meek (O'Neal) continues to do what we expect her to do. We trust her three-point shot so much, especially when she catches it in rhythm."
The Jayhawks (8-16, 2-11) never trailed in the game, and opened up an 8-0 lead off baskets from Washington, Kopatich and junior Chayla Cheadle. They only scored six points over the next eight minutes, but maintained their lead by holding the Cowgirls to six points in the quarter, tying their best defensive quarter of the season.
Then the Jayhawks opened up the second quarter on a 6-1 run to open up a 20-7 lead, and took a 29-15 lead into halftime.
It was more of the same in the third quarter, and the Jayhawks eventually opened up a 21-point lead after back-to-back 3-pointers by Washington and O'Neal.
The Cowgirls never threatened the rest of the way.
Kansas will travel to Texas at 1:30 p.m. Saturday.