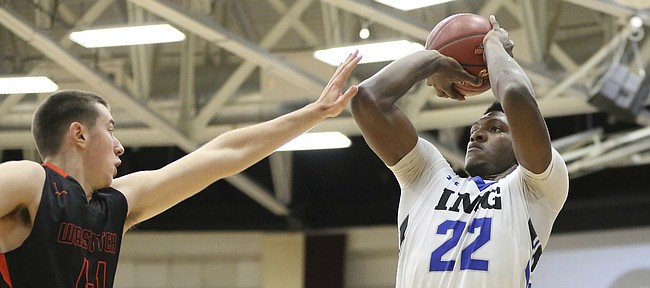 Over the course of the past several days, Silvio De Sousa completed the academic work necessary to graduate early from high school, relocated from Bradenton, Fla., to Lawrence, and experienced his first basketball practice at the University of Kansas.
The 6-foot-9 power forward, though, won't be able to add an in-game collegiate debut to his whirlwind December.
KU coach Bill Self said Wednesday De Sousa, a five-star big man who just completed his prep career at IMG Academy, won't be available for the Jayhawks' Friday Big 12 opener at Texas.
Once the NCAA confirms De Sousa's amateur status, Self explained, the young post player will be able to put on his No. 22 Kansas uniform and check into a game.
"I'd like to be able to say within a week," Self replied, when asked how soon De Sousa could officially become an active member of the roster. "But I don't know that to be a fact."
From the day De Sousa signed, Self and his staff knew reclassifying and enrolling at KU for the spring semester would be a possibility, so much of the "leg work" of making sure it could play out that way was done in advance.
"But it's not a situation that the NCAA actually moves on until he's actually been cleared. And we didn't know he was going to be eligible to come to Kansas. The NCAA — think about it — are they going to go spend all their time researching something that they don't even know is going to happen? And the answer would be no," Self said.
Neither KU nor the NCAA knew for sure De Sousa had finished his high school coursework until this past Friday evening, before the Christmas holiday weekend.
"We're kind of at the mercy of them right now," Self said of the NCAA.
The KU coach joked he called the NCAA offices at 8:01 a.m. Wednesday, "And there was a recording saying 'Happy holidays.' So, I don't think they report back until Jan. 2."
Even though the 245-pound addition to the Jayhawks' frontcourt can't help his teammates immediately, Self wasn't worried about that part of the equation. The 15th-year Kansas coach said his team practiced Wednesday morning against various sets Texas (9-3) runs and an evening session would properly introduce De Sousa to Self's man-to-man defense and principles.
"It's going to take him two weeks, at least," Self added for emphasis, "to get to the point where he can be out there, even if we just simplify two out-of-bounds plays, two side-out-of-bounds, a couple of zone plays, a couple of man plays and how we guard ball screens and stuff. Even if we just do that, that will still take a couple of weeks."
As for the players, the No. 11-ranked Jayhawks (10-2) seem cautiously optimistic about how quickly they can help De Sousa, a 19-year-old originally from Luanda, Angola, get acclimated.
Senior guard Svi Mykhailiuk described the process of pulling that off as "tough," because the rest of the roster has been working together since the summer and De Sousa arrived at KU late Tuesday night. Even so, Mykhailuk assessed: "I think he's pretty smart, and he's going to learn quick."
KU senior point guard Devonte' Graham began researching De Sousa and checking out his video highlights when the power forward first committed. Now that the freshman is on campus, Graham said he and other more established players can attempt to expedite De Sousa's college basketball education by letting the big man know what Self and the coaching staff will expect of him.
"He's got a pretty good feel defensively, where to be on the court and stuff like that, and he's active and you can tell that he's a quick learner," Graham shared. "I don't think it will be too hard for him to come in and actually do the little things that coach likes. And he plays hard, and he's athletic."
Graham described De Sousa as "pretty strong for (being) straight out of high school," while Mykhailiuk shared the forward reminded him of a shorter version of sophomore center Udoka Azubuike.
Whenever De Sousa does debut for Kansas — following Friday's game at Texas, KU plays Jan. 2 versus Texas Tech at Allen Fieldhouse, and Jan. 6 at TCU — the fresh-out-of-high-school post player will be thrown into the fire of Big 12 play.
"It could be real challenging," Graham said of De Sousa's situation, before adding he thinks the new Jayhawk possesses the size to battle in the paint. "If he just does the little things like rebound and run the floor and just help the team out, it will be easier for 'Dok. 'Dok don't got to play as many minutes and just little things like that that he can help us with."
KU's plan, Graham affirmed, is to ease De Sousa into the rotation, and, of course, that's what Self wants, too.
"Certainly we're not going to be as good as we can be, though, 'til February — let's just write it down there," the coach said. "If we can bide as much time now and keep getting better but knowing down the road we can be quite a bit better if things work out with Billy (Preston), obviously, and when Silvio gets cleared, it's going to be a couple of weeks even after those guys get cleared that we'll start seeing a difference, I think."
No update on Preston
Held out of KU's first 12 games as the university's compliance office investigated a potential issue with the vehicle Preston drove during a single-car, non-injury accident in November, the freshman forward's status remains up in the air as Kansas heads into conference play.
Self said Wednesday he felt "much better" about soon receiving "somewhat of an answer" on Preston's availability — "even if it's not a definitive one" — and learning what the next step might be.
"I do feel comfortable with that," Self said. "So hopefully we'll hear something soon from our people."
A 6-10, 240-pound forward, Preston was a McDonald's All-American at Oka Hill Academy (Va.), and rated the No. 10 prospect in his class by Rivals.