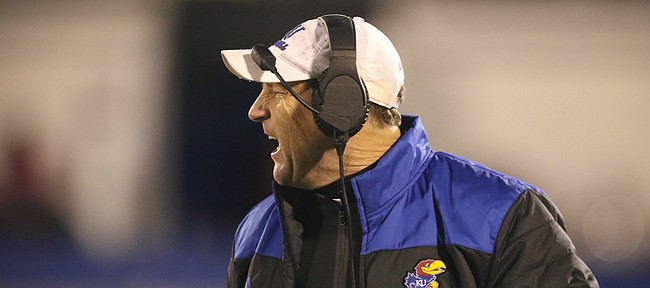 The last time University of Kansas football head coach David Beaty fielded questions from the media — just after his team finished a 1-11 season with a road loss at Oklahoma State on the final Saturday of November — he expressed his gratitude toward the university's administration for keeping him around another year.
In the midst of his postgame comments, while explaining the patience KU athletic director Sheahon Zenger displayed in continuing to back him, despite the coach's 3-33 record in three seasons, Beaty stated rebuilds don't always include a quick fix.
"Sometimes there is, but it will be short-lived if you're not careful," Beaty said at the time, "So we're trying to do it the right way. Trying to do it with guys that have three to four-plus years to where we can develop them."
In the weeks that followed those remarks, Beaty and his staff went out and recruited seven more junior college players to add to KU's 2018 recruiting class. When the three-day December early signing period began this past week, Kansas received letters of intent from all seven of those juco prospects, plus two more, as well as a graduate transfer.
By Friday, only five of KU's 15 signees joined the Jayhawks from the high school ranks, with four seasons of eligibility to potentially help improve the on-field product. The class most certainly will add a few more signings in February, from current prep seniors, junior college players or some combination of the two. In fact, Ryan Malbrough, a prep linebacker from Louisiana, gave a nonbinding verbal pledge to Kansas on Christmas eve.
Beaty's explanation on the ratio of juco players to preps — nine to five — who already signed will have to wait. The coach decided not to hold a season wrap-up press conference in December this year, unlike 12 months earlier, when he spoke to media members for roughly 30 minutes about the 2016 season in general, his contract extension and the eight mid-year signees the program had added that day.
The NCAA only allows one signing day press conference, but it's obviously easy to get around that by labeling a December session with media as an end-of-year wrap-up, and then including time to discuss signees. KU football simply decided against having a 2017-in-review presser. Beaty's next scheduled question-and-answer session at KU's Anderson Family Football Complex will come on or near the traditional National Signing Day, Feb. 7.
"I am very pleased with the type of players we were able to add to our Jayhawk family," Beaty stated in a press release sent out the Friday evening before Christmas weekend. "Our staff has been relentless out on the recruiting trail and it has paid some dividends. We still have some work to do to complete our class, but I am looking forward to getting some of these guys on campus in the spring and getting right to work."
While prep signees Corione Harris, Mac Copeland, Nick Williams, Jacobi Lott and Anthony "Pooka" Williams Jr. could potentially spend four to five years in the program — "the right way," as described previously by Beaty — that won't be the case for the majority of the class as it currently stands.
Graduate transfer tight end Mavin Saunders, from Florida State, will only play one season at Kansas.
The possible longevity of the nine junior college transfers varies.
Two best-case scenarios among the juco group exist with safety Davon Ferguson (Hartnell College) and receiver Stephon Robinson (El Camino College), who will arrive at KU as sophomores for the 2018 season. In theory, each could contribute over the course of three seasons and perhaps even utilize a redshirt year to further their development.
The other seven — defensive tackle Charles Cole; defensive ends Foster Dixson, Azur Kamara and Najee Stevens-McKenzie; cornerbacks Elmore Hempstead Jr. and Elijah Jones; and safety Jeremiah McCullough — will be juniors next year.
None of them can play more than two seasons, and two — Dixson, who began his college career with a redshirt season and a year of playing at UTEP before moving on this past fall to West Los Angeles College; and Stevens-McKenzie, who took a redshirt in 2015 at Fort Scott Community College and played two seasons at ASA College (N.Y.) — cannot redshirt, because they've already used up three of their years of eligibility.
Hypothetically, Cole, Kamara, Hempstead, Jones and McCullough could resort to a redshirt year at some point and still wind up contributing for the Jayhawks in 2020, becoming three-year players for the program.
The 2017 KU roster included five former junior college transfers who were seniors: Isi Holani, Cole Moos, Jacky Dezir, Jayson Rhodes and DeeIsaac Davis. None of them made use of a redshirt season for development while at KU. Doing so wasn't even an option for defensive tackle Dezir, who took one at College of DuPage, or offensive guard Rhodes, who did the same at Blinn College.
However, defensive tackle Holani should be able to take a medical redshirt and return next season after missing the final 10 games of 2017. Plus, kicker Gabriel Rui — listed as a senior entering the season — was granted a redshirt for 2016, because he didn't appear in a game that year.
Twelve former junior college players were seniors on the 2016 Kansas roster: Brandon Stewart, Fish Smithson, Marnez Ogletree, Damani Mosby, Ke'aun Kinner, Bazie Bates IV, Anthony Olobia, D'Andre Banks, Will Smith, Shakiem Barbel, Austin Moses and Devon Williams.
Only Smithson, who arrived at KU as a sophomore safety, played three years in the program.
Mosby, Olobia, Barbel and Williams all took redshirts in 2014, before Beaty arrived. Stewart, Ogletree, Bates and Banks only had two years of eligibility to employ when they joined the Jayhawks.
Just how Beaty and his staff plan to implement their nine newest junior college talents — and how productive each player can become in the Big 12 — remains to be seen.