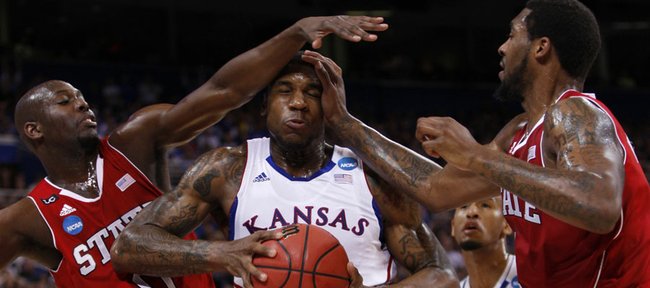 As annual guessing games go, one of the more enjoyable ones involves projecting how many players on the Kansas basketball roster will play in at least one NBA game.
Entering his 15th season at Kansas since taking over for Roy Williams, head coach Bill Self has had at least two NBA players in each season and once had eight on the same roster who eventually earned a paycheck in the world's best basketball league.
So how many players who compete in games for KU this coming season will play in at least one NBA game?
Six.
In order of their chances, from greatest to shakiest, they are:
1 - Udoka Azubuike — Any 7-footer who weighs 280 pounds, has good feet, good hands and an explosiveness that fuels dunks and blocked shots is going to be given every chance to succeed because not too many walk the earth. He's an automatic.
2 - Billy Preston — Not too many 6-foot-10, 240-pound basketball players can drive, pass and shoot as well as Preston. Is he mature enough to handle the aggressive coaching he'll receive in a way that makes him a more driven, win-at-all-costs competitor in the mold of Josh Jackson? Probably not. Most McDonald's All-Americans aren't. The NBA will love his potential regardless.
3 - Malik Newman — Such deep range, such a soft touch and such a quick release blend to make Newman a natural scorer in any league. His ability to drive gives him all the breathing room he needs to get shots up. No reason he shouldn't work his way into the first round of the NBA draft.
4 - Devonte' Graham — His unselfish nature serves him well because at his size, point guard will be his position in the NBA. His deep shooting range will draw the attention of NBA scouts as well, who will watch closely this year to see if he does a better job of stopping dribble penetration than he did a year ago.
5 - Lagerald Vick — His long arms and outrageous leaping ability make him look as if he's about 6-8 at times, but he's just 6-5 and 175 pounds, not particularly big by NBA shooting guard standards. He'll need to stay four years at Kansas to give himself the best chance of making it to the NBA. His physical tools, including an ultra-quick first step and a soft shooting touch, should get him there, especially if he excels at both ends for the second half of his KU career.
6 - Svi Mykhailiuk — A more aggressive senior season packed with more hard drives to the hoop and greater defensive effort can help Svi's chances of earning an NBA jersey, the goal that drove him to play college basketball, instead of staying in Ukraine to play basketball professionally.
He's been a 40-percent 3-point shooter the past two seasons and with increased strength can improve his range. What position can he guard? It's a question in college, an even greater one in the NBA.
Assuming those six do get to the NBA, along with rookies Josh Jackson and Frank Mason, and assuming Carlton Bragg and Perry Ellis never do, Self teams have averaged 5.2 NBA players.
Here's a look at the NBA players, including the six projected players from this year's team, on each Self team and what round that Jayhawks squad advanced to in the NCAA tournament:
2003-04 (Four): J.R. Giddens, Keith Langford, Aaron Miles, Wayne Simien. Elite Eight.
2004-05 (Six): Giddens, Darnell Jackson, Sasha Kaun, Langford, Miles, Simien. First-round loss.
2005-06 (Five): Mario Chalmers, D. Jackson, Kaun, Brandon Rush, Julian Wright. First-round loss.
2006-07 (Seven): Darrell Arthur, Chalmers, Sherron Collins, D. Jackson, Kaun, Rush, Wright. Elite Eight.
2007-08 (Seven): Cole Aldrich, Arthur, Chalmers, Collins, D. Jackson, Kaun, Rush. National title.
2008-09 (Six): Aldrich, Chalmers, Collins, Marcus Morris, Markieff Morris, Tyshawn Taylor. Sweet 16.
2009-10 (Eight): Aldrich, Collins, Xavier Henry, Marcus Morris, Markieff Morris, Thomas Robinson, Taylor, Jeff Withey. Round of 32.
2010-11 (Six): Marcus Morris, Markieff Morris, Robinson, Josh Selby, Taylor, Withey. Elite Eight.
2011-12 (Three): Robinson, Taylor, Withey. National runner-up.
2012-13 (Two): Ben McLemore, Withey. Sweet 16.
2013-14 (Five): Tarik Black, Joel Embiid, Frank Mason, Wayne Selden, Andrew Wiggins. Round of 32.
2014-15 (Six): Cliff Alexander, Graham, Mason, Mykhailiuk, Kelly Oubre, Selden. Round of 32.
2015-16 (Six): Cheick Diallo, Graham, Mason, Mykhailiuk, Selden, Vick. Elite Eight.
2016-17 (Six): Azubuike, Graham, Josh Jackson, Mason, Mykhailiuk, Vick. Elite Eight.
More like this story on KUsports.com