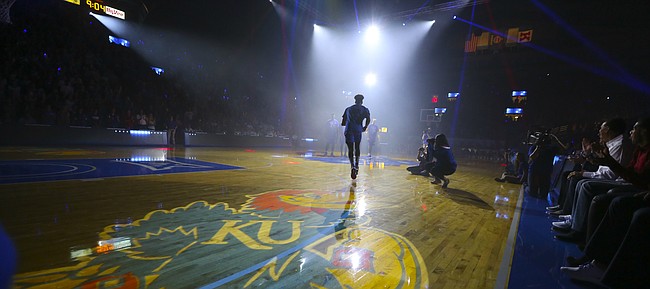 Kansas officials announced Friday afternoon the official date of Late Night in the Phog 2017.
As had been expected by fans and recruits alike, the 33rd annual season tip-off event will take place Sept. 30 and will feature a variety of activities beginning at 10 a.m. and running through the on-court basketball fun slated to begin at 6:30 p.m. inside Allen Fieldhouse.
Doors will open for Late Night at 4:30 p.m. for KU students and 5 p.m. for the general public. Parking is free on campus except for in the parking garage north of Allen Fieldhouse.
Late Night again is free to all fans, who are encouraged to bring nonperishable food items or monetary donations, which Kansas Athletics will donate to Just Food of Douglas County.
This year's Late Night will feature many of the same events that KU fans have come to love. In addition to scrimmages from the men's and women's basketball teams, members of both squads will participate in skits leading up to game time.
Before that, Late Night will feature music by the KU pep band, routines from KU's spirit squad and dance teams, video highlights from KU's award-winning Rock Chalk Video department and coach and player introductions
For the third-straight year, two fans will have the opportunity to win $10,000 from KU coach Bill Self by making a half-court shot at Late Night. In each of the last two Late Nights, Director of Basketball Operations Brennan Bechard has taken and made the shot on behalf of one of the participants.
Spectrum Sports will handle the television production of Late Night, which can be seen live on the Jayhawk TV Network, including ESPN3. Brian Hanni and Greg Gurley will serve as hosts.
A few noteworthy additions to this year's event include:
• KU's recently adopted clear bag policy and walk-through metal detectors will be in effect.
• KU and Lawrence public safety personnel will have an increased presence.
• KU's social media accounts will have updates throughout the day in case of any time changes.
Beginning at 10 a.m., the Phog Festival will unfold on the lawn in front of Allen Fieldhouse and will feature a variety of activities for all fans to enjoy leading up to Late Night, including a Family Fun Zone, a mobile video board and a live DJ. The festival will also include food trucks, giveaways, interactive displays and much more throughout the day.