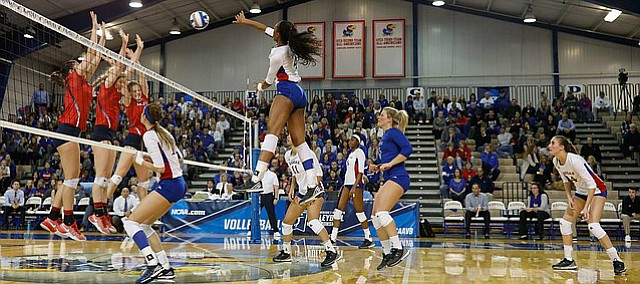 The seniors on the Kansas volleyball team are proud of the banners that the Jayhawks have been able to hang over the past two years, but they're not content.
With the Final Four set to be played at Sprint Center in Kansas City, Mo. the No. 8-ranked Jayhawks are well aware that the dots could align for them if they take care of business in the regular season. However, after a disappointing second-round loss to Creighton in the NCAA Tournament, the senior-laden Kansas team does not want to look too far ahead this season.
"We know what we can do. We've been to the Final Four, we've won a Big 12 championship, but we want more and I know we know what it takes to get there and we can do it," senior setter Ainise Havili said at KU's fall sports media day. "We have all skills in the world for it, so it's just a matter of not rushing too much, enjoying the process, all of that."
Havili and Big 12 Preseason Player of the Year Kelsie Payne will headline a star-studded senior class for the Jayhawks, that also includes Tori Miller, Kayla Cheadle, Madison Rigdon, Addie Barry and transfers Gabby Simpson and Taylor Alexander.
"Half of the team has been in college for at least three years. I think that's really rare, especially in college volleyball because it's tough. It's a tough sport and so not all the time do you make it all the way to the end," Payne said. "But having eight seniors, it's awesome. (We have) a lot of experience. All of us are really friendly and open, so it's kind of like having one big family, especially in one class."
Payne, Havili and Rigdon figure to have firm grasps on their starting spots according to coach Ray Bechard, but there will be a lot of competition at the other three positions early on in the season.
"The one thing that's a little bit different about this time of year is that I think last year we were pretty set on what our lineup would look like. I can tell you Havili will be out there for sure," Bechard said. "Obviously Payne and Rigdon are going to be out there, but after that we've got a lot of positions we're trying to clarify. One is the libero position. We lost a premiere kid in Cassie Wait."
Bechard listed Miller, Barry, sophomore Allie Nelson and redshirt freshman Jacqui Mostrom as players who are vying to be the starting libero.
While Bechard knows it will be a tall task to replace Wait and middle blocker Tayler Soucie, who was a four-year starter, he believes that the Jayhawks' depth at middle blocker will be a big asset.
"Obviously we'll miss a Tayler Soucie type, but Taylor Alexander, the transfer from Ole Miss has come in and led well," Bechard said. "She's got one year left, and she's playing like she really wants to be a part of something special. Kayla Cheadle is back with Mmachi Nwoke, along with Zoe Hill, who played quite a bit last year."
The Jayhawks are only adding one true freshman into the mix in Olathe South product Annika Carlson, who will serve as a backup setter to Havili. Bechard has liked what he's seen so far from Carlson, and he's been encouraged by how the transfer trio of Alexander, Simpson and Nwoke have meshed into the program. Both Simpson and Nwoke come to KU from Pac 12 schools in Colorado and Arizona State.
"I think all three of them are hungry — two of them are in their last year, so I think that creates a little bit more of an urgency. Taylor Alexander, she's a pretty bonafide leader and has stepped in and I think created a good energy," Bechard said. "Gabby, the same way, has played at a high level. I think what they bring to our gym is a more physical presence, which is good."
While Bechard has been pleased with the positive energy in practice, he sad the Jayhawks did suffer a big blow in the preseason after losing outside hitter Patricia Montero to a torn ACL for the second time in the last three years. Bechard will look toward sophomores Jada Burse and Ashley Smith to take on an expanded role at outside hitter while playing behind Rigdon.
"(Montero) was getting back into it, and there was nobody who was playing as well as she was in our two-a-days. But we know she'll get great care here," Bechard said. "We know that she'll have an opportunity to be supported at a high level by all of us. A year from now, we'll be talking about Montero again and how well she's going to help us."
The experienced group of Jayhawks will be put to the test early and often in their non-conference schedule, which will include matches against three teams in the top 25 of the AVCA preseason poll. All three top 25 showdowns will be at home, as the Jayhawks will host No. 14 Kentucky on Sept. 4, No. 25 Purdue on Sept. 8 and No. 9 Creighton on Sept. 9.
"I'm super excited. I think this is the best preseason schedule that Kansas volleyball has ever had or the toughest, so I'm really excited," Payne said. "The Big 12 is getting better every year, so now that we have a tougher preseason it will help us get ready for the games we're going to see in conference."
Kansas will open the season Friday with a road tilt against NC State in the Wolfpack Invitational.