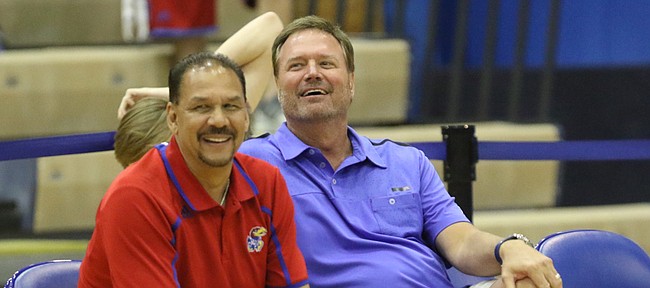 Earlier this month, reports surfaced that Duke basketball coach Mike Krzyzewski was planning to close practices to pro scouts this season, and, instead, would host preseason NBA scouting combines Oct. 19 and 25.
The move is similar to something Kentucky coach John Calipari has done during the past couple of years —and is doing again this season, Oct. 9-10 — when the Wildcats, like the Blue Devils this season, were loaded with likely NBA talent.
While Duke and Kentucky going to the combine system certainly catches the attention of the college basketball world, don't expect to see Kansas follow suit any time soon.
"We've actually talked about it as a staff," KU coach Bill Self told the Journal-World Saturday night. "It may be good for some schools, but I don't see it being great for us."
The reasons behind Self's stance on the topic are many, and they begin with the fact that he likes the connection between his program and pro scouts. Self said the Jayhawks routinely have anywhere from 1-10 NBA scouts at a given practice during most seasons and, after each one, the veteran KU coach requires his players to go introduce themselves to those in attendance.
"I actually enjoy NBA people coming to our practices," Self said. "That, to me, is not a distraction. A distraction would be stopping what you're doing to change your routine."
That has never been the case and, outside of a few rare instances, Self said he has never — nor does he believe he ever would — closed practice to scouts.
"I'm not one to say, 'This is the only time you can come,'" Self said. "In fact, I think those guys add to practice because every day when we're working out, our players know who's there watching them."
Beyond that, Self believes the idea of staging a combine-style event for evaluation purposes is not necessary at Kansas.
"It probably works well for other people," he said. "And certainly we have good enough players to be evaluated and watched. But they're all gonna be evaluated and watched anyway because at one point or another every NBA team comes through here to watch our guys play. We're all for our guys getting seen, but we think they get seen plenty the way things are."
Gak on visit
Deng Gak, the No. 91-ranked player in the 2017 recruiting class and one of the top targets for the Kansas program recently shared his thoughts about his recent in-home visit from the KU coaching staff with JayhawkSlant.com.
"My in-home visit with Kansas was great," Gak told Shay Wildeboor of JayhawkSlant.com. "Coach Self and Coach (Norm) Roberts came to visit me and we had a great time. The thing that I really liked was Coach Self was really honest with me and told me his vision for me and the team next year."
Gak, a 6-foot-9, 219-pound, four-star prospect from Blairstown, New Jersey, said he was looking for a place he could earn immediate playing time and that would help him develop quickly.
He plans to visit KU on Oct. 21, has scheduled visits with Miami (Sept. 23), Florida (Oct. 7), Indiana (Oct. 14) and also is considering Duke.
Waters coming to town
Tremont Waters, the No. 36-ranked player in the 2017 recruiting class, will visit Kentucky, Indiana and Kansas during the next three weekends, according to Adam Zagoria of zagsblog.com.
Waters, a 5-11, 160-pound point guard from West Haven, Connecticut, already has visited Georgetown.
The four-star point guard averaged 10 points, six assists and three rebounds per game during the June NBPA Camp, where he led his team to the title and won MVP honors.
Waters has a Top 7 of Duke, Georgetown, Indiana, Kansas, Kentucky, UConn and Yale.