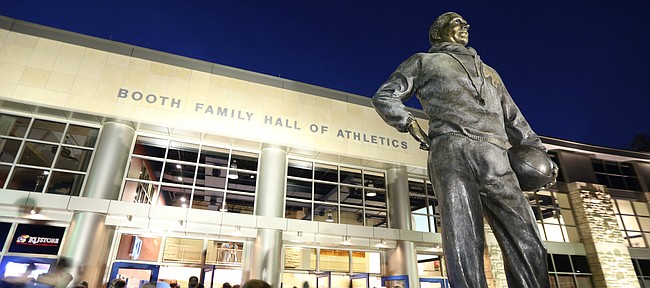 If you want to be a Kansas basketball player, 82 is an important number to know. It's how many games are in an NBA season. It's also how many times more money KU coach Bill Self made than his 13 men's basketball scholarship athletes last year.
This may seem unbelievable, but it's true: Self earned more than $3.9 million, while the 13 players on scholarship took home $47,372 combined. The unbelievable part is that the players were paid at all.
This was a new development last season: For the first time ever, NCAA student-athletes got a raise. A 2014 court ruling paved the way for Division I schools to implement what are called cost-of-attendance stipends. These stipends, which range from $1,400 to $6,100 per year, are considered additional financial aid to help scholarship students cover "miscellaneous" expenses. In a different light, they look like a bridge between two worlds: On one side is a place where student-athletes don't get paid to play, an arrangement U.S. courts increasingly agree violates anti-trust laws. On the other side is a land of the unknown, where open-market forces promise to reshape the landscape of college sports as we know it. It's easy to see why athletics departments are watching their steps while clinging to the ropes.
How KU student-athletes get paid
The annual value of a full athletics scholarship for an out-of-state KU athlete was $38,122 in 2015-16. "This covers books, tuition and fees, room, board and other educational expenses as determined by the university," explained Jim Marchiony, KU Athletics Inc. spokesman. The scholarships are paid out in 10 installments during the educational year, and the amount varies depending on whether the student-athlete lives on or off campus. Here's a look at how those payments break down:
Living on campus
Total per month: $731
Portion for board: $367
Portion from new COA stipend: $364
Living off campus
Total per month: $1,232
Portion for room: $501
Portion for board: $367
Portion from new COA stipend: $364
— Source: KU Athletics Inc.
Meanwhile, every bridge has its costs. For KU Athletics Inc., that was $870,000 in extra spending last year, the total amount of stipend money paid to its more than 300 full- and partial-scholarship athletes. For Division I students who don't play sports, the price is more nebulous. In addition to serving as a benchmark for the new athletics stipends, a university's cost-of-attendance figure, which we'll call COA, effectively sets the ceiling for student borrowing. If it goes up, so can student debt.
And on the basketball court, the cost could be wins and losses. Only three Big 12 schools offer less in COA stipends than KU, based on a number that, theoretically at least, is beyond their control. What that will mean for recruiting is anyone's guess. Early signs point to stability there, but as the numbers grow bigger, so will the stakes.
What is fair to the players? And what can athletics departments afford? As the courts try to put an end to these questions, KU players, families and athletics staff are seeking answers to them, too.
Jeffrey Greene, whose son Brannen played three seasons for KU before turning pro this summer, believes you can't put a price on a college education.
"The scholarship I got at Pittsburg State has allowed me to be financially independent," explains the elder Greene, twice an all-conference selection in his days on the hardwood. "Without that degree, I would not be, and without that scholarship there was no way for my parents to put me through college."
Still, it's the job of financial aid professionals to try. Enter COA, a number constructed to represent the true price of attending a year of college. Last year, KU's was set at $38,362 for an out-of-state student paying the standard rate. The package value of a full athletics scholarship like the one Brannen Greene received was basically the same — $38,122 — slightly adjusted down because the NCAA uses a fixed meal price as opposed to the one set by the university, according to KU Athletics spokesman Jim Marchiony. The new stipend portion of Greene's aid was $3,644, divided into 10 payments of, essentially, pocket money.
"I think the stipends have really helped the kids," says Greene's father, adding: "And their families. Of course, for all parents, their financial situations are different."
That was certainly the case for another recent KU departure, Jamari Traylor, who endured a year of homelessness on the streets of Chicago before finding his way to Lawrence. Traylor sent a portion of his COA money home to assist his mother, who still lives on the South Side, in paying her bills.
"It definitely helped me out a little bit," Traylor told the Kansas City Star last month.
For players whose financial straits aren't as dire as Traylor's, it might be worth putting some of that money away. More than three-quarters of the 5,265 student-athletes who participate each year in Division I men's basketball — a higher percentage than in any other sport — believe it's likely they'll go on to play professionally, according to the NCAA. At last month's NBA draft, only 44 of them heard their names called.
Traylor and Greene were not among them. Just one Jayhawk was: Cheick Diallo, a 6-foot-9 freshman from Mali who barely played for KU before joining a growing list of "one-and-dones" — basketball players who pass through college for a single year simply to fulfill the NBA's age restriction. Diallo recently struck a deal to play for the NBA rookie minimum salary of about $550,000 this fall, 14 times what he earned in financial aid compensation from Kansas. Meanwhile, Traylor and Greene, along with consensus all-American teammate Perry Ellis, caught on with the NBA Summer League, which doesn't pay its players but offers free room, board, training and meals. Sound familiar? None of them is likely to make an NBA roster this fall.
"We bring a lot of money (to the NCAA)," Traylor observed. "There's a lot of money to be passed around out there. I was definitely happy about (the stipends), and I'm not complaining or anything, but it's a billion-dollar industry, right?"
Exactly how much money is "out there" is difficult to pin down. The NCAA reports its annual March Madness men's basketball tournament is worth more than $1 billion. Throw in a few billion more from Division I schools' combined ticket and apparel sales, plus the $9.2 billion Americans bet on the tournament each year, according to the American Gaming Association, and the number gets big fast. Last year, financial website Nerd Wallet used a theoretical revenue-sharing model to calculate the average value of a Kansas men's basketball player at $608,500 annually. Put that number next to the $38,122 in annual financial aid a player like Traylor receives, and you can see his point.
As a former NCAA student-athlete and a father of two more, Jeffrey Greene is open to that line of argument, but he also sees potential pitfalls in an open-market approach.
"It opens up a Pandora's box," he says. "You start to lose control when they start paying the athletes. … The money would begin to come from the boosters, giving them more influence over players than even the coach. Then you have another world where now the coach has to balance the thoughts and wishes of the boosters.
"A highly heralded freshman recruit shouldn't get paid $2,500 in salary per month just for showing up," Greene adds. At the same time, he allows, the current system is only fair if student-athletes play out their four years and earn their degrees. Like his son, many of them don't.
"I do believe in the maturation process for a college kid," Greene says. "A little struggle helps a lot — it really helped me."
How student-athlete pay affects players and their families is just one part of the equation. Nonstudent-athletes, institutions and their athletics departments are all part of the broader NCAA model. Move a needle in one area, and another invariably goes up or down.
"You can't create a system that can really almost promote fraud." That was Alabama head football coach Nick Saban's reaction to the new stipends last fall, which gave his school a potential disadvantage in the SEC. Because Alabama had one of the lowest COAs in the conference — a factor that should make it more attractive to potential students because it represents affordability — the Crimson Tide's student-athlete stipends were effectively capped at $3,463 per year, well behind many of their peers'.
That could pose a serious threat, Saban saw, to recruiting and player morale. A few months later, as if by magic, Alabama's COA increased by almost 40 percent, rocketing its stipends to near the top of the SEC. But COA is set exclusively by a university's financial aid office — far beyond the influence of coaches and athletics departments, at least in theory.
The SEC has since put rules in place that prohibit such sudden, mysterious adjustments.
Big 12 breakdown
Annual cost-of-attendance figures for an out-of-state undergraduate student living on campus this fall:
Baylor: $58,656
Texas Christian: $55,630
Texas: $46,791
Kansas: $39,764
Oklahoma: $38,172
West Virginia: $37,958
Texas Tech: $37,866
Kansas State: $37,356
Oklahoma State: $36,720
Iowa State: $33,260
— Source: Figures provided or published by individual schools
"When the rule first came down from the NCAA, we heard immediately from financial aid officers who were concerned that now athletics departments would be focusing on cost of attendance and looking for guidance on how to manage that," recalls Karen McCarthy, director of policy analysis for the National Association of Financial Aid Administrators, whose member institutions are responsible for setting the number at nine out of 10 universities nationwide. "No one really cared about it before then.
"You already have pressure from those people who want to see student debt lowered," she adds, "and now from the other side we're hearing that athletics departments are interested in having (COA) go up because of the recent rule changes. So there's definitely competing priorities."
So far, that push and pull has been held in check at KU. A Journal-World analysis of the university's cost-of-attendance figures before and after it began offering stipends found no dramatic changes. Since 2014, the COA for an out-of-state student paying the standard rate has increased by $2,656 — from $37,088 to $39,764 for a freshman this fall. Almost all of that change comes from rising tuition rates driven by Kansas budget cuts to higher education.
"Kansas University does not have a single cost-of-attendance rate for every student," explained Andy Hyland, a KU spokesman. "Tuition costs vary between in-state and out-of-state students. … Some schools, such as the School of Pharmacy and the School of Law, have separate fee rates as well."
Here's a look at cost of attendance for an out-of-state KU undergraduate student paying the standard rate, as compared over three years:
| | | | |
| --- | --- | --- | --- |
| Category | 2014-15 | 2015-16* | 2016-17 |
| Tuition | $22,476 | $24,094 | $24,962 |
| Campus fee | $858 | $908 | $910 |
| Loan fees | $80 | $68 | $72 |
| Infrastructure fee | n/a | n/a | $60 |
| Housing, meals | $9,138 | $9,176 | $9,610 |
| Books | $950 | $1,040 | $1,080 |
| Transportation | $2,004 | $1,906 | $1,900 |
| Personal | $1,582 | $1,170 | $1,170 |
| Total | $37,088 | $38,362 | $39,764 |
* Year when cost-of-attendance stipends for student athletes took effect
— Source: KU
"Staff members of Kansas Athletics Inc. do not provide any input into the annual process of determining the cost-of-attendance figures," says KU spokesman Andy Hyland. "As part of the office of Financial Aid and Scholarships' normal process, the office does conduct periodic surveys of students to help determine their actual costs of attendance. Student-athletes receive these surveys as well, and their responses are treated the same as any other student's response."
But at schools like Alabama, where the pressures are particularly intense — Forbes estimates the Crimson Tide football program alone is worth more than $95 million per year — nonstudent-athletes could be the ones who suffer.
"Some institutions now are worried about increased student indebtedness, because COA sets the uppermost boundary that they can borrow," McCarthy explains.
A $5,000 jump in COA, for example, effectively means a degree-seeking student can borrow that much more per year, she notes. A multitude of research suggests freshman undergraduate students often assume the highest amount of debt possible, regardless of need. A handful of states, including Indiana and Nebraska, recently enacted legislation to help curb this phenomenon.
"At very high-cost institutions, the COA doesn't affect student borrowing much," McCarthy continues. "It's a bigger issue at lower-cost institutions, like state schools. It really depends whether you think of the ability to borrow more as a positive or not. It could lead to more eligibility for student borrowers if they're not already at the maximum, but then there are concerns if COA is artificially inflated it could scare students away."
Bob Bowlsby, the commissioner of the athletic conference in which KU plays, told the Journal-World he hasn't seen any evidence of COA inflation at Big 12 schools, a fact he's proud of.
"However, on a national level," he says, "athletics departments must refrain from trying to pressure financial aid offices to increase stipend values with the intent to benefit student-athlete recruiting."
Is a larger stipend really a recruiting benefit? As Kansas and other Division I basketball programs step toward the land of the unknown, this has become the $3,644 question. Because everyone knows, sooner or later, it's going to cost a lot more than that.
Nationwide, the average Division I stipend last year was $3,543, putting KU slightly ahead of the pack. But in the Big 12, which the Jayhawks have won for a dozen years in a row, they're playing catch-up. Only Iowa State, West Virginia and Baylor offer less to their student-athletes when it comes to pocket money. Texas Tech leads the Big 12 with $4,820, followed by Texas Christian, Oklahoma, Oklahoma State, Texas and Kansas State.
COA stipends
Nationally, KU's annual cost-of-attendance stipend for an out-of-state, full-scholarship student-athlete — $3,644 — ranked just above the national average — $3,543 — for Division I schools in 2015-16, according to a CBS Sports survey of 110 universities. The survey looked at the highest stipend an athlete could receive last fall; that amount is not necessarily consistent across all sports and is distributed differently by each university. Schools independently calculate their stipends based on internal formulas using a percentage of COA as the ceiling, according to NCAA rules. Among schools that responded, Cincinnati offered the highest stipend at $6,082, while Boston College offered the lowest at $1,400. Here's how KU compared with other Big 12 schools last year:
Texas Tech: $4,820
Texas Christian: $4,700
Oklahoma: $4,684
Oklahoma State: $4,640
Texas: $4,310
Kansas State: $4,160
Kansas: $3,644
Baylor: $3,632
West Virginia: $2,700
Iowa State: $2,430
— Source: KU; Big 12; CBS Sports
Total stipend spending
Cost-of-attendance stipends resulted in $160 million a year in additional benefits for Division I student-athletes starting last year, according to a USA Today survey of 92 schools. Across all sports, universities used the new stipends to increase annual student-athlete financial aid anywhere from $46,500 (Northern Iowa) to $2.1 million (Auburn). Baylor, Texas Tech, Texas Christian and Oklahoma did not publish their numbers. Here's how KU compared with the other Big 12 schools in total stipend spending:
Texas: $1.6 million
Kansas State: $1.2 million
Oklahoma State: $1.06 million
Kansas: $870,000
Iowa State: $750,000
West Virginia: $570,000
— Source: USA Today survey of Division I universities; KU number provided by KU
Is $1,176 per year enough for a recruit to choose becoming a Red Raider over becoming a Jayhawk? Probably not. But what will happen when the gap gets bigger?
If you're one of the most heavily recruited players in the world, an Andrew Wiggins or a Josh Jackson, you probably don't care. Wiggins, a former Jayhawk, set the bar for one-and-dones when he turned pro after his freshman year and became the first pick in the NBA Draft. Jackson, who'll suit up at Allen Fieldhouse this fall, hopes to do the same. For top recruits enticed by money, a more lucrative option is to jump straight from high school to a year of competition overseas, a path most recently blazed by the Denver Nuggets' Emmanuel Mudiay, who earned $1.2 million playing as an 18-year-old in China instead of enrolling in college. Such are the prices that could one day dominate an open-market NCAA.
"It's going to be so much different 20 years from now than the way it is," Self said recently when asked about the possibility of marquee prospects going international or to the NBA Development League. "I think all coaches are concerned, especially the ones that are able to ... recruit what most people consider to be the most elite guys."
That said, an analysis of ESPN 100 recruiting over the past three years, before and after COA stipends were offered, appears to show no significant shift in top high school basketball prospects' college choices so far. For the upcoming season, Kansas landed three blue-chip players — Jackson, Udoka Azubuike and Mitch Lightfoot — after earning commitments from three and two blue-chippers in 2015 and 2014, respectively. Duke, the top recruiting program in the nation over those three years, averaged 4.33 ESPN 100 recruits in the same period. Duke's stipend is set at $3,500. Cincinnati, which offers the highest stipend in the nation at $6,082, landed one blue-chip prospect in 2016 after signing zero the previous two years.
Lightfoot, the No. 67 prospect in ESPN's 2016 class, says he knew nothing of the stipends when making his commitment to KU, and that seems to be par for the course for new Jayhawks, according to KU Athletics Director Sheahon Zenger.
"I have not heard of an instance in which the stipend has had an effect on recruiting one way or the other," he says.
"I think our recruits are attracted by the totality of KU's commitment to the student-athlete in areas such as academics, coaching, housing, health care and training, nutrition, leadership training and career placement," Zenger explains. "I think they see the cost-of-attendance stipend as just one piece of a much larger picture."
Although the extra money paid in stipends to KU athletes has not been large, it has been noticed by the athletes.
"I have heard plenty of accounts about how the stipends have helped student-athletes buy necessities, do some fun things, purchase some 'extras' they couldn't afford before, and even help their families back home," Zenger says.
Thus far, the stipends are hardly noticeable in KU's budget. Absorbing the additional $870,000 for the stipends made little difference to the department's budget, which has about $100 million in expenses.
But certainly there could be a day when those stipend numbers could be much larger, and could turn into budget-busters. There are advocates who believe athletic programs should face no cap in the amount of stipends they pay to student athletes.
Remember that study that said KU basketball players had a theoretical fair market value of $608,500? Multiply that number by 13 student-athletes on the basketball team, then double that number to satisfy Title IX, which requires equal benefits for the women's team. In that scenario, Kansas is facing a $15.8 million annual bill for less than 10 percent of its funded participants across all sports.
Even if the number is a fraction of that, it can become a significant one for athletic department budgets.
"Fair value requires a fair market, and we don't have that now," says Andy Schwarz, an attorney who specializes in sports economics. Schwarz is a consultant on the O'Bannon v. NCAA class action lawsuit moving through U.S. courts, which challenges the organization's use of student-athlete images for commercial purposes. A district court judge's 2014 ruling in that case paved the way for the stipends, and last year, a week before McCarthy Hall opened, a federal appeals court sided with the plaintiffs, arguing that the NCAA violates anti-trust laws. The O'Bannon case is expected to make its way to the U.S. Supreme Court next year, where a ruling in student-athletes' favor could forever reshape the landscape of college sports.
"Paying COA is better for the athlete than not paying COA," argues Schwarz, who advocates for an open-market approach, "but fair value will only emerge if the schools stop agreeing to a nationwide cap, and then each athlete could field offers until the mix of benefits suited him or her best.
"My general view is KU should be able to offer an athlete as much or as little as it wants, and accept the consequences if they get outbid by other schools."
When asked about O'Bannon, Zenger is understandably reticent.
"I favor making student-athletes' college experience the best it can be," he says. "And while I lean a bit toward the liberal side on some of these issues, I choose not to go into great detail while so many of the issues are still in the courts."
While the U.S. legal system dribbles out the issues, three former Jayhawks will keep trying to make their mark on the courts, too. Traylor finished his NBA Summer League play for the Indiana Pacers on July 8 in Orlando. That same weekend, Greene and Ellis suited up in Las Vegas for their respective teams, the Memphis Grizzlies and the Dallas Mavericks.
It was a new experience, full of butterflies and surprises, but one thing hadn't changed since college: For the foreseeable future, it looks like they'll be playing — mostly, at least — for free.