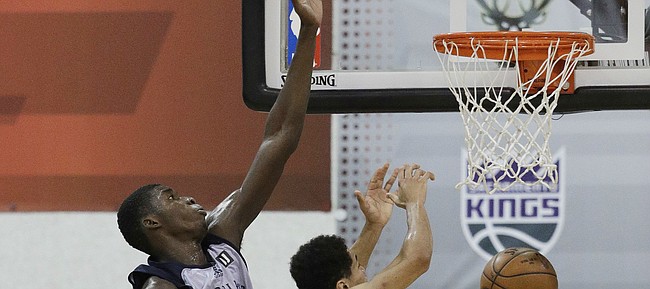 Former Kansas University forward Cheick Diallo has reached an agreement on a three-year contract with the New Orleans Pelicans, ESPN.com reported Wednesday.
Terms of the agreement have not been reported. However, ESPN.com indicates "other players who were drafted just before or just after Diallo last month have received at least two fully guaranteed years, along with a starting salary worth more than the minimum."
Diallo, 19, was acquired by the Pelicans in a draft-night trade. New Orleans sent its 39th and 40th picks to the Los Angeles Clippers, who had selected him with their 33rd overall pick in the second round.
The 6-foot-9 Diallo averaged 3.0 points and 2.5 rebounds per game while logging 7.5 minutes per contest his only season at KU.
According to the New Orleans Times Picayune, "Diallo was the Pelicans' most consistent performer (in summer league), outshining sixth overall pick Buddy Hield, who has not signed his rookie-scaled contract yet."
Diallo averaged 10.8 points, 9.4 rebounds and 2.2 blocks in five Las Vegas summer-league games. He had 12 points and 10 rebounds in a 76-69 loss in the Pelicans' summer-league finale versus the NBA Development League select team.
"He has some skills right now that can translate to the NBA," Pelicans director of player personnel David Booth said, just prior to summer league to nba.com. "Watching him in the pre-draft camp and the Hoops Summit in Portland, as well as the McDonald's (high school) All-American game, the one thing we knew he can do right now in the NBA game is run the floor. He runs the floor like a deer. He's the first one down on offense and defense. He can block a shot and still be the first guy down the floor. He can get a rebound and still beat everyone. I think his stamina and ability to run the floor, along with his energy and competitiveness, is something he can bring on Day 1 in the NBA.
"I think he was more thought of as a shot-blocker and an energy big," Booth added of Diallo at KU. "But something we saw was he has a nice left- and right-hand jump hook. He has a decent face-up game. He's a better offensive player than people give him credit for, and I think he'll show that in the NBA."
"He's been very energetic," Pelicans summer head coach Robert Pack told nba.com. "He's been relentless going after blocks, as well as rebounds. It's been good for the coaching staff to be able to see his progress over these (summer league) games."
Svi update: Svi Mykhailiuk scored eight points with eight rebounds and six assists in Ukraine's 95-73 win over Belgium on Wednesday in the Under 20 European World Championships in Finland.
More like this story on KUsports.com