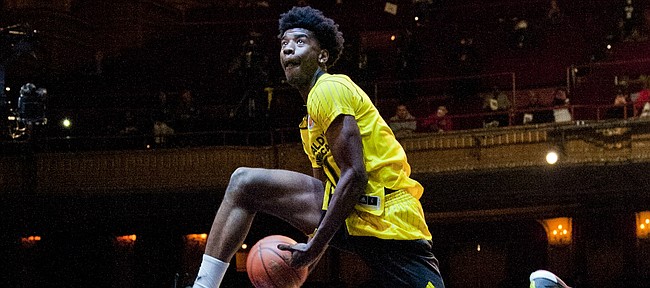 No. 1 in his class. Slender. Explosive dunker. Best suited to play on the wing. In those ways, Josh Jackson is similar to former Kansas University one-and-done sensation Andrew Wiggins.
It's not a bad place to start for comparison purposes.
Since Kansas looked to be the leader for Jackson, I started asking sharp basketball eyes not allowed to comment for publication on high school recruits what they thought of him as a prospect.
"Great athlete, but not quite as freakishly athletic as Wiggins," one said.
"Wiggins was a better shooter, but Josh is a nastier competitor," another said.
"Wiggins is longer, even more explosive, a more pure shooter, but Jackson has a better handle, is a better passer, and you see his competitive nature take over when he's playing defense. He really wants to shut down his man," another said. "He cares more about being a complete player than most kids his age."
Wiggins measured 6-foot-8 in shoes with a 7-foot wingspan at the Nike Hoop Summit in 2013. Jackson measured 6-73⁄4 in shoes with a 6-93⁄4 reach. Wiggins weighed 197 pounds, Jackson 203.
Wiggins earned first-team All-Big 12 and second-team Associated Press All-American honors as a freshman, distinctions sometimes glossed over by those who can't shake the memory of his four-point farewell dud vs. Stanford in which he made one of six field goals. In the four games leading up to that, Wiggins averaged 28 points, 7.8 rebounds and made more field-goal attempts than he missed.
Jackson, joining returning starters Frank Mason III, Devonté Graham and Landen Lucas, will be surrounded by more experience than was Wiggins.
Beating out Arizona and Michigan State was a huge recruiting victory for Kansas given that both schools had a head start.
Jackson played for Arizona's Sean Miller on U19 Team USA. He grew up a fan of Michigan State coach Tom Izzo and had developed a relationship with Magic Johnson.
Kudos to Bill Self's longest-tenured assistant coach, Kurtis Townsend, lead recruiter on Wiggins and two years later on Jackson.