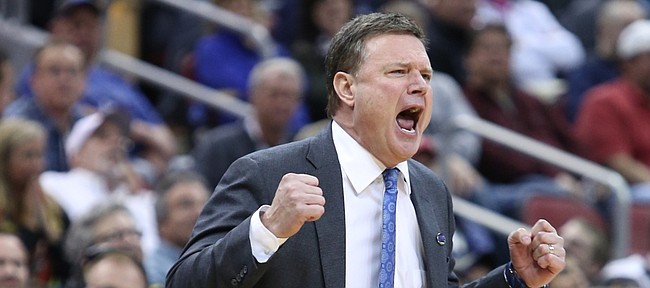 DeAndre Ayton, the No. 1-rated basketball player in the recruiting Class of 2017 according to Rivals.com who has a final list of Kansas University, Kentucky and Arizona, says he'll definitely attend college one year.
"My mom wants me to go to college so I have to go," the 7-footer from Phoenix Hillcrest High tells Zagsblog.com.
At the same time, Ayton said he has heard "a lot of kids" on the spring/summer AAU circuit talk about perhaps heading overseas like blue-chip 2016 prospect Terrance Ferguson (Australia) or play in the NBA Developmental League if miniscule salaries escalate into the low six-figures.
This talk of elite players continuing to look into ways to avoid attending college for a one-and-done season, of course, makes the job of college coaches even more difficult as they may face stiff competition from new sources in coming years.
"I think it is hard. I think it's frustrating. I think it's going in a negative direction," KU coach Bill Self said of recruiting Monday on KC 810-WHB radio's "The Program." "(There's) so much talk about the developmental league and how they'll restructure salaries potentially. There are so many other things that could potentially take place that we won't see college basketball the way it's been," Self added. "Even though it's not the same as it was 20 years ago, it's going to be so much different 20 years from now than the way it is now. I think all coaches are concerned, especially the ones that are able to be in a Power Five conference and recruit what most people consider to be the most elite guys."
This would be a bad school year for prospects to sign overseas deals for a year, considering "we are talking about losing six guys potentially, and I think we have one senior in that group," Self said.
He didn't name names, but those who could exit with seniors Landen Lucas and Frank Mason III are: Josh Jackson, Devonté Graham, Svi Mykhailiuk and Carlton Bragg Jr.
"We've been pretty fortunate here from a consistency standpoint," Self said. "Consistency is going to continue to be harder and harder as we move forward. Recruiting is never going to get easier," he added, noting while the state of Kansas has great AAU teams, the state does not churn out a lot of blue-chip high school players because of total population. "It never is easy. With the uncertainty of how long those guys are going to be in school, I think it does make it that much more difficult."
Newman down for two years: Transfer Malik Newman, who told the Journal-World he would "definitely be there (KU) for two years, my sit-out year and the year that I'll play," nonetheless has some fans worried he'll practice here a year, then turn pro.
"We talked about that. I wanted to make it very clear we were on the same page, and we are. The first thing we covered (in meeting with Newman after he announced plans to transfer from Mississippi State) was, 'Hey, we'd love for him to come to school here. Even if there's less of a one percent chance he'd want to go through the NBA Draft process again next year, then we're out. You need to go somewhere else because we are not going to do that,''' Self said.
"There's nothing in writing. They (Malik and his dad) both gave their word that would definitely not be an option and he was definitely going to play at the University of Kansas," Self added. "If he were to come in and sit this year and get better and have a great year his first year playing (2017-18), then if he wanted to make that decision if the felt he positioned himself to be a high draft pick, so be it."
Scholarship update: KU, which has added freshmen Jackson, Udoka Azubuike and Mitch Lightfoot as well as transfers Newman and Evan Maxwell to the roster, still has one scholarship to give in recruiting.
"At this late date, I can't see us doing anything unless something just fell in our lap," Self said. "If you can get another transfer, that would always be a positive thing. This would be a time sitting out a year and learning and getting comfortable could be a big benefit to our team next year when we could potentially lose quite a bit of guys. I don't see anything else happening this year right now."
Jackson and Wiggins talk: Jackson, who enters college as the country's No. 1 recruit, has been compared to former one-and-done Andrew Wiggins, the first overall pick in the 2014 NBA Draft.
"I think physically they look a lot alike as far as length and height and build," Self said. Jackson is 6-foot-8, 207 and the Minnesota Timberwolves' Wiggins 6-8, 200. "I think that 'Wiggs,' (and) this isn't a knock to Josh, (Wiggins) is a more explosive athlete, and Josh is very athletic. I think Josh is quite a bit better with the ball, but 'Wiggs' will probably make some plays you can't coach. Both are special talents. I've got to watch Josh more, but he's just consistently shooting the ball away from having a chance to be one of those very high if not the No. 1 (pick in draft)," Self added.
Self said he could see Jackson, "being our third point (guard), to be real candid. He has unbelievable vision. He's probably as good a passer as we have on our team.
"Malik is not a point guard. He's a prototypical 2-guard. We are going to spend a lot of time working with him getting better with the ball, get him to the point where he can play maybe some combo guard, handle it more, make more plays for himself and others."
Summer league: Perry Ellis did not play (coaches decision) in Dallas' 80-69 loss to Toronto on Monday in NBA summer-league action in Las Vegas. ... Brannen Greene did not take a shot while grabbing one rebound in a four-minute stint in Memphis' 85-81 win over Milwaukee. … Cheick Diallo had five points, seven rebounds and one block in 27 minutes in New Orleans' 70-66 win over Sacramento. He hit two of eight shots.
More like this story on KUsports.com