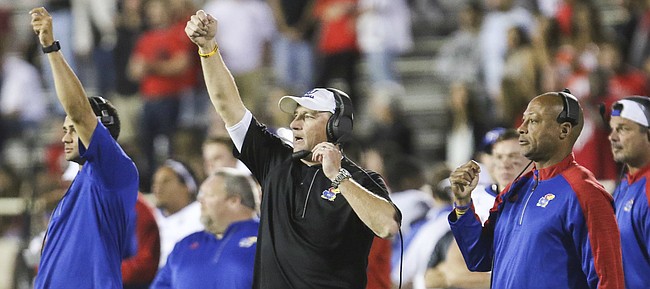 Not too long ago, Kansas football head coach David Beaty or one of his assistants could walk into a recruit's home and face some difficult questions, with opposing staffs feeding high school or junior college talents with doubts about the future of KU football.
That all changed, Beaty said, when the athletic department showed its support for him and the program by extending his contract earlier this week.
"It helped solidify a lot of these people that we signed today," the second-year head coach said Wednesday during his press conference, which coincided with the beginning of the mid-year signing period and the additions of quarterback Peyton Bender, cornerback Hasan Defense, defensive tackle J.J. Holmes, wide receiver Kerr Johnson Jr., linebacker Kyron Johnson, defensive linemen Willie McCaleb and KeyShaun Simmons and corner Shakial Taylor.
Kansas football coaches had the ammunition to counter any last-second indecision that might have emerged from its eight players who signed, by pointing to a new deal that could keep Beaty in charge through at least 2021.
Podcast episode
Kansas football coach David Beaty talks about his mid-year signing class, which included eight players (and quarterback Peyton Bender), and his recent contract extension.
"Where we were at in our contract is very much a hindrance when you're trying to recruit," Beaty said of such discussions prior to signing his extension.
KU's head coach said athletic director Sheahon Zenger, deputy athletic director Sean Lester and their staff have provided the football team with "anything and everything" to put Beaty and his assistants in position to succeed.
"We don't have any excuses, I'll tell you that," Beaty said. "… They understand what we're tryin' to do and how we're buildin' this. And they're givin' us the time we need, which is exactly what we have to have. You've gotta learn to sit up before you can crawl, then you gotta learn to crawl, then you gotta learn to pull up and walk. And then you gotta learn to jog, and then you start sprintin'. It's a process, and I have an appreciation for our administration unlike probably many in this profession, because I know they get it, and they want this place to be great. And they know we're gonna kill ourselves makin' it that way, and we're on the same page."
Earlier this week, USA Today writer Dan Wolken tweeted new Texas head coach Tom Herman had "preliminary interest" in Beaty as an offensive coordinator. Beaty was asked if his contract extension had anything to do with other programs seeking him out.
"Man, there's only one place and there's only one place that I want to be," said Beaty, openly passionate about the university and his task, despite the program's ongoing struggles. "Like I told you, you're gonna have to get a backhoe to get me out of here. I don't care if the Dallas Cowboys call. I'm not goin' anywhere unless you guys take me out of here in handcuffs."
No assistant coaches moving on — yet
While Beaty plans on keeping his office at Anderson Family Football Complex for the foreseeable future, the same can never be assumed of assistant coaches in college football. Though Beaty said none of his staffers had accepted new gigs elsewhere as of Wednesday afternoon, the head coach described this time of year as "job season" for assistants around the nation.
"I feel mostly for our wives more than anything," Beaty said, "'cause they're sittin' at home with the kiddos, sittin' there goin' 'Is daddy gonna come in with that look on his face?'"
KU's head coach said he would like to keep his entire staff in place, but added if assistants aren't fielding job inquiries "you've got the wrong guys." From a market standpoint, Beaty claimed KU has put its assistants in good position and described them as "appreciative" of their contracts.
"Now listen. I don't know what the future holds," Beaty added. "There are gonna be some situations out there. Some guys might be able to have places that better their situation and if they do, it's like I've said from the very beginning: As long as they do everything that we ask them to do here, and they give us a fair chance to talk to 'em before, we want to help them do whatever they need to do with their families. But right now I feel good about where we're at and I'm lookin' forward to the future with all those guys."
More like this story on KUsports.com