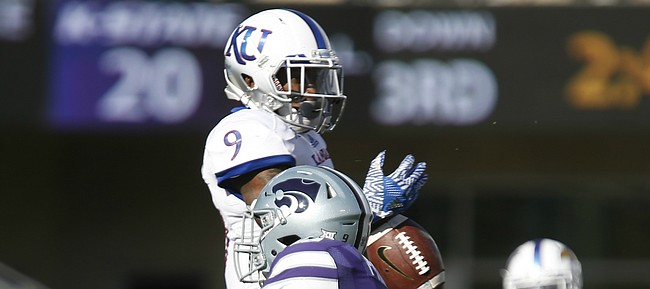 Safety Fish Smithson's football career at the University of Kansas is complete, but he has one more game left in which he can represent the Jayhawks.
Smithson, following his All-Big 12 senior season in the KU secondary, has accepted an invitation to play in the East-West Shrine Game, in St. Petersburg, Fla., on Jan. 21.
"It is an honor to be selected to represent both myself and Kansas football in the prestigious East-West Shrine game," Smithson said in a press release. "I am looking forward to getting down to Florida and showing the NFL scouts who I am as a person and what I can do on the football field."
The 5-foot-11, 190-pound defensive back from Baltimore led Kansas with four interceptions and 93 total tackles (70 solo) in 2016. Smithson also accounted for seven pass breakups, 2.5 tackles for loss, a sack, two forced fumbles and a fumble recovery in his final year.
Former college standouts such as John Elway, Tom Brady, Brett Favre and 74 Pro Football Hall of Famers have starred through the years in the East-West Shrine Game, a showcase for hopeful NFL prospects.
More than 100 players from last year's game signed with professional teams this past spring, and more than 70 made final NFL rosters.
Following the 2014 season, former Kansas linebacker Ben Heeney played in the college all-star game and was later selected in the fifth round of the 2015 draft by Oakland.
CBSSports.com's list of 2017 NFL Draft prospects projects Smithson as the 12th-best available free safety, and No. 295 prospect overall.
The 92nd East-West Shrine game will be played at Tropicana Field and air on NFL Network at 2 p.m. CT.