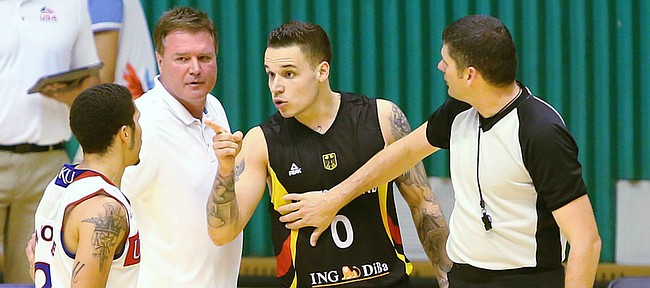 Gwangju, South Korea — Watching the United States' men's basketball team celebrate its World University Games gold medal, Germany's men's basketball players stood on the other side of the court with their hands on their heads after USA's 84-77, double-overtime victory on Monday at Yeomju Gymnasium. 
The Germans knew they had their chances to win, and that's what hurt the most. 
"It's a very tough loss for everybody," Germany coach Henrik Rödl said. "It's a big game. It felt like both teams deserved to win. We had big chances before the regular time was out. The first overtime, seemed like we had them. Then they got back in there and got it tied. At the end, we made a couple mistakes too many to win the game."
Germany had a four-point lead, 66-62, with 1:39 left in regulation, but two defensive fouls led to free throws from Kansas University senior forward Perry Ellis and junior point guard Frank Mason III. 
With 20 seconds left in regulation, tied 66-all, Germany had the ball with no shot clock, but Mason stole the ball from German guard Maodo Lo and nearly won the game before Mason lost the ball trying to go up for a layup. 
Photo Gallery
Team USA vs. Germany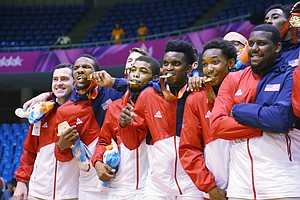 Photographs from Team USA's gold-medal game against Germany Monday, July 13, at the World University Games in South Korea.
Document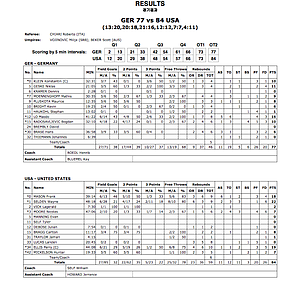 Reader poll
Carlton Bragg

2%

92 votes

Perry Ellis

1%

42 votes

Devonte Graham

0%

25 votes

Landen Lucas

0%

37 votes

Frank Mason

12%

519 votes

Hunter Mickelson

39%

1597 votes

Wayne Selden

40%

1672 votes

Jamari Traylor

0%

10 votes

Lagerald Vick

2%

90 votes
4084 total votes.
"We had some chances," Rödl said. "We had the ball in our hands. We didn't get a shot up (in regulation). With 20 seconds to go, we had the ball and they almost made one. We got away with it and stole the ball back. But at the end of the day, we had the ball with 20 seconds and should've had the last shot, and we didn't get one."
In the first overtime, Germany held a four-point lead with 2:25 remaining in the period, but missed its next two shots and gave up two offensive rebounds to USA. German guard Konstantin Klein said tired legs weren't a factor. 
"Both teams were tired, but if you're going for gold or playing your last game for gold, it doesn't matter if you're tired or not," said Klein, who had 10 points and four rebounds. "You want to win. It's tough when you're tired but it doesn't matter."
"It was a tough game for 50 minutes," Klein added. "I think we fought pretty good. At the end of the day, they made better plays than we did. They won the game. I don't know what to say. It's been a tough loss for us. We came here to win a gold medal."
Mason scored 11 points in the last 14 minutes with Germany's guards and forwards trying to stop him from driving into the paint. 
"He's a pretty good player," Klein said of Mason. "He's got good ball-handling skills. He can penetrate. He can shoot the ball. He's the best point guard in the tournament. He did a pretty good job at the end of the day. Like at the end of the quarters, he finished a layup and he kind of won the game for the U.S. team."
Mason, Ellis and Kansas University junior guard Wayne Selden Jr. combined for 59 points, but they struggled from the field, shooting 29 percent (18-for-62). The three scored 38 of USA's 46 points in the second half and two overtimes.
"Selden, Ellis and Mason have been their three-point leaders," Rödl said. "Obviously it was a main focus (on defense). They played a lot of minutes. You've got to put your hats off to them with how many minutes they played. They stuck with it and played well at the end. Selden made a huge shot at the end for them to go up (in the second overtime).
"But I did think that our guys guarded pretty good to contain them. It's a tough game. These guys are good."
---
More from Team USA's double-overtime gold-medal victory
---