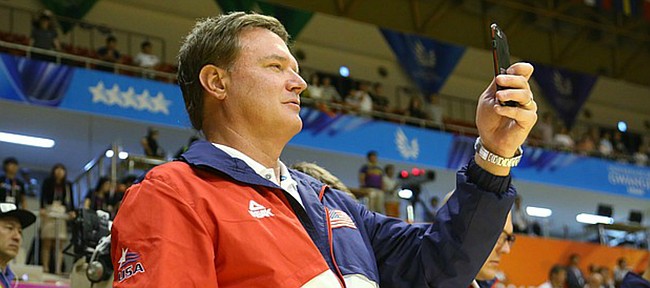 Gwangju, South Korea — In the past, Kansas University men's basketball coach Bill Self had worked with a couple of select teams for international exhibition games, but the World University Games was his first experience coaching a USA national team. 
Despite using a university team instead of a select team, Self wants to coach USA basketball teams in the future.  
"I loved it," Self said after his Jayhawks, SMU's Nic Moore and Florida Gulf Coast's Julian DeBose beat Germany, 84-77, in double overtime to win the gold. "I actually coached teams in international play but it's been select teams, things like that, like conference all-star teams. So it hasn't been competition play, it's been more exhibition games.
"I've always wanted to coach with USA basketball. Timing has never allowed me to. I learned a lot during this deal. You know, if opportunity knocks, then maybe I'll have a chance to hopefully be able to do something in the future."
No Banner
The Jayhawks helped the U.S. earn its first World University Games gold medal in 10 years and first medal in six years. 
Photo Gallery
Team USA vs. Germany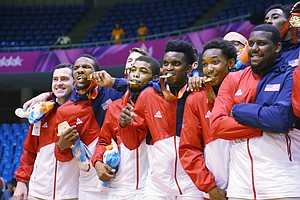 Photographs from Team USA's gold-medal game against Germany Monday, July 13, at the World University Games in South Korea.
Document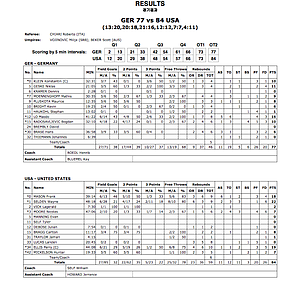 Reader poll
Carlton Bragg

2%

92 votes

Perry Ellis

1%

42 votes

Devonte Graham

0%

25 votes

Landen Lucas

0%

37 votes

Frank Mason

12%

519 votes

Hunter Mickelson

39%

1597 votes

Wayne Selden

40%

1672 votes

Jamari Traylor

0%

10 votes

Lagerald Vick

2%

90 votes
4084 total votes.
Of course, they are proud of their accomplishments, but it won't be acknowledged in the rafters of Allen Fieldhouse. 
"You had Olympic champions in 1952 and there's not a banner for that," Self said. "We won't do anything like that. You know, we shouldn't. This is not the highlight of our year. This is just a nice step. We're not going to make it out to be more than what it is and that's that we played great for a couple of weeks."
Selden stars
After scoring a game-high 22 points in Monday's gold-medal victory, KU junior Wayne Selden Jr. finished second in the tournament with 19.3 points per game. He was ninth in field goal percentage (50.4). 
"Wayne was probably our best performer over here consistently," Self said. "Now tonight he had his worst game probably. But I can't fault any of them because we are exhausted — we are tired. It's hard to play well and make shots when you don't have your legs under you. I thought Wayne played well to the point where it should give him a lot of confidence (into next season)."
Selden shot 6-of-28 in Monday's 84-77, double-overtime win, including 2-of-12 from three. Still, he scored a go-ahead three-pointer in the second overtime. 
"I already know to keep shooting," Selden said. "I air-balled a couple of clutch buckets to go up, but I hit the one that mattered so that's all that matters."
Self trusts guards
During the World University Games, with the shorter 24-second shot clock, Self learned to play through his guards more than usual. 
"We didn't play through our bigs near enough," Self said. 
"I learned to trust guys going one-on-one more. I'm not sure that you can win big games in NCAA without throwing the ball inside more. But with the short clock and not as many opportunities to do things with the short clock, I think I learned a lot to trust our players to go make plays."
---
More from Team USA's double-overtime gold-medal victory
---