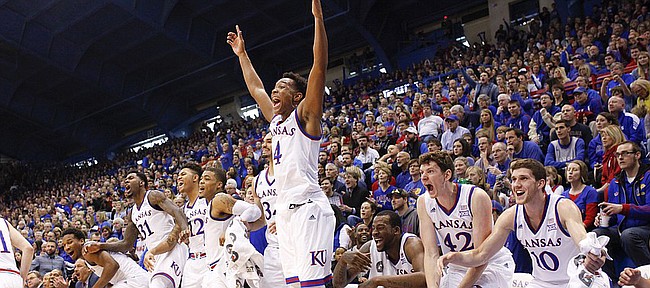 Photo Gallery
Kansas basketball v. Texas Tech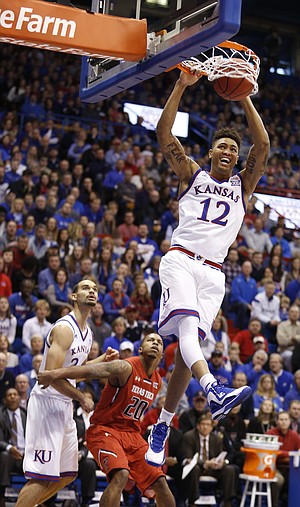 Images from Saturday's game between the Jayhawks and Red Raiders at Allen Fieldhouse.
Podcast episode
Kansas University basketball coach Bill Self discusses the Jayhawks' 32-point home win over Texas Tech, in which freshman point guard Devonté Graham returned after missing six straight games with a turf toe injury. Self says KU is a totally different team with Graham on the floor.
Podcast episode
Kansas University basketball players Devonté Graham, Perry Ellis and Cliff Alexander discuss how the Jayhawks rolled in their Big 12 home opener, 86-54, versus Texas Tech.
KANSAS 86, TEXAS TECH 54
Devonté Graham knew he'd sustained a significant injury the moment 350-pound Georgetown giant Josh Smith stepped on — and basically squashed — his right foot.
"My toe ... it was like it was not in the right spot," Graham, Kansas University's 6-foot-2, 175-pound freshman backup point guard reflected Saturday after a triumphant return one month to the day after spraining his right big toe in Washington, D.C.
"It's a big deal when you injure your big toe. It works with everything like balance and stuff. It's nagging," Graham added after dishing six assists against no turnovers, grabbing six rebounds and scoring two points in the (13-2, 2-0) Jayhawks' 86-54 rout of (10-6, 0-3) Texas Tech in Allen Fieldhouse.
Graham, who missed six games, played 19 minutes versus the Red Raiders. 
That's impressive considering he was told a month ago the odds of him playing again this season stood at 50/50.
"In my mind, no. I never wanted a medical red-shirt. Sometimes you have to sacrifice some things and play through injuries. I always wanted to get back out there," said Graham, who learned he'd be playing against Tech after making it through a full practice Friday without incident.
"I was so hyped up I couldn't really sleep. I woke up kind of early. I was just excited to play today," he added.
The crowd roared when Graham checked into the game at the 12:51 mark.
"That actually made me even more nervous when everybody stood up and started clapping," said Graham, a native of Raleigh, North Carolina. "The fans were great the whole time I was out, being supportive. The tweets and different things like that. I really appreciate it."
Graham had two perfect lobs to fellow freshman Cliff Alexander for slam dunks on a day freshman Kelly Oubre Jr., flushed three dunks and hit two threes en route to 14 points.
"Being in practice, getting back in rhythm with the team, learning and watching from the sideline, it was like I didn't miss a beat. That's what coach told me," Graham said.
The only thing Graham lacked Saturday, coach Bill Self said, was conditioning.
"He's dead tired there at the end as evidenced by his man driving around him three times for layups," Self said with a smile. "It (conditioning) will be much better in a week. 
"I thought he looked good and thought he looked quick, too. Regardless whether he is scoring or not, we're a totally different team from being able to slide our feet and do some things we do not do near as well when he is not available to us."
Graham, who asked to come out of the game late to catch his breath, said it was tough sitting out six games and watching point guard Frank Mason III play ironman-type minutes. 
On Saturday, with Graham able to spell him, Mason had 10 points, five assists and one turnover in just 24 minutes.
"When I was out, Frank did a great job carrying the team, playing 40 minutes pretty much every game," Graham said.
Graham, who also missed time with a shoulder injury earlier this season, is hopeful he'll be injury-free the rest of the way.
"He is still at risk," Self said. "The longer it goes the better everyone feels about the risk reducing. He is almost to that point. Doctors feel it (toe) is still going to be sore, still could bother him, but with the plate he has in his foot to eliminate it bending a certain way, they feel pretty good about it."
Perry Ellis hit three threes and scored a game-high 15 points for KU. Alexander chipped in 12 points and five boards. 
"We came out ready to play early, got up 9-2," Self said. "Take away the last 2 1/2 minutes of the first half when we went brain dead and gave away free points, I thought we did a lot of good things. We shared the ball, took care of the ball," he added of a team that led 42-25 at halftime. "We had 11 turnovers (to Tech's 15) but only seven or eight in the teeth of the game. Today I just wanted Devonté to get some minutes. I wanted Brannen Greene to get some minutes (five points, four boards, 16 minutes) and I wanted Svi (Mykhailiuk, 1-2 from three, five points) to see the ball go in the hole. Fortunately we were able to get all those things accomplished."
KU will next meet Oklahoma State at 6 p.m., Tuesday, in Allen.
---
More news and notes from Kansas vs. Texas Tech
---