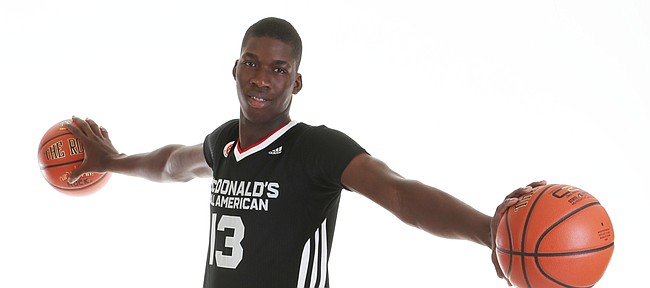 Kansas University basketball coach Bill Self said on Monday he's "confident" that 6-foot-9 freshman forward Cheick Diallo will ultimately be cleared by the NCAA Eligibility Center and compete for the Jayhawks during the upcoming season.
As to when the word will come down ... "I have no idea," Self said at his Boy Scouts benefit golf tournament at Lawrence Country Club.
"The thing about it is ... it's been mis-reported a lot — that there's been good news, bad news. There hasn't been any news because the NCAA hasn't told us no on Cheick. They haven't told us yes. But also we haven't wanted them to tell us anything yet, either, because I think it's nice to see how things play out with other kids who went to that school so we have a better angle of what we're trying to address, than just going in there cold saying, 'Here's your stuff, make a determination.'''
The NCAA has reportedly been looking into Diallo's alma mater — Our Savior New American in Centereach, New York — to see if certain classes will be accepted as core curriculum. Recently, Oklahoma State had a player from Our Savior New American be deemed eligible for participation.
"We want to know what all classes counted for other kids, too," Self said. "Nothing's negative. It's nervous because we don't know. ... We should be getting some answers here soon that will give us an idea if there's anything we need to do past that (perhaps submit additional materials for consideration). I'm confident. I know with others (players) we've had and other schools have had guys that it takes time. This is certainly one that is in no fault of his. He (Diallo) goes to school for three and a half years and finds out after he graduates, 'Hey we could have a potential problem.' Hopefully it could be rectified."
Asked why it's taking so long to determine Diallo's eligibility, Self said: "I think it's a combination of things. I think there is a backlog of cases. But it's not black and white. When the Clearinghouse or whatever makes a determination they want to look into a school, they are looking into the school not the individual so now ... the next step after they determine what they are going do with the school, then you've got to determine what they are going to do with the individual. In this particular case we feel confident. I do.
"We've had some cases, Ben (McLemore, ineligible freshman year) primarily was a situation in which they made the right decision. No question they did based on the information we had afterwards. I hate that because we could have had Ben on that 2012 team which would have been pretty special.
"The correct decision with Cheick ... I mean there's been nothing that's gone on that is anything other than him doing exactly what people have told him to do, what the school has told him to do. Certainly not knowing there's any potential issues ... makes it where it's kind of interesting. Other kids are getting cleared from that school, too. They just haven't made a determination on Cheick because they probably haven't had his stuff (academic materials) quite as long as they've had the other kids."
Diallo has been faring well at workouts, Self said.
"We've never had a big guy that could run like this," Self said. "It'd be nice to have a mindset to play at a much faster tempo than we have in the past ... Cheick forces a pace that nobody has ever forced here. He can create pace better than any point guard we've ever had here. Just because the dude from rim to rim is as good as I've seen. I didn't say the best offensive player, but running rim to rim I think he'll drag everybody along with him. I also think it forces us to play at a faster pace when your big guys run like that."
Self said newcomers Lagerald Vick, Carlton Bragg have "done well," "but I've been most excited about Dwight Coleby (6-9 Ole Miss transfer) and Cheick because I haven't seen them and after seeing them limited the first week they've both impressed me quite a bit."