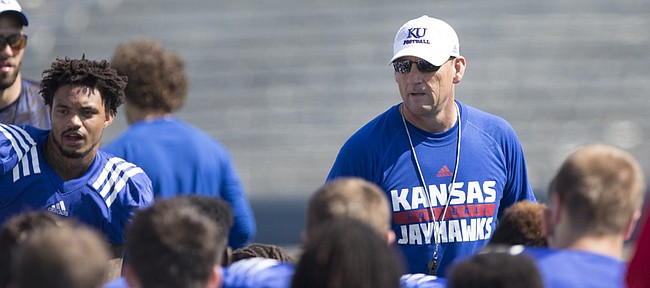 Mistakes are commonplace in season openers across the country, but Kansas University football coach Beaty does not believe they're necessary.
"One of our focuses always has been and always will be on playing a clean game in that first game," he said on Monday morning's Big 12 teleconference. "A lot of people say, 'Hey, you see some sloppy play in that first game,' but I don't think it has to be that way."
By clean, Beaty is referring to being penalty-free, smart about how the team lines up and taking care of the little things that often are new to a good chunk of players on the field.
"We've been preparing our team for any and all situations," Beaty said. "So when they get out there on the big field, it's not the first time they've gone through it, (and) they can operate with poise."
Ready to roll
With his debut as a Div. I head coach just five days away, Beaty was asked how his nerves were holding up.
"It's an exciting time, obviously," he said. "But there's not a lot of sleep for just about anybody in the country at this time of the year, and we're no different than that. ... I know everybody loves their team right now, and we're no different. I love the guys we have. We have thrown a lot at them to see how they're gonna react, so we kind of have an idea of who they are when adversity hits, and we've also spend a lot of time trying to handle prosperity because we've seen teams that don't handle that as well either."
Jayhawks by 5
According to the online betting site sportbook.com, KU enters today as a 5-point favorite over FCS foe South Dakota State.
It marks the sixth time in the post-Mark Mangino era that the Jayhawks have been favored in the season-opener, but the spread is by far the lowest during that time.
KU is 4-1 in season openers since 2010 and 2-3 against the spread.
Sent packing
Former Jayhawks Jimmay Mundine (New England) and Nigel King (San Francisco) were waived by their respective NFL teams Monday.