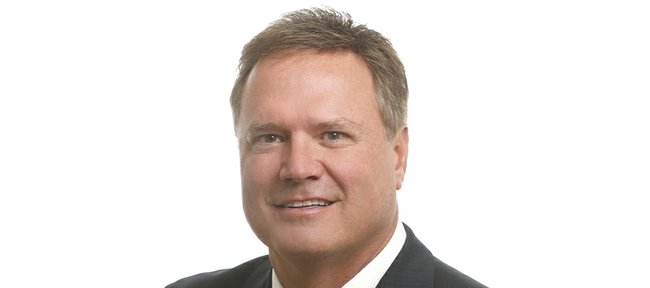 Kansas University's basketball program will not copy-cat Kentucky and hold a combine for all 30 NBA teams anytime soon.
"That would certainly not be anything we would do," 12th-year KU coach Bill Self told the Journal-World on Friday after the Jayhawks' first practice of the 2014-15 season. "That doesn't mean it's wrong. It just means it wouldn't be for us."
ESPN.com's Andy Katz reports that UK coach John Calipari has decided to hold an Oct. 10-11 combine, "Rather than having scouts parade through during the season when it could be a distraction." Indeed, Calipari told ESPN that following the combine he could choose to keep the scouts out of practice "for weeks or months."
That doesn't hit home with Self, because he likes having scouts attend practice during the season. Per his policy, NBA scouts are welcome to watch practice any time. As a result, most teams send representatives more than once during the season.
"I love it when NBA scouts come to practice," Self said. "I think the guys (Jayhawks) get juiced up for it. We've had numerous practices we've had anywhere from one to 10 to 12 NBA guys watching us work out. I like that.
"I also think having a combine this early in the practice season, at least with so many young kids, I'm not sure many would look very good because they'd be thinking instead of playing."
Calipari responded to some national criticism of his combine in an interview with ESPN.
"Someone said, 'You'll make them think about the NBA.' Excuse me? They all do. Even the walk-ons," Calipari told ESPN. "It creates a base for me to build with each individual kid and what I need to do. All 30 teams will be here my first week of practice. Now it's all controlled and organized."
Practice: This year, the NCAA allowed teams to start practice on Oct. 3. Last year, it was the last week of September. For many years, it was the Friday closest to Oct. 15.
Self said he likes it this way.
"It's better for us because you can be on two to three days and take a day off, since you have to take 12 days off out of the 42 days prior to your first game," he explained.
He was able to hold one two-hour practice a week during both sessions of summer school and again after the start of first semester classes in August.
"This is a lot more intense," Self said of regular-season practices that can sometimes go to three hours. "The guys get after it pretty good."
Studying tape: A student of the game, KU junior Perry Ellis says he has watched tape of a similarly sized former Jayhawk — Marcus Morris of the Phoenix Suns. Ellis is listed at 6-foot-8, 225 pounds; Morris is 6-9, 235.
"(I'm) trying to figure out, just learn from him what he did," Ellis said.
He was reminded that Marcus and Markieff Morris recently signed a combined four-year, $52 million extension with the Suns.
"I saw that. That's a great deal with them. It's definitely encouraging. It shows, God willing, if you get the opportunity, you can do it," said Ellis, who last week was named first-team preseason all Big 12.
New digs on video: A Williams Fund video of KU's soon-to-be built basketball apartment complex (McCarthy Hall) was available on youtube.com Saturday night. The video showed plans for a half-court basketball court, theatre and rooftop terrace as well as a dining area and the actual apartment rooms.
Plans are for the apartments to be ready in August. As of Saturday night, the video was available at https://www.youtube.com/watch?v=pjMY3Dc2t1Q
For general information on McCarthy Hall, go to http://ljw.bz/1vG7GHV
More like this story on KUsports.com