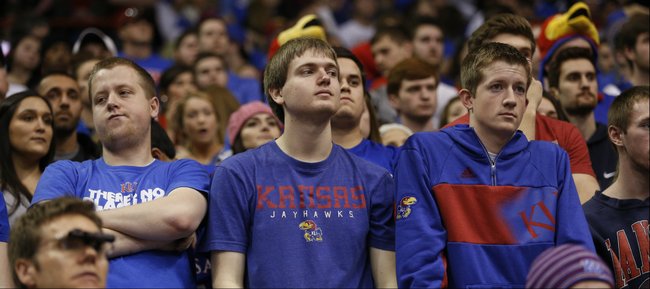 Kansas University junior floor leader Naadir Tharpe figures some soul-searching is in order following a once-in-seven-years occurrence — a home non-conference loss in Allen Fieldhouse.
"On Monday, I'm going to ask the guys, 'How much do we really care about what's on the front of our jersey? How much do we care about winning (for Kansas)?'" Tharpe said after Sunday's 61-57 loss to San Diego State, KU's first at home to a non-Big 12 foe since a 78-71 setback to Oral Roberts on Nov. 15, 2006.
The streak encompassed 68 games.
"I've been here a long time. Some of the guys ahead of me (on depth chart his first two years at KU) ... tears came down dudes' eyes when we lost. I know nobody on this team wants to lose. Everybody, including myself, has to bring more to the table," Tharpe added.
Tharpe, who was playing on a tender ankle that he sprained at practice Wednesday, was as cold as the frigid weather outside, missing eight of 10 shots on a day the Jayhawks hit a historically-low 29.8 percent of their shots.
It's the worst shooting performance by a KU team in Allen since field goals and field goal attempts became an official stat in 1988-89.
"I thought, of course, our offense was totally inept, in large part because they really guard," Self said of the No. 21-ranked (12-1) Aztecs. "There was definitely a lid (on basket), the biggest lid was they really guard. We made five shots outside of six inches — four threes (in 16 tries) and Frank (Mason) made a long two. Those are the only shots we made that were not layups. It's hard to win if can't make the defense pay for sagging."
Of course, the shooting wasn't the only problem. San Diego State outrebounded No. 16-ranked KU, 51-39.
"Rebounding we were obviously gawd-awful," Self said, "and they whipped us physically. Still, we had a chance and the crowd tried to help us (cheering wildly down the stretch)."
One foiled chance came when the Jayhawks, who were down by as many as 11 (38-27 at 13:44 and 42-31 at 10:31), cut it to 57-55 following a Mason three with 1:21 left.
After a missed shot, KU rebounded, but the ball slipped through Mason's hands as he was beginning to accelerate on the break. KU suffered had a big turnover with just under a minute left.
"Frank's got the ball in transition and just loses it. I don't know how. He said it slipped out of his hands," Self said.
Next, with :46 left and KU still down two, the officials had to visit the monitor before ruling that a rebound had gone off KU freshman Joel Embiid out of bounds. San Diego State kept possession to a booing crowd's dismay.
"It's hard for me to be upset with officials if they look at it. They are not going to call it the wrong way on purpose. It obviously was off us," Self said. "What I was hoping for, what I told John (ref, Higgins) ... I said, 'If it takes six eyes and you can't figure it out, at least we know it's indisputable. So if it's indisputable, call it a jump ball.' The possession arrow was ours," Self added with a smile.
"I guarantee you it was the right call. I don't even have to look at it. No way they would miss that with three guys looking at it."
KU had additional chances to force overtime.
JJ O'Brien missed the front end of a one-and-one at :34.6, KU gaining possession and calling time out at :20, still down two.
Perry Ellis (four points, 1-8 shooting) accepted the ball up high and was fouled on a drive. He made the first free throw, and after a San Diego State time out, missed the second at 11.9 seconds, as KU trailed, 57-56.
"Perry had a chance to make the free throw late, but you hate to put it on one free throw or one guy because there are 1,000 plays in a game that can help change the outcome," Self said. "Everything is magnified late and we just didn't get it done."
Next, Xavier Thames (16 points, 5-16 shooting, 4-4 free throws) cashed two free throws at 8.3 seconds to give the Aztecs a 59-56 lead.
KU, in theory had a chance to tie, but S.D. State coach Fisher had an Aztec foul Mason at 5.7 seconds rather than let KU launch a possible game-tying three.
Mason missed the first free throw and hit the second.
Down 59-57, KU again fouled Thames at 4.6 seconds and he hit a pair of charities to wrap up the victory.
"The difference is this, and it's something minor, but twice we put two guys on Thames on out of bounds under spot throw-ins and he still caught it," Self said of the senior standout. "All we had to do was make somebody else catch it and they throw it to their best free-throw shooter and of course he's going to make them because he's clutch. That's the difference. He just wanted the ball and we have to make our guys want the ball like that. That was just young guys playing against old guys and they just knew how to compete better down the stretch."
Freshmen Andrew Wiggins and Wayne Selden went a combined 6-of-22 from the field, good for 20 points. Only Mason (4-8, 14 points) and Joel Embiid (3-5, 12 points) shot 50 percent or better for KU, which fell to 9-4 heading into Wednesday's 6 p.m., Big 12 opener at Oklahoma.
"We're a target," Tharpe said, "everybody's going to give us their best shot, especially in the league. "We can't dwell on this. We have to focus in on what coach says, be in tune with what coach is saying and do everything we can to win."
More like this story on KUsports.com