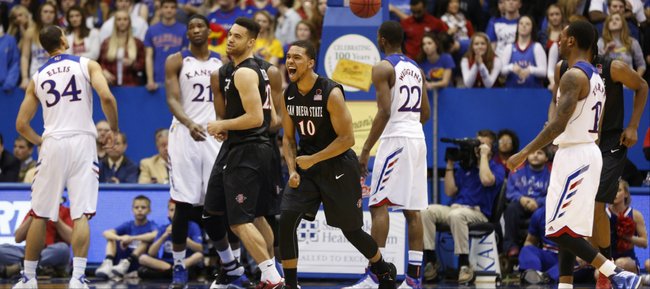 Following his team's 61-57 victory over Kansas University on Sunday at Allen Fieldhouse, San Diego State coach Steve Fisher sat in front of the media with the look of a math teacher and meticulously dissected all of the things that allowed his team to pull the upset.
From the calculated decision to double team the post on defense — "We had to do that against Kansas," Fisher said — to his no-brainer move to foul at the end when KU had possession and needed a three-pointer to tie in the waning seconds, Fisher went over each aspect in great detail and with great poise.
When all of the questions were asked and all of the answers uttered, Fisher smiled and summed it up the best way he knew how.
"Thank you very much," he began. "This was a fantastic victory for the Aztecs."
The win was San Diego State's 11th in a row and improved SDSU to 12-1 overall. That it came in Lawrence, in Allen Fieldhouse no less, against what Fisher called a very good team only made the feeling sweeter.
"To come in here and give Bill Self his ninth home loss, that's pretty neat," Fisher said. "I think what this win will do, it will get people east of the Mississippi (River) talking about us."
Added SDSU guard Xavier Thames, who led the Aztecs with 16 points in 35 minutes: "This is a great win for us. A lot of teams don't come in here and get victories. I'm just blessed to be a part of this with my teammates."
While the victory's significance figures to have a long and lasting impact on SDSU's big picture, the Aztecs' ability to enjoy the moment came down to two things — offensive rebounds and post defense.
The latter showed up early and often, as the Aztecs sent waves of defenders at KU's big men every time they touched the ball inside. Fisher said that had been a staple of his at every coaching stop and something his current team has become great at despite getting away from it for a few years recently.
"It was a focal point for us," said SDSU forward Winston Shephard. "We've been working on it all week. We're used to Josh Davis (10 points, 14 rebounds) doing that, but Skylar Spencer did a great job against, really, an NBA front line and it was big for us."
As for the Aztecs' advantage on the offensive glass, SDSU finished with just a 19-16 edge in that department, but benefitted when so many of those second-chance points came down the stretch as KU tried to mount a furious charge from 11 points down.
"We made some crucial second-chance opportunities," Fisher said.
In the end, every bounce, tip, box out and free throw proved to be crucial for one of the most memorable victories in San Diego State history.
"It's a real big win," said Spencer, who finished with 13 points and nine rebounds. "We've been thinking about it all year but we've been taking it one game at a time and we're just happy we came out with the W."
Added Fisher: "We don't have the history Kansas does, but our recent history is pretty good."