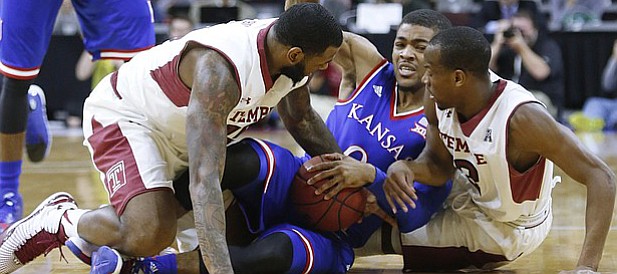 Photo Gallery
Kansas basketball vs Temple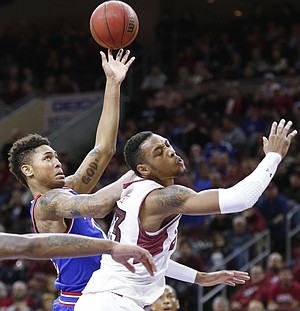 Photographs from the Kansas Jayhawks game Monday against the Temple Owls at the Wells Fargo Center, Philadelphia, PA.
Podcast episode
Bill Self explains 77-52 rout at hands of unranked Temple.
TEMPLE 77, KANSAS 52
Things started ugly and stayed ugly in Philadelphia for the Kansas University men's basketball team, which fell to Temple, 77-52, on Monday night.
Tenth-ranked Kansas (9-2) turned it over 13 times in the first half, struggled to get any rhythm on offense throughout the game and watched Temple play with growing confidence and great precision throughout the night.
Temple led by 10 at halftime and built its lead to as big as 30 before the end of the game, as the Jayhawks shot just 33 percent for the game and made just 7 of 13 free throws, which had been a strength for this team of late.
The Jayhawks hit 7 of 19 three-pointers (37 percent) and were led by Frank Mason I'IIs 20 points and got nine points and seven boards from Kelly Oubre Jr..
Freshman Cliff Alexander, who started, finished with just two points on one shot attempt.
Here's a quick look back at some of the action:
• The game turned when: The Jayhawks could not crawl any closer than six in the early minutes of the second half. After trailing by double digits for most of the first half, and by 10 at halftime, KU quickly cut Temple's lead to six points out of the locker room, but the Jayhawks failed to capitalize on that quick start and Temple, almost as quickly, pushed its lead back to 10 and never looked back.
• Offensive highlight: There weren't many, but KU did have three and-one opportunities in the first half on buckets by three different players. All three makes came on strong takes to the basket, but the Jayhawks missed the bonus free throw on each try. It was just that kind of night for KU.
• Defensive highlight: With just under 4 minutes to play in the first half and KU still trailing by double digits, Alexander took matters into his own hands and played tough man-to-man defense on Temple's Obi Enechionyia in the half-court. Alexander kept Enechionyia about 12-15 feet from the bucket and would let him no closer. As the shot clock wound down, Enechionyia tried to elevate over Alexander, who rose to challenge the shot, rejected it with his right hand and corralled the rebound. The sweet swat immediately led to an easy bucket by Perry Ellis on the other end, and allowed KU to hang around.
• Key stat: Temple shot 58 percent from the floor and got pretty much anything it wanted on offense after the opening five minutes of the game.
• Up next: After going their separate ways for Christmas, the Jayhawks will return to action at Allen Fieldhouse on Dec. 30, when they'll take on Kent State at 7 p.m.
— See what people were saying about KU's blowout loss during KUsports.com's live game blog.
---
More news and notes from Kansas at Temple
---