Photo Gallery
Kansas basketball vs Temple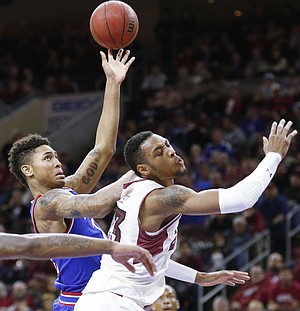 Photographs from the Kansas Jayhawks game Monday against the Temple Owls at the Wells Fargo Center, Philadelphia, PA.
Podcast episode
Bill Self explains 77-52 rout at hands of unranked Temple.
TEMPLE 77, KANSAS 52
Philadelphia — It had been a glorious 4 1/2 weeks for Kansas University's basketball team, which won eight straight games following that ugly 32-point loss to Kentucky.
"Back to reality," KU freshman wing Kelly Oubre Jr., said with a frown after the No. 10-ranked Jayhawks' pre-Christmas lump of coal — a 77-52 loss to unrated Temple in Wells Fargo Center.
"We see we've got a lot of work to do, now," Oubre added after watching a couple thousand Temple students storm the court after the (8-4) Owls handed the (9-2) Jayhawks their second-worst loss in the 12-year Bill Self era. It trailed only the Kentucky clobbering — Temple led by 30 points down the stretch — and wound up tying a 25-point setback in 2006 at Texas.
"This exposed the things we obviously need to work on. We're better than we showed. Everybody is motivated to get back after the break, get in the gym and be the best team we can be and improve," added Oubre, who had nine points and seven boards in 23 minutes.
The Jayhawks, who headed to their respective homes for the holidays after the game — the players will report back to Lawrence for practice Friday night — exited the arena in silence after the lopsided defeat. How bad was it?  It was KU's first 20-plus point loss to an unranked opponent since a 95-72 decision to Oklahoma on Jan. 19, 1983.
"It was more quiet maybe, more quiet," forward Perry Ellis (five points, 1-of-10 shooting) said of the locker room scene Monday compared to after the Kentucky game on Nov. 18. "Most of us were so disappointed in ourselves as a team collectively.
"I mean, we really wanted to come out this break with some momentum. Unfortunately it didn't happen. We have to come back with a new mind-set and go from there," Ellis added.
The Jayhawks, who hit 32.1 percent of their shots overall and made nine of 15 free throws (to Temple's 58.3 percent mark; 14-19 from line) trailed 7-0 and 15-5 early and were down by as many as 14 the first half, lagging by 10 at halftime.
"We just came out not ready to play. That was the biggest thing," sophomore guard Wayne Selden Jr. (six points, 2-of-8 shooting) said. "We knew they were a good team. We just didn't prepare well as a team. We came out flat and never got on it. They outplayed us. They have really good guards and we didn't compete."
KU sliced the deficit to six points and had a chance to cut it to four when Cliff Alexander missed a jumper from the free-throw line with 16:40 to play. Temple proceeded to score four quick points and go on a 26-9 run to up its lead to an insurmountable margin of 23 — 61-38 — at 8:40.
The only thing interesting that happened the rest of the way is a brave KU fan stood and screamed repeatedly "we're not overrated" as the Temple fans indeed broke into the "overrated chorus" with about seven minutes left.
"If you defend and rebound away from home, you can stay in the game. That's what I told the guys afterwards. We didn't do either of those," Self said after Temple outrebounded KU, 32-29.
"They shot 69 percent the second half, a lot of those are in tight. You can't do that away from home, can't let them get easy baskets," Self added.
Self said he's looking for more competitiveness and aggressiveness from his Jayhawks next semester.
"We've got key players we need to play well early to kind of get us off to a good start," Self said. "We played so poorly early with ball-handling and aggressiveness going after the ball, just terrible ... it put us in a situation we never really got it back."
The individual stats, as one might expect, were miserable.
Alexander, who made his first start, had two points and three boards in 17 minutes; Ellis just three boards to go with his off-shooting night in 24 minutes; Svi Mykhailiuk three points off 1-of-7 shooting in 17 minutes; Brannen Greene three points in 14 minutes and Jamari Traylor two points and three boards in 12 minutes.
Frank Mason III had four of KU's seven threes (7-19) and finished with a career-high 20 points with five turnovers and two assists.
"I would say defensively we didn't get enough stops. They shot it real well tonight, but it's defense ... It hurts. It's the worst feeling, losing," Ellis said. "It's over now. There's nothing we can do about that loss now, just got to try to get back together."
Miffed at the two losses, Self will not forget the nine victories his team attained first semester.
"We've got to get back to work. We haven't had a terrible non-conference thus far," he said. "We're 9-2, played as good a schedule as anybody. We've had two bad performances, everything else has been OK. Tonight was bad.
"One thing playing good teams away from home ... you can be exposed. We were exposed again, the same way we've been exposed in the past. 
"I hope we come back with renewed vigor and interest level and become a very competitive, aggressive basketball team. It's hard to make competitive alpha dogs over Christmas (break) in three days. There are a lot of things we can do to become more competitive and aggressive."
KU will next meet Kent State at 7 p.m., Dec. 30, in Allen.
---
More news and notes from Kansas at Temple
---