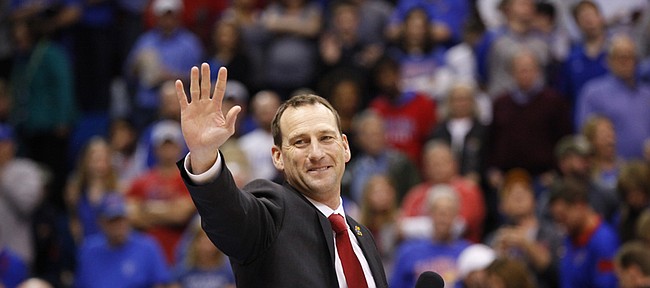 Photo Gallery
Kansas basketball v. Florida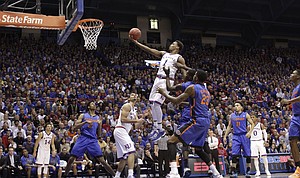 Images from Friday night's game between the Jayhawks and Gators at Allen Fieldhouse.
Podcast episode
KU men's basketball coach Bill Self on KU's "Jekyll and Hyde" victory over Florida on Friday at Allen Fieldhouse.
Podcast episode
Wayne Selden, Devonte' Graham and Cliff Alexander reflect on KU's 71-65 victory over Florida
KANSAS 71, FLORIDA 65
The Allen Fieldhouse crowd that watched its basketball team play olé defense and handle the ball as if it were more slippery than Oleo margarine needed something about which to cheer with the halftime scoreboard showing a 15-point deficit.
Onto the court walked the school's new head football coach, David Beaty, microphone in hand, Texas twang at the ready, familiar with the lines that trigger the roars. The usual Rock Chalk stuff: greatest university in the world, can't wait to hear the low-and-slow chant at the end of a victory, etc.
"It makes the hair on the back of my neck stand up," he said, and the crowd loved it.
The biggest roar came when he said, and meant, "I won't sleep until we give you something to be proud of."
Nobody has ever questioned Beaty's work ethic, likeable personality and organizational skills, all of which added up to making him good at his job as recruiting coordinator for Texas A&M.;
Beaty, 44, was a popular guy during his first two stays, under Mark Mangino (2008-09) and Turner Gill (2011), because he treated everybody the same, with respect and courtesy. Those traits also make him popular in Texas with high school coaches. He was one of them as recently as 2005. They also make him a coach under whom quality assistants will want to work.
I believe that the moment Sheahon Zenger watched Duke thoroughly humiliate Kansas in Durham, he had a strong feeling that an interim football coach would finish the season and then be replaced by Beaty at season's end.
But since Zenger blew it so badly by hiring Charlie Weis, based on a search firm's recommendation and spending a day falling prey to Charlie's Jersey charm and Super Bowl bling, that he couldn't just hire his guy again this time without making it look as if Beaty blew away "the committee."
So Zenger assembled a committee of former KU players, administrators from the athletic department and other branches of the university. Then the AD set up phone interviews with the candidates taking questions from the committee. Not surprisingly, sitting head coaches who had expressed interest bowed out because head coaches like to pursue jobs way under the radar and feel as if they have proven enough at their schools that their reputations and records do a lot of the talking for them.
That left as competition for Beaty a trio of impressive assistant coaches who had worked at KU. Ohio State offensive line coach Ed Warinner had the most impressive résumé, which included a record-breaking three-year run as KU's offensive coordinator. Tim Beck, ex-wide receivers coach for KU, coordinated extremely productive offenses at Nebraska under recently fired Bo Pelini. And then there was Clint Bowen, who energized the KU program with a 1-7 record as interim head coach, including near misses against Oklahoma State and TCU. Bowen made former players who had not been embraced during the Turner Gill and Weis errors, er, eras, feel empowered.
KU's poor play in the final two weeks of the season made it easier for Zenger to stick to his original plan.
Make no mistake, this was a Zenger hire, as it should be. Search consultant Chuck Neinas didn't make this hire, as is appropriate. At a school not packing the house and not making it to bowl games, the athletic director's most important job is finding the right football coach. He has to hire his guy, even if he feels the need to make it seem as if he's hiring "our" guy.
If Beaty elevates the program significantly from its worst five-year record in history, Zenger deserves all the credit for finding the right man for a difficult job.
As for cancelling the last round of interviews, the in-person ones, well, he knew who his man was all along. No point in extending the charade any longer. Time for Beaty to assemble a staff and intensify the recruiting in Texas, Oklahoma and at home, where Kansas always seems to be late to the party lining up walk-ons and in some cases scholarship players, compared to Kansas State.
Zenger didn't hire an offensive guru this time. He hired a personality to lead the program publicly and the team in practice. Beaty has just one year of experience as an offensive coordinator, so he'll need to hire a sharp one, perhaps keeping Eric Kiesau or hiring Beck. And Beaty will need to let his coaches coach. He and Bowen are friends, so Bowen's not going to let any issues regarding player loyalty to the defensive coordinator instead of the head coach take root. They'll be in it together. Beaty won't make a more important decision than when hiring a strength-and-conditioning coach. At a development program such as Kansas, it's an important job that requires 100 percent backing from the head coach. If there is any way to coax Chris Dawson from K-State, that would qualify as a major coup.
Given that Beaty has held a position of authority as a college assistant coach for just one year, the hire is a risky one. But since his contract — probably in the range of an annual salary of $800,000 guaranteed with incentives that could bring it to $1.5 million — is low by Big 12 standards, Zenger's gambling at the $2 table, where nice guys hang out, not at the $25 table, where slick guys know how to laugh all the way to the bank.
Vince Lombardi reincarnated with Art Briles as his OC and Nick Saban as his DC couldn't squeeze a winning 2015 season starting so far behind the pack, but just as the Kansas basketball game that ended with the home team winning, 71-65, wasn't determined by the first half, Beaty won't be judged by the first half of his presumed five-year contract. It's all about whether he and his staff can recruit and develop enough talent to entertain big crowds by the time the second half rolls around.
Supporters of the football program would be well-advised to remember the basketball game played the night Beaty was introduced to the crowd. Kansas went on runs of 17-0 and 33-7 in the second half. Rewards that come after struggles mean more. Should Beaty win Big 12 football games by those margins in the second half of his contract, they'll build a statue of him outside the Anderson Family Football Complex.
In Beaty, Zenger has hired an honest man who will give an honest effort. You have to like his chances of assembling the most energetic staff since the one on which he worked for Mangino.
More news and notes from Kansas vs. Florida
---
More like this story on KUsports.com