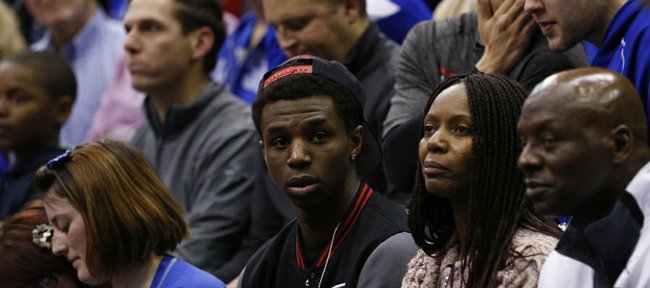 Photo Gallery
Kansas basketball v. Texas Tech (Senior Night)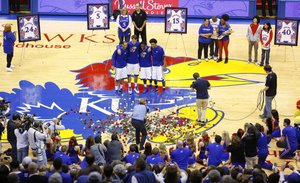 Images from Monday night's game against Texas Tech at Allen Fieldhouse.
Podcast episode
Kansas coach Bill Self talks after his team's 79-42 win over Texas Tech on March 4, 2013.
Podcast episode
Kansas coach Bill Self talks after his team's 79-42 win over Texas Tech on March 4, 2013.
Extras
Kevin Young resembled a stand-up comedian as he took the microphone for the first of four Senior Night speeches following Monday's 79-42 rout of Texas Tech in Allen Fieldhouse.
"I had a long speech prepared. It got lost in my hair," senior forward Young said, patting his afro and drawing laughs from the 16,300 who stuck around for postgame senior speeches.
"I can touch my toes now," he added in thanking trainer Andrea Hudy for her work with him the past two seasons.
All four seniors needed only three minutes apiece to thank God, their family members, coaches, teammates, managers, trainers and support staff members.
"Without her (Hudy) I couldn't be, 'Too Strong,''' Elijah Johnson said with a smile. "There's no place to play like Kansas."
To the fans, Travis Releford said: "You kept me going. I struggled early my red-shirt season and had thoughts of leaving like any normal kid would. To be here, running out of the tunnel and getting chills ... it's the best place to be."
Jeff Withey thanked the student section as well, concluding with "Rock Chalk."
Ben recognized, too: KU coach Bill Self opened the speech portion of the event by asking the fans to recognize freshman Ben McLemore, who likely played his final game in Allen.
"We've not talked about it. He may come back. He may not. He deserves one loud ovation from the fans in Allen Fieldhouse," Self said.
The fans gave McLemore a standing ovation and chanted, "One More Year."
"Don't hold your breath on that," Self told the fans.
Honorees: KU's Elijah Johnson on Monday was named Big 12 player of the week and Ben McLemore rookie of the week.
Johnson averaged 25.5 points, 8.5 assists and 5.0 rebounds in wins over Iowa State (108-96 in overtime) and West Virginia (91-65). He had a career-high 39 points against Iowa State and 10 assists versus West Virginia. McLemore averaged 21.5 points and 5.0 rebounds. He had 36 points versus West Virginia.
Big 12 POY: Self on Monday said KU's McLemore and Withey should be in the conversation for Big 12 player of the year with Kansas State's Rodney McGruder and Oklahoma State's Marcus Smart.
"So much comes down to who is the most successful team," Self said. "If anybody has turned their vote in already, it's premature. We have so much ball left."
Randle sets date: Julius Randle, a 6-9 senior forward from Prestonwood Christian Academy in Plano, Texas, will announce his college decision on March 20, according to USA Today. He will announce live on ESPNU. Randle has a list of KU, Kentucky, Florida, Oklahoma, N.C. State and Texas.
Wiggins on hand: Andrew Wiggins, a 6-7 senior forward from Huntington (W. Va.) Prep High, attended Monday's game with his parents. He waved to KU's student section, who chanted, "We Want Wiggins." He has a list of KU, Kentucky, North Carolina and Florida State.
Stats, facts: Elijah Johnson's 12 assists were most by a Jayhawk in a conference game since Aaron Miles dished 12 versus Kansas State on Jan. 28, 2004. ... Johnson posted back-to-back double-digit assists the first time since Aaron Miles had 12 and 11 vs. Kansas State and Iowa State, respectively, on Jan. 28 and Jan. 31, 2004. ... Johnson's nine first half assists are second-most ever by a Jayhawk in a half and ties Kirk Hinrich's and Ryan Robertson's school-record mark for assists in a half of a conference game. ... Ben McLemore's 13 points put him at 494. He needs just three points to pass Danny Manning as the school's freshman scoring leader. ... Texas Tech's 42 points were the fewest by a Big 12 opponent in Allen Fieldhouse since Nebraska scored 39 on Feb. 17, 2007 ... The Red Raiders shot 6.7 percent (1-of-15) from three-point land, the lowest percentage by a Big 12 opponent since Missouri failed to make a three, going 0-for-10 on Feb. 4, 2008.