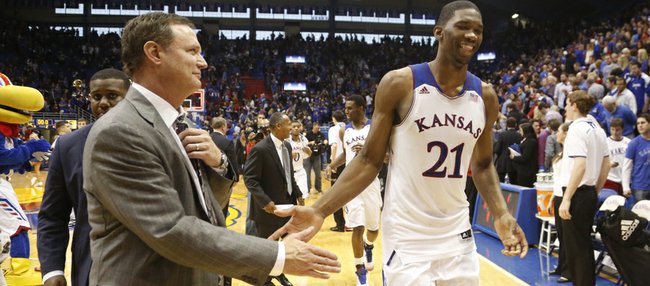 Kansas University's basketball players, who have headed home for four days worth of holiday cheer, will gather again Thursday for the first of many practices the next four weeks.
"We'll practice a lot more. We'll spend more time in the gym. We'll have shooting practices, certainly do more film work," KU coach Bill Self said.
He will be allowed to schedule unlimited hours of practice time, in accordance with NCAA rules, from Thursday until the start of second semester classes on Jan. 21.
"I think you get better because of the time and all you're doing is just focusing on basketball," said Self, whose Jayhawks (8-3) will play two nonconference games (Toledo a week from today and San Diego State on Jan. 5) as well as four conference games (at Oklahoma on Jan. 8; Kansas State on Jan. 11; at Iowa State on Jan 13; Oklahoma State on Jan. 18; and Baylor on Jan. 20) before the start of the spring semester.
"I think it (semester break) is the toughest time to be a student-athlete if you're here because nobody else is, so all your friends or your girlfriend or family, they're all back doing their deal, and you're basically spending two weeks here," Self added. "Last year was a long time. We started back to school the 21st, something like that, so we were here almost four weeks with no classes, and that was not good. That was too long. A couple of weeks is plenty of time."
The Jayhawks normally make a lot of progress in between semesters.
"Oh, yes, we've always gotten better over Christmas. Last year was the one year we didn't," Self said. "If you go back and study our team last year, we were great in December. Great. You look at Belmont, Richmond, Ohio State, Colorado … those were big-time performances (victories) throughout the entire month of December.
"You get into January, we were fortunate to beat Iowa State. We puttered around then we started that little three-game — not little, monstrous — three-game losing streak there for a stretch," he added of losses to Oklahoma State, TCU and Oklahoma. "I really think that last year was the one year where we did not get better over break. I don't know if it's because of any one thing. We just didn't. But most other years we've been a team that basically kicked it in when we had a chance to spend some time together."
Self said on days he will hold two-a-days, the first practice "won't be too early. I don't like practicing early. We'll practice at 10 (a.m.) and practice at 5 (p.m.), something like that."
This week's holiday break comes at a good time for several Jayhawks.
Sophomore Andrew White III has been bothered by a bruised hip and junior Naadir Tharpe a shoulder bruise.
Sophomore Perry Ellis took a shot to the back of the head and suffered disorientation early in the second half of Saturday's victory over Georgetown. Self said Sunday that Ellis told him he was "feeling good, just a little stiff." He's not expected to miss any practice time.
Also, Self pointed out that freshman Wayne Selden has had some aches and pains in his first semester of college.
"I thought Wayne was the best newcomer we had for a period of time when we first started practicing, and I thought he hit a little bit of a wall, and then against Duke he was just fabulous," Self said.
The 6-foot-5 guard from Roxbury, Mass., had 15 points, six rebounds and four assists in a 94-83 win over Duke on Nov. 12 in Chicago.
"Since the Duke game, I think he's been up and down. His health hasn't been great, but it's not anything structurally that's bothering him. He just hasn't been able to ... whether it's a hip pointer here or this or that, he just probably hasn't felt 100 percent much in the last month or so.
"I would say he's been up and down. But just like all freshmen are, the difference is with our freshmen that play a lot — the past freshmen that played a lot, when they were up, they played, when they were down, they sat. And whether you're up or down, you play.
"So that's one reason why I think the opinion is that maybe he has gone under the radar a little bit because that's honestly been the case," Self added of Selden, who has averaged 8.7 points off 49.3 percent shooting and 3.0 rebounds while playing 25.7 minutes per contest.
"He's a good player, and he's getting better all the time in practice, getting comfortable. I think he will be a guy that will benefit from a few days off and then benefit from a lot of time in the gym, because these kids, it's a different deal when kids come in and they're used to playing 25 minutes a game and practicing 80 minutes a day, and that's about the extent of it.
"Now everything is so magnified, bodies aren't quite used to taking that pounding. I think he could use a few days off."
Staying in town: Cameroon native Joel Embiid, who is the only Jayhawk to not head for his hometown for the holiday, might be worth following on Twitter the next few days. On Saturday, he tweeted: "Watching the volleyball national championship but I'm officially bored..... Everyone left me alone." ... "Finally got my PS4," he tweeted on Sunday.
More like this story on KUsports.com