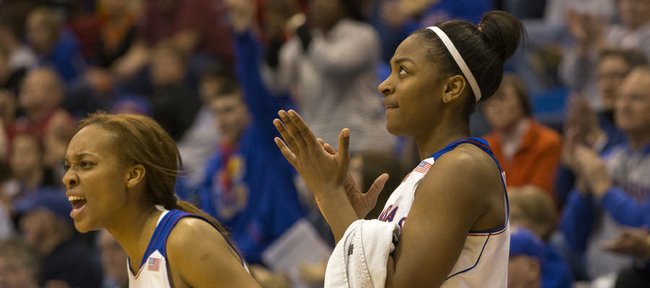 Document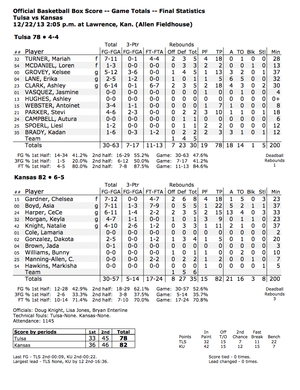 CeCe Harper insists it had nothing to do with the holidays, but the Kansas University senior guard sure was in a giving mood during Sunday's 82-78 victory over Tulsa at Allen Fieldhouse.
Harper, who still is adjusting to the demands of playing point guard for this young Kansas squad, recorded her first career double-double, highlighted by a career-best 13 assists.
"I think I'm just starting to get into the point-guard mentality more," said Harper, who added 15 points and five rebounds and said heading home to her mom and dad for the holidays was the best gift she has ever given. "I'm really trying to get shots for others rather than myself."
That concept, which is absolutely crucial for Kansas, is nothing new for Harper, who played point guard exclusively during her high school career. But it is new in a sense, given that Harper spent the past few years watching Angel Goodrich work her magic as the Jayhawks' point guard.
Sunday, Harper looked Goodrich-esque in the way she set up teammates for easy buckets and helped hold off a scrappy Tulsa team that refused to be knocked out.
The Jayhawks (6-5) opened with a 9-0 spurt and started the second half with an 8-2 run, but neither enticed Tulsa to fold. KU never trailed but had to fight like mad to maintain a three-to-seven-point cushion down the stretch.
Things looked momentarily bleak after Tulsa's Ashley Clark cashed two free throws with 1:01 to play to pull the Golden Hurricane within 78-76. Moments later, when KU's Asia Boyd (game-high 22 points on 7-of-11 shooting) fired up a wild shot with 35 seconds to play, Tulsa raced down the floor looking to tie or take the lead.
But a scrum in the paint near the Tulsa basket allowed Harper to come out with the ball, and she raced up the floor with the game clock ticking down to 20 seconds and KU up by two.
From the bench, KU coach Bonnie Henrickson was begging Harper to slow it up. But with Boyd on her left, the senior pushed the pace and dished her final assist of the day. There were a few free throws that followed, but the aggressive play essentially iced the victory.
"When it was happening, I didn't hear her," Harper said of Henrickson's pleas. "But it was kind of my mentality to push, so ... "
As it turned out, Henrickson had no problem with it.
"I was trying to do the best stop sign I could there," Henrickson said. "I'd rather her dribble around for eight more seconds and make 'em chase you a little bit, but, honestly, (being aggressive is) in most players' nature."
Harper was one of four Jayhawks to reach double figures, and, as it turned out, KU needed just about every point it got to hold off the Golden Hurricane (4-4).
Junior forward Chelsea Gardner (18 points, eight rebounds) controlled the paint for Kansas, which shot 53 percent (including 5-of-14 from three-point land) and outrebounded Tulsa 35-30.
Boyd also continued her hot play of late, leading the Jayhawks in scoring and also adding five rebounds, five assists, a block and a steal.
Despite the productive and balanced offensive showing — junior guard Natalie Knight scored 11 points, and freshman Keyla Morgan chipped in nine — Henrickson was more concerned about her team's defensive issues, given that just one game remains — 2 p.m. Sunday vs. Yale — before the Jayhawks jump into Big 12 play.
"For them to come in here and score 78 points is alarming to me," Henrickson said. "If we're gonna score 82, I'd like to win. Yes, we did it tonight, but I'm not sure that's gonna bode very well for us if we don't (address) defensively where we broke down so bad."