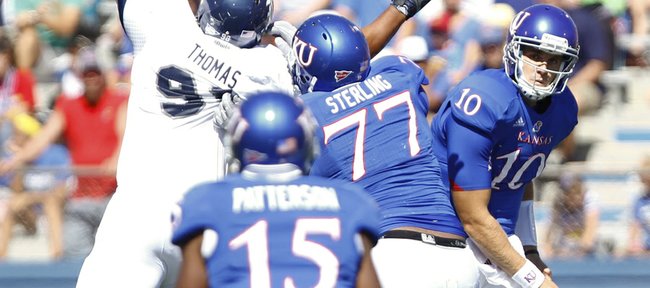 Notre Dame. Five-star quarterback. Charlie Weis. Tom Brady. Brady Quinn. Jimmy Clausen. Matt Cassel. It all made for such a delightful blend of Kool-Aid, and it was bottoms-up all spring and summer in anticipation of Dayne Crist lighting up Kansas skies. How could it be anything but bottoms-up on the Kool-Aid after the post-Todd Reesing malaise that hung over Memorial Stadium?
Now to find Kansas University in the national passing offense rankings, it pays to start at the bottom and look up.
Kansas ranks 119th among 124 Football Bowl Subdivision schools with 156.5 passing yards per game. Wait, it gets worse. Fifth-year Notre Dame transfer Dayne Crist ranks 112th of 117 quarterbacks with enough attempts to qualify with a quarterback rating of 93.6. Among quarterbacks from BCS conference schools, only Iowa's James Vandenberg ranks behind Crist.
More: Kansas has the nation's sixth-worst yards per pass attempt, ranking behind just Southern Miss, New Mexico, UMass, Iowa and UTEP. With the exception of New Mexico, each school ranking behind KU in passing yards per attempt has not averaged as many as 4.0 yards per rushing attempt, meaning none of them has a ground game that can take the pressure off the passer. In contrast, KU averages 5.45 yards per rush attempt, compared to 4.89 yards per pass.
"We're not playing to our potential right now, and that's very evident," Crist said moments after a deflating 25-24 loss to Rice. "We need to fix this quickly. I think all parties involved are willing to work to make sure (of that)."
This might not be the easiest of weeks to fix it. Sure, it's early. Sure, TCU has played just one game, and it was against Grambling State. But guess where TCU's pass defense ranks nationally: First. Grambling completed 5 of 14 passes for a whopping 26 yards. But it's no fluke, either. The Horned Frogs had the nation's No. 1 pass defense as recently as 2010, was sixth in 2009 and 11th in 2008.
Crist will face more pressure than he did in the first two weeks. Receivers won't find it any easier to break free, and the ground game faces a much stiffer challenge.
In a less depressing development, I had a premonition, the first since the one that resulted in correctly predicting that Dezmon Briscoe would total three touchdown receptions against Florida International in 2008.
Mark it down: Third-year sophomore receiver Andrew Turzilli of Butler, N.J., will catch a touchdown pass against TCU. He doesn't have a reception yet this year, but did get a couple of steps on his defender on a deep route on the left sideline against Rice but was overthrown by a step or two.
A long target, the 6-foot-31⁄2 Turzilli had three catches for 37 yards and a touchdown against Georgia Tech last season and had a productive summer camp.
More like this story on KUsports.com