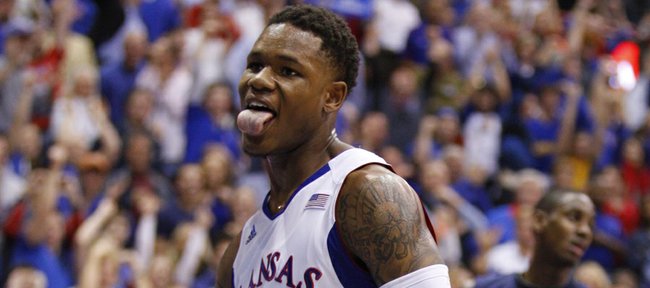 Podcast episode
Kansas coach Bill Self talks to reporters following the Jayhawks' 69-55 victory over Chattanooga on Nov. 15, 2012.
Podcast episode
Elijah Johnson, Ben McLemore and Jeff Withey talk to reporters following the Jayhawks' 69-55 victory over Chattanooga on Nov. 15, 2012.
Box score
Outlawing the dunk in college basketball doesn't quite rank with banning Harper Lee's "To Kill a Mockingbird" on the dumbest moves of all-time list, but it's a close call.
The NCAA banned the dunk from 1967 to 1976 in an attempt to make life more difficult for an extremely bright, thoughtful, well-mannered, one-man basketball promotional machine who dominated with grace. Good thing the NCAA changed the rules on Kareem Abdul-Jabbar when his name was Lew Alcindor. After all, if you can't legislate against someone like that, why even exist as an organization?
No exit polls were conducted Thursday night as the 16,300 spectators transformed by Ben McLemore's gravity-defying dunks from nervous wrecks into giddy noise boxes strolled out of Allen Fieldhouse. None were needed. Surely, 100 percent of those polled would have agreed that reinstating the dunk was a smart move by the NCAA. It's reassuring to be reminded that more than 40 years after the rest of the country learned that prohibition of really fun things just doesn't work, the NCAA got the hint.
Leap-easy McLemore had five slams and even threw a lob that Jeff Withey slammed home. In so doing, McLemore enabled the release of all that pent-up frustration from a crowd that had to watch a Kansas offense that only the game's inventor and the first and only losing basketball coach in Kansas history, Dr. James Naismith, could have enjoyed.
A number of factors enabled Kansas to defeat Chattanooga, 69-55, in a game it trailed 36-28 at the half. For one thing, Bill Self let his three senior starters have it in the locker room during the halftime intermission while disciplined, athletic dogs were running down Frisbees on the court and leaping for sensational catches. Elijah Johnson, Travis Releford and Jeff Withey, who had been awful in the first half, all were terrific in the second. (Basketball definition of infinity: Releford playing against a clone of Releford in a game of one-on-one up to one.)
Not to be forgotten in reviewing Thursday's turn-around that included a 19-1 run from the home team: the power of the dunk.
Nobody fuels that symbiotic basketball player-crowd energy flow more than a high-flying flusher. Thanks to McLemore, the home crowd-advantage could be greater than ever this season for the Jayhawks, who will need all the help they can get if they don't start shooting better (.245 on three-pointers three games into the season).
UCLA's legendary coach John Wooden and UConn women's coach Geno Auriemma, the most accomplished all-time women's hoops coach not named Pat Summitt, represent different viewpoints on the dunk.
"Coach Wooden always said he hated the dunk and that kind of stuff, and I could understand how people could feel that way," 10th-year KU coach Bill Self said. "But I'm totally different. I think those type of plays are the plays that change games from a momentum standpoint."
Auriemma rocked the women's hoops world recently when he said he thinks the rim should be lowered to bring the dunk into the women's game as a more common play, not just a novelty executed by the very best. He suggested lowering it "about seven inches," and even offered 7.2 inches as a way of honoring Title IX, equality-in-sports legislation passed in 1972. He, by the way, is not the first to advocate lowering the rim in the women's game, just the most respected. But that's a column for another day. Or did I already write that one a few years ago?
Anyway, Self loves the dunk and constantly reminds his players that theirs usually start on defense.
"How many times do you get more run-outs and more dunks when you actually guard and you don't have to take the ball out of bounds?" he said. "We had more fun in the second half in large part thanks to defending. That's what makes it fun."
For everybody. Dunk you very much for rescinding the ban, NCAA.