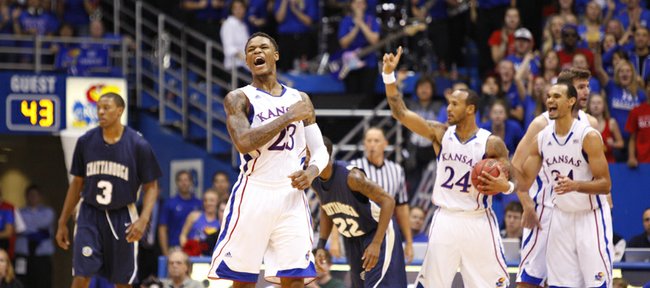 Podcast episode
Kansas coach Bill Self talks to reporters following the Jayhawks' 69-55 victory over Chattanooga on Nov. 15, 2012.
Podcast episode
Elijah Johnson, Ben McLemore and Jeff Withey talk to reporters following the Jayhawks' 69-55 victory over Chattanooga on Nov. 15, 2012.
Box score
Bill Self had a lot to say to his shell-shocked Kansas University basketball players at halftime of the Jayhawks' 69-55 victory over Chattanooga on Thursday in Allen Fieldhouse.
"First he asked us, 'Were we woke (awake)?' The answer was, 'No,'" KU senior guard Elijah Johnson said after a half in which he and backup point Naadir Tharpe were torched for 18 points by freshman dynamo Farad Cobb. His 6-of-7 three-point shooting gave the unheralded Mocs of the Southern Conference an eight-point (36-28) halftime lead.
"Then he kind of challenged us," Johnson added. "He said, 'You've got to wake up, snap out of it and we've got to play Kansas basketball.' We couldn't end the game like that. He challenged the seniors. I felt me, Jeff (Withey), Kevin (Young) and Travis (Releford) put the team on our back and did what we needed to do to get the win."
Perhaps as importantly as Self's message to the team — it obviously worked as KU outscored the Mocs 41-19 the final 20 minutes — was a one-on-one meeting between the coach and Releford in the huddle before the start of second-half play.
"I told him to let me get him," the 6-foot-6 Releford said, asking for the chance to guard tiny 6-foot Cobb. "He was getting whatever he wanted. Elijah was in foul trouble. Jeff was having a hard time hedging because the guy was so quick. I told coach, 'Let me get him. I'll get over the screen. We won't have to worry about Jeff stepping over a hedge,' and the game changed from there, I guess. Coach let me take him, and we stuck with it."
Shadowed by Releford, Cobb hit just one of two shots (both threes) the final half and was not a factor as the Jayhawks, who trailed 42-30 two minutes into the final half, finally went to work on the huge deficit.
"The difference was we learned something tonight as a staff. We probably should have known it (before)," Self said. "We're better with Travis on the ball. We took Travis off the wing, let him guard the point guard and Elijah guard somebody else. That will probably help our team. Everybody's comfortable," Self added. "Tonight (the Mocs) weren't comfortable the second half, and I think Travis had as much to do with that as anybody."
Freshman sensation Ben McLemore, who had five dunks and hit two threes en route to 25 points, scored six points in a 19-1 run that turned the 12-point deficit into a 49-43 lead. The run extended to 27-4 and 33-7 overall, McLemore hitting for 11 points in that stretch that gave KU a 63-49 lead with 3:55 left.
"I like to see a kid get 25 in his third game ever. I like to see that," Self said with a smile. "Ben's finger popped out twice — he dislocated the same finger (left ring finger) twice — and still went for 25. That was pretty special."
Of his performance, McLemore said: "I came tonight with the mindset of being aggressive like coach wants me to be every night. That's what I did. I just wanted to get my teammates involved, too."
As far as the seniors, who indeed woke up the final half ... Withey finished with 11 points and 10 boards after scoring two points with three boards the first half; Johnson had 18 points and four assists after scoring five points with no assists the first half; Kevin Young had five points and seven boards after scoring four points with three boards the first half. Releford struggled offensively, missing five threes and scoring just two points, but played the pivotal defense the final half and also had five of his six assists the final 20 minutes.
"Our defense was tremendous the second half," Self said. "The first half was just lack of energy. We're not good enough to play at 80 percent or 90 percent. We have to play at 100 percent every night. When we do that, we're pretty good."
Perhaps the seniors learned a lesson.
Remember, Chattanooga had a comfy 36-28 lead at the break.
"It's not a good feeling," Johnson said. "I don't like people to come in the fieldhouse and have a game like that. It doesn't happen too much, and I know it's not what the fans came to watch, unfortunately."
All's well that ended well, as KU bounced back from Tuesday's loss to Michigan State and improved to 2-1. Chattanooga fell to 1-1. KU will next meet Washington State at 9 p.m., Monday, in Sprint Center in Kansas City.