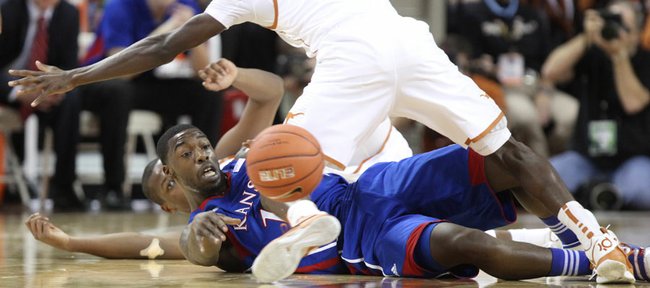 Podcast episode
KU coach Bill Self talks to reporters following the Jayhawks' 69-66 victory over Texas on Jan. 21, 2012.
Podcast episode
Tyshawn Taylor and Thomas Robinson talk to reporters following the Jayhawks' 69-66 victory over Texas on Jan. 21, 2012.
KU vs. Texas
Austin, Texas — Tyshawn Taylor again sped his Kansas University basketball team to victory, 69-66 against Texas in the Erwin Center on Saturday, and the toughest defensive assignment, as usual, went to Travis Releford.
But Taylor isn't the only guard playing well for the Jayhawks, and Releford isn't the only perimeter player taking pride in his defense.
Under the radar, a year before the spotlight shines on him, junior guard Elijah Johnson has become a player the coach doesn't want to take off the floor because he's making too many winning plays.
Kansas won the game by playing so well at the end, but it might not have come to that if the defense played on Texas junior guard J'Covan Brown had not been so terrific at the beginning.
Releford had Brown the first three-and-a-half minutes, and every time Brown touched it, Kansas trapped him. Releford was tagged with a foul at the 16:37 mark, and Johnson took over the assignment. More of the same. Brown didn't get a shot attempt off until the 13:15 mark of the half. Brown didn't make a shot until he first missed five of them. His first bucket came with 6:27 left.
Releford returned to guarding Brown, but during the first half, Johnson was on him more minutes than anybody. All but four of Brown's 24 points came in the second half.
"I ended up switching onto him one play, and I felt some discomfort (on Brown's part)," Johnson said. "I took advantage of it. I got my hand on a couple of basketballs from him and (Myck) Kabongo. When it came to a timeout, coach called out the list and called who we were guarding, and I told him to switch mine, keep me on him."
Johnson's defense played a big hand in Kansas taking a 12-point lead at the half. He finished with nine points, four rebounds, three assists, three turnovers and three assists in 35 minutes. He also had one of the Jayhawks' biggest buckets, pulling up and draining a guarded 15-footer to cut the deficit to 64-62 with 2:54 left.
Keeping opposing guards from getting past him was a problem in limited playing time as a freshman. Not anymore.
"I just have this mentality I've developed while I've been in school," Johnson said. "I don't really want anybody scoring on me. Forget the team, forget the coaches, forget the referees, forget everybody in the stands. Just personally, I don't like being scored on, and that's how I approach the person I'm guarding in the game."
Boastful basketball players sound better when it's their ability to defend they're discussing, especially when it's a player playing as if he doesn't care who gets the credit. Johnson has plenty of company in that regard.
"When I get scored on, it stands out," he said. "I don't know if you can tell, but when I get scored on, it stands out because it doesn't happen very often."
Johnson leads the team in three-point field goal attempts (105), but hasn't been the most accurate (.305) long-range shooter. Taylor does such a great job of breaking down the defense that open shots come to Johnson, and he's supposed to take them. It's a different sort of role for him.
"With me it's never been about scoring," Johnson said. "My whole life I've always enjoyed having other people score more, especially if I could put something together. I more so like to put it together and watch it develop than have somebody else put it together and me pull it through, although I can do that too. It's just more fun, and I get more excitement out of having other people score. I guess you could call it a true point guard."
Whatever you call it, the Kansas backcourt blends well enough that the team is alone in first place in the Big 12 with a 6-0 record and has won nine games in a row.
More like this story on KUsports.com