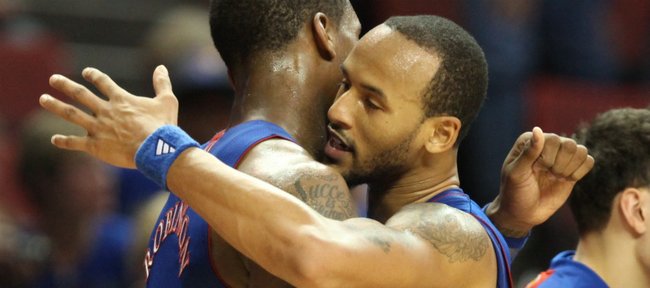 Podcast episode
Kansas coach Bill Self talks to reporters following the Jayhawks' 72-61 victory over Oklahoma on Jan. 7, 2012.
Podcast episode
KU players Thomas Robinson and Travis Releford talk to reporters following the Jayhawks' 72-61 victory over Oklahoma on Jan. 7, 2012.
KU vs. OU
Norman, Okla. — After hitting the showers and meeting the media, Kansas University's Travis Releford traipsed back into Noble Center on Saturday to meet his own personal cheering section — one led by his grandmother, Rose Cliff, who lives in Wagoner, and seven cousins from Tulsa.
"We're very proud. He was excellent. He put on a great show for us," Releford's cousin, Brandon Armstrong, said after watching Releford, KU's 6-foot-6 junior forward, explode for a career-high 28 points in KU's 72-61 victory over Oklahoma.
Releford hit nine of 13 shots overall, including three of five from three. He made seven of eight free throws while also grabbing three rebounds with two assists and two steals in 34 minutes.
Was he extra fired-up playing for his grandmother?
"Maybe," Releford said with a smile. "She doesn't get to come see me play much. Last year she came to a few (NCAA) Tournament games. That was it. She never has seen a game in the fieldhouse.
"I mean, I didn't say, 'I need to come out and score points for my grandmother.' It was nice, but I was only playing, doing what I can to help us win."
Releford has been on a roll offensively. He scored a then-career-high 16 points off 6-of-11 shooting in Wednesday's 64-49 Big 12-opening victory over Kansas State.
Saturday, he had 16 points the first half off 6-of-9 shooting (two of three from three). He played 19 minutes the first half, keeping KU in the game on a day the Jayhawks lagged, 34-33, at the break.
"In our conference games, Travis has been our best player," said KU senior guard Tyshawn Taylor, who scored nine points off 4-of-10 shooting. Taylor was 0-for-5 from three; KU hit four of 19 treys to OU's three of nine.
"He is attacking the rim, making open shots. It's exactly what we knew he could do. His stroke is getting better. The last couple years when he hasn't been playing (much), he's improved his shooting. He's one of the best defenders, if not the best we have."
KU coach Bill Self said Releford "was more aggressive offensively. I think the K-State game gave him a lot of confidence. He still got most of his points off junk. The three threes he made were great, but most of his points were taking the ball to the basket when we had numbers."
Releford, one of various players to guard Steven Pledger (14 points, 4-for-12 shooting, just two points in the second half), insists his only goal every game is to play rugged 'D.'
"Coach Self lately has told me to stay aggressive," Releford said. "I try to continue to be aggressive, take what the defense gives us."
Of his offense, he said: "With T-Rob in the post ... he's drawing so much attention, it helps our wings get open. It frees me, Tyshawn and Elijah (Johnson, nine points, 4-of-7 shooting)."
Thomas Robinson (18 points, 8-15 shooting, nine rebounds) scored seven points and Releford eight in a 23-4 run that opened the second half. It turned a one-point deficit into a 56-38 lead at 12:11.
KU extended the run to 29-6 and led, 62-40, with 8:30 to play.
"Our defense was excellent. We got out in transition. That's the best stretch we played. Other than that, it was back and forth," Self said.
Apparently, Self didn't do much screaming at halftime.
"Coach didn't say much (at halftime). We played an awful first half," Robinson said. "We knew if we cleaned up our play and came out stronger, we could win the game."
Self said: "Other than Travis Releford ... he kept us in the game the first half. I thought a couple other guys were still in Lawrence, the way our heads were into it. The second half, for whatever reason, the lights came on, and guys seemed focused and were more intense."
Releford and Robinson finished with 46 of KU's 72 points. The Jayhawks hit 50 percent of their shots to OU's 38 percent. KU had 14 steals and forced 17 turnovers while committing 13.
KU (12-3 overall, 2-0 Big 12) will meet Texas Tech at 8 p.m. Wednesday in Lubbock, Texas. The Jayhawks' chances will be enhanced, of course, if Releford continues his sizz.
"He's been big starting out the conference," Robinson said. "He is definitely playing his butt off right now."
More like this story on KUsports.com