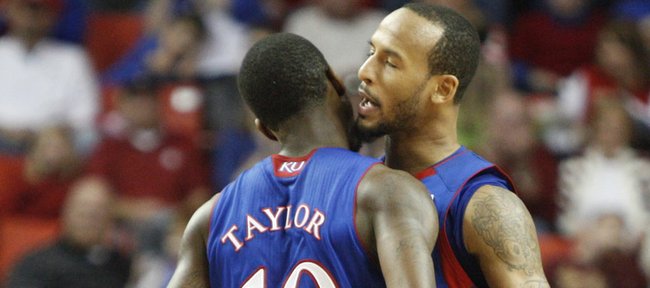 Podcast episode
Kansas coach Bill Self talks to reporters following the Jayhawks' 72-61 victory over Oklahoma on Jan. 7, 2012.
Podcast episode
KU players Thomas Robinson and Travis Releford talk to reporters following the Jayhawks' 72-61 victory over Oklahoma on Jan. 7, 2012.
KU vs. OU
Norman, Okla. — Kansas University senior guard Tyshawn Taylor entered into a brief war of words on Twitter with some of his most vocal critics Friday night.
Taylor basically told some KU fans who are unhappy with his play that he didn't take kindly to criticism from those who do not play or coach college basketball.
He wrote: "If half (of the people) that talk about ball could actually ball ... I'd appreciate y'all comments and criticism more, but y'all can't do stuck to being a fan."
He also wrote: "Once again I repeat ... if you can go out there and lace 'em up ... I'll accept the constructive criticism ... but since y'all cant well ... yeah."
He removed the comments Friday night after speaking with coach Bill Self, who cell-phoned Taylor after being informed of the controversial Twitter bickering.
"A lot of people don't like me as a player," Taylor said after KU's 72-61 victory over Oklahoma on Saturday in Noble Center. "Everybody is entitled to their own opinion. So am I. My response to the million people who hit me up ... I don't respond to criticism from somebody who is not in my position. They don't really know what it takes to be a point guard at this level. I appreciate the fan support. I love our fans. They are the best fans in the country.
"Some give it a bad name sometimes. A lot of people are really opinionated. Twitter is to voice opinions. That's what I did. I didn't try to disrespect anybody like people do me. I didn't use any language. I felt I handled it pretty well. I can handle it better by not responding, but that's tough to do sometimes," he added, laughing.
Self said he wouldn't remove Taylor's Twitter privileges.
"I'm not going to cut it off. He has to learn to deal with some stuff," Self said. "Next time, if there is any issue at all, it will be cut off. If he had said anything negative about the program (or used derogatory language), I would cut it off."
Self said Taylor must understand, "You can't be thin-skinned to play quarterback at Notre Dame or point guard at Kansas.
"It is frustrating. For him to be a senior ... for him to start four years and hasn't learned that Kansas basketball ... everything you do is magnified. That's the thing that is frustrating."
Self gave Taylor a piece of advice on the phone Friday night.
"I said, 'When are you going to learn that the only way you want people to talk good about you is let your play do your talking?" Self said. "The more you talk, the more you act like a little spoiled brat. It bothers me that in today's times — (when) we live in a social media world — that he is so concerned what people are saying all the time.
"He is probably the most criticized player we've had since we've been here. Still, he brings a lot of that on himself. The more he does things like this, the more people are going to do it," Self added of people trying to get under his skin. "I said, 'You've got to let your play do your talking.'"
Taylor said he's going to stop sparring with KU fans on Twitter.
"It all got taken down," he said. "I feel being in my position it can get blown out of proportion. I don't think it had to (be taken down), honestly, just for the sake of staying out of trouble. I don't want to get in trouble over something so dumb, responding. I'm going to leave it alone. We're playing well. I'm happy with our team, the way things are going."