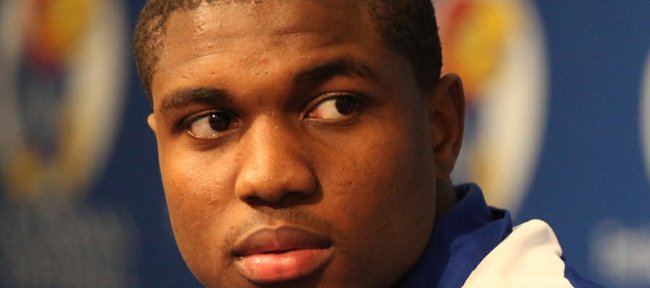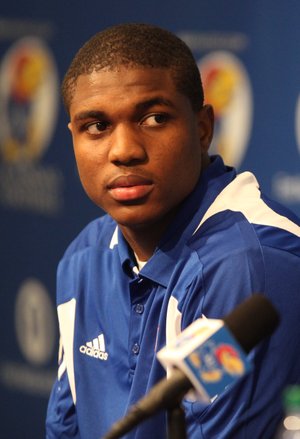 By now, Kansas University football coach Charlie Weis has said all he can say about the situation surrounding Oklahoma transfer Justin McCay, a wide receiver from Bishop Miege High who is appealing the NCAA for a hardship waiver that, if granted, would allow him to play at Kansas without sitting out a season.
"Because he has red-shirted for a year, if he were to win a hardship through his letter to the NCAA, that would allow him to have three years to play three," said Weis of the 6-foot-3, 220-pound sophomore. "He is finishing his letter and sending that in, so we will see how the ruling goes. That is the only status that I can give at this time."
Fortunately for KU fans, there's someone on the KU coaching staff who can say a little more — offensive line coach Tim Grunhard, who coached McCay in high school.
Thursday morning, when Grunhard and the rest of Weis' coaching staff sat down with the media for the first time, Grunhard shared his thoughts on McCay, whom he continually described as caring, genuine, loving and a great person.
"We're hoping that he can play next year," Grunhard said. "If you read the story and you read the letter and you read about some of the things he's gone through in his life, I want to meet the NCAA compliance person that says no to him. Because if you say no to him, then obviously you don't understand what's so important to this kid and what a great person he is. We're hoping it all works out."
Although he stopped short of giving specific details about the content of McCay's letter, Grunhard painted a picture of a young man having been through more in his first two decades of life than most people endure during far longer stretches of time.
"He's had a rough go of it," Grunhard said. "Here's a kid that pretty much couch-surfed all through high school and never had a home. His father passed away going into his senior year. He's down in Oklahoma. He had some family issues. I think he was homesick. He was red-shirted, and he lost that football instinct for a little bit. But he's the same old Justin being back here."
Grunhard attributed the light returning to McCay's eyes to his ability to be around his family more often — even when it means being put in charge of taking care of his baby sisters — and the fact that he has been given a fresh start in football as well.
"I think football has been his escape for so many years, and he really thrives on that when he's in the right situation," Grunhard said. "He may have gone to Oklahoma for the wrong reasons, and it kind of snow-balled. He needs to build that back up, and he will."
McCay, a former five-star prospect who participated in the U.S. Army All-American game as a senior at Bishop Miege, red-shirted during the 2010 season and played only sparingly last season. He appeared in three games for the Sooners and did not record any statistics.
When he met with the media a few weeks ago, the dynamic wide receiver, whom many have said could make a major impact on the KU offense right away, did not look or seem like a young man with a chip on his shoulder or someone who was bitter about the hand life had dealt him. Instead, he was everything Grunhard described him to be and, more than anything, he appeared happy to be sitting in Lawrence, wearing a KU shirt.
"Being close (to home) was a factor, and coach Weis and coach Grunhard were factors as well," McCay said. "I'm glad I'm here. I'm not looking back, on it and I'm not mad I left or anything. I have a great opportunity here. I had to go with what my family and my heart needed. This was the best place for me."