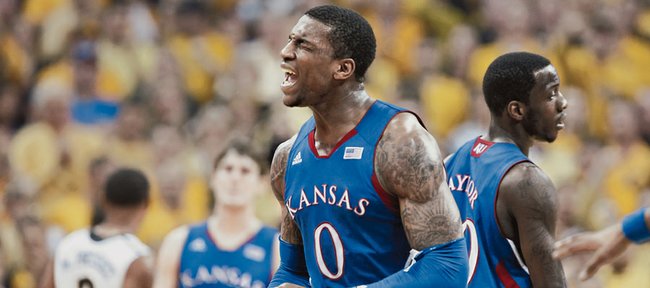 Losses on successive Saturdays — combined with winning streaks of Baylor (four games) and Missouri (three) — have dropped Kansas University's basketball team into a three-way tie for first place in the Big 12 Conference.
"It's not good with the conference situation — the race. Still, we've been here before," said KU coach Bill Self, whose Jayhawks have scratched and clawed their way to seven consecutive league crowns.
The Jayhawks, who fell to Iowa State, 72-64, on Jan. 28 in Ames, and Missouri, 74-71, on Saturday in Columbia, travel to Baylor on Wednesday for a 6 p.m. tipoff in Ferrell Center. The Bears, like the Jayhawks, take an 8-2 league mark into that showdown.
Baylor (21-2, 8-2) has games remaining at Missouri, Texas and Iowa State and at home versus KU, ISU, Kansas State, Oklahoma and Texas Tech.
KU (18-5, 8-2) still must play at BU, Kansas State, Texas A&M; and Oklahoma State and at home against OSU, Texas Tech, Missouri and Texas.
MU (21-2, 8-2) travels to Oklahoma, Texas A&M;, KU and Texas Tech, with home games against Baylor, Oklahoma State, K-State and Iowa State.
Surprising Iowa State (17-6, 7-3) plays at Oklahoma State, Baylor, K-State and Missouri and has home games left versus A&M;, Oklahoma, Texas Tech and Baylor.
Kansas State currently sits alone in fifth place at 5-5, followed by Texas and OSU (4-6), OU and A&M; (3-7) and Tech (0-10).
"One thing that should give us confidence," Self said, "is we know when we play a certain way, inside/out, we are pretty good, because Missouri has a terrific team. They are well-coached, can score from all spots. This was our game to win. We leave here (Columbia) disappointed, but also knowing we've got a good team."
KU, which has gone a nation's-best 227 games without consecutive losses, will face an ultra-talented Baylor team that was blitzed by KU, 92-74, on Jan. 16 in Allen Fieldhouse.
"We've got to bounce back Wednesday," KU senior guard Tyshawn Taylor said. "We've lost two tough road games. We get another opportunity to play another good team on the road."
The date of the Missouri rematch will be Saturday, Feb. 25, in Allen Fieldhouse. That game will be a 3 p.m. start on CBS.
"You can't dwell on this too long. We're going to Baylor Wednesday," KU junior center Jeff Withey said. "We know we'll play them (Tigers) again, maybe twice — our place and the Big 12 Tournament."
Ellis closing in on mark: Kansas University signee Perry Ellis, a 6-foot-8 senior forward from Wichita Heights, is now just 38 points from becoming the No. 1 scorer in Wichita City League history. Former KU center Greg Dreiling of Wichita Kapaun scored 1,963 points.
Ellis' next game is Tuesday at Wichita West. Heights has won 57 consecutive games.
Ellis, who is averaging 25 points a game off just 13 shots per outing, is expected to be invited to the McDonald's All-America game in coming weeks. A recent Wichita Eagle article listed Ellis as possibly the greatest player in City League history, joining the conversation with Dreiling, Darnell Valentine, Antoine Carr, Ricky Ross and Aubrey Sherrod. Other City League standouts include Taj Gray, Korleone Young and Adrian Griffin.
Frankamp hits for 47: Future KU guard Conner Frankamp scored 47 points in Wichita North's 69-66 victory over Wichita East on Friday in North's gym. Frankamp hit 13 of 21 shots. At one point, he iced seven straight three-pointers. Frankamp, a junior, moved into fifth place on the Wichita City League career scoring list with 1,476 points. Frankamp has topped the 40-point mark in four games this season.
Sampson to visit: Jakarr Sampson, a 6-8, 220-pound senior forward from Brewster Academy in New Hampshire, will attend the KU-Missouri game as part of an official recruiting visit, according to Rivals.com. He has a list of KU, Baylor, Pitt, Louisville and St. John's.
Marcus in D-League again: Houston Rockets first-round draft pick Marcus Morris, who practiced Thursday for the first time since suffering a severely sprained ankle on Jan. 12, is back with the NBA Development League's Rio Grande Valley Vipers.
"He hasn't been able to practice for two weeks with a sprained ankle and we go on a two-week road trip and he needs to go down there and play and get some conditioning," Rockets'coach Kevin McHale told the Houston Chronicle.
A reporter asked McHale if he'd "gotten feedback from Marcus that he's not happy about it?"
"No. I just assume that if they tell you what to do, you do it. Maybe I'm just stupid," McHale said. "I forgot to ask him that, but I will next time.
"The D-League is a place for guys to go down and play and get in good shape. That's where Marcus needs to be right now. We're going on a long road trip. For him to go on a road trip with hardly any practice time it is going to be very difficult for him to improve and all these young guys do need to improve."