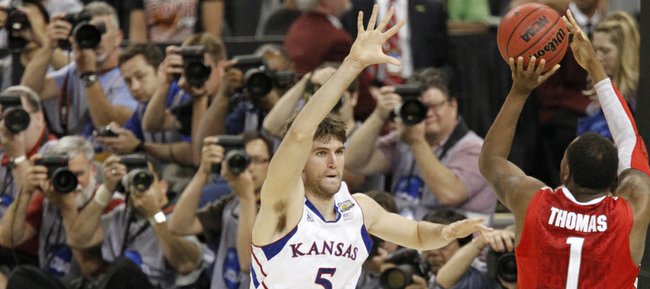 Travis Releford, who has earned a reputation as Kansas University's defensive stopper, figures to be matched against preseason first-team AP All-American Deshaun Thomas of Ohio State on Saturday in Columbus.
Tipoff for the nonconference clash between the (9-1) Jayhawks and (9-1 Buckeyes) is 3 p.m., Central time, at 19,049-seat Value City Arena.
"I look forward to guarding the best guy every time I step out. For him to be that guy ... yes, I'm excited to be about to guard him. I'm looking forward to it," 6-foot-6, 210-pound senior Releford said of guarding the 6-7, 215-pound Thomas.
The junior from Ft. Wayne, Ind., has averaged a team-leading 20.4 points a game off 45.9 percent shooting (27 of 66 from three for 40.9 percent). Thomas also has averaged 6.9 rebounds while dishing 16 assists against 13 turnovers.
"His size ... that's the tough thing about the match-up with him," Releford noted. "Playing the 4 (power forward), he can stretch the defense, shoot it well and put it on the ground. It's a tough match-up. He's very important to their team, especially on the offensive end. They look for him to score. Our key going into this game is making him uncomfortable and trying to limit his shots."
Thomas scored nine points off 3-of-14 shooting (1-of-7 from three) while playing 23 minutes in KU's 64-62 Final Four semifinal victory over the Buckeyes last March in New Orleans. He scored 19 points off 7-of-14 shooting (3-of-7 from three) in KU's 78-67 victory over the Buckeyes on Dec. 10, 2011, in Allen Fieldhouse.
KU's Thomas Robinson and Kevin Young spent some time guarding Thomas in those games.
"Kevin was our best slider defensively who could extend on Deshaun, to be honest," KU coach Bill Self said. Young had a big game offensively versus OSU in Allen, hitting for 14 points off 6-of-8 shooting. He had five rebounds and no points in the Final Four contest.
"Deshaun will take some hard shots. He can get up 20 (shots) easily," Self said of Thomas, who is averaging 15.9 shots a game this season. "If you are a natural scorer like he is and averaging over 20 a game, you've got the green light to shoot some good contested shots. He is a shot maker, a professional scorer at our level.
"Their team is totally different this year (without NBA rookie Jared Sullinger, who played in the Final Four game but was hurt for the contest in Lawrence). They play through him (Thomas) on almost every possession. We'll try to guard him a little differently than last time. I don't think we did a good job," Self added.
Johnson on Cousy list: KU senior Elijah Johnson is one of 85 guards on the watch list of candidates for the 2013 Bob Cousy Collegiate Point Guard of the Year Award.
The watch list of candidates will be narrowed to a final 20 in early January, a final 10 in early February and final five in early March. The winner will be revealed at the Final Four.
Services today for Evan Manning's grandfather: Mass of Christian Burial services for Danny L. Lucas, 75, the grandfather of KU freshman guard Evan Manning, is set for 10 a.m., today, at Corpus Christi Church in Lawrence. Burial will follow at 3:30 p.m. at Greenwood Cemetery in southwest Wichita. Lucas died Tuesday at his home.
The family suggests memorials in his name to Corpus Christi Catholic Church and may be sent in care of Warren-McElwain Mortuary. Evan will be able to make the trip to Ohio State for Saturday's game. Lucas is the father-in-law of former KU All-American Danny Manning, who is head coach at Tulsa. Tulsa will meet Oral Roberts on Saturday at ORU.