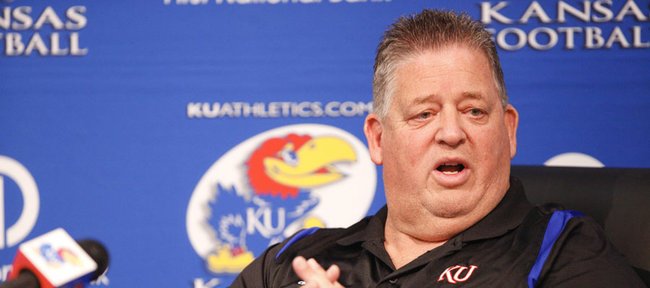 Until Thursday, it had been up to the Kansas University football recruits themselves to talk up KU's 2013 class and point out the strengths and interesting stories behind each of the 10 mid-year junior-college transfers who signed their letters of intent on Wednesday.
But Thursday, the man who landed them all took the microphone and, for the first time, was able to explain how so many players from such different places came together and picked Kansas.
"We kind of got into a very unique situation that no one could've expected, even us," said second-year KU coach Charlie Weis. "I'd like to sit there and say we had it all nailed down, but we got into one of those unique perspectives where we challenged a lot of these guys to come and be a part of the reason why we went from 1-11 to whatever."
The whatever remains to be seen, but with a class that currently ranks 32nd in the nation and fifth in the Big 12 conference, the importance of recruiting continues to be a cornerstone of Weis' program.
"To me, you have two seasons," Weis said Thursday. "You have the football season and then you have the recruiting season. And if you don't treat the recruiting season just as important, then you're never going to win on players."
In the past couple of weeks — a period of time in which Weis admitted there were "a couple of miserable days" — the Jayhawks picked up a pair of four-star prospects and filled in around them. There's a reason seven of the 10 mid-year transfers are linemen. And Weis spelled it out Thursday, in no uncertain terms.
"I don't think we're good enough," he said. "If you don't have offensive and defensive linemen, it doesn't make a difference what else you have. If you don't have those guys, you can have the greatest skill guys in the world, but if the offensive line can't block, guess what, it's not going to make a difference."
Two of the most high-profile members of the group play on the defensive line, and Weis said their mere presence would give KU a chance to improve its woeful pass rush from 2012.
Pierce Community College defensive tackle Marquel Combs was ranked as the top junior-college prospect in the country by ESPN, and Weis said landing Combs was critical in putting together the rest of the group, which included four-star defensive end Chris Martin of City College of San Francisco.
"I was in his face," Weis said of his visit with Combs. "I basically said, 'Are you afraid?' And that was right up his alley. He accepted the challenge and once he jumped on board, there were a lot of other people saying, 'Well if he's coming, let's go.' I think it really had a positive snowballing effect."
With Combs committed, the rest fell into place quickly. Last week alone, KU picked up 10 oral commitments and six of them signed Wednesday. The others are expected to graduate in May and report to KU in June.
Regardless of when they would arrive, the class, led by Combs, adopted a slogan of "Dream Team 2013," which speaks to the mindset of the newcomers. Weis said he did not anticipate their confidence dividing the roster. For one, he said the newcomers and current players got along great on the various visits.
"They're like long lost best friends and they haven't even been teammates yet," Weis said.
Weis also believes that bringing in more talent will motivate the returning players to work harder to hold their spots.
"If they can't read the writing on the wall, they're not very intelligent," Weis said. "That should drive them. The competition is totally different. It doesn't make any difference what position you play; the competition has now changed. It's not the same. And, if you don't get better in a hurry, you'll never play."
That's really what it's all about. That's the reason Weis is never happy with solid efforts and does not believe in moral victories. It's why he's willing to play anyone on his roster at any time as long as he thinks that gives his teams the best chance to succeed. And it's why he hit the junior-college ranks as hard as he did this offseason, with 10 already signed and perhaps as many as 10 more coming in February.
"I want guys that can play, and I want to blend them with high school guys that want to play at Kansas," Weis said. "You know what? You take that formula right there and we'll have a chance to really get this right."