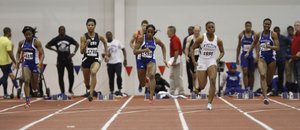 Kansas University sprinter Paris Daniels set two facility records and won two individual titles at the Bob Timmons Challenge, the KU track and field team's season-opening meet on Thursday at Anschutz Pavilion.
"We had a great start (to the season) tonight," KU coach Stanley Redwine said. "We were looking to see how the athletes competed, and I thought they competed very well. This is definitely encouraging for me and all the assistant coaches; it means we did a very good job in fall training. Now we just need to keep training hard through the holiday season and get ready to really get after it."
Daniels won the 60 meters in an Anschutz-record 7.32 seconds. Then she set another facility record with her winning time of 23.62 seconds in the 200 meters.
Eight other Jayhawks won events Thursday: Alena Krechyk, weight throw (20.35 meters); Brendan Soucie, 3,000 meters (8:46.35); Anastasiya Muchkayev, shot put (16.18 meters); Michael Stigler, 600 (1:11.76); Demi Payne, pole vault (4.1 meters); Jonathan Fuller, high jump, 2.16 meters; Colleen O'Brien, high jump, 1.73 meters; and Nick Seckfort, 800, 1:54.86.
More like this story on KUsports.com