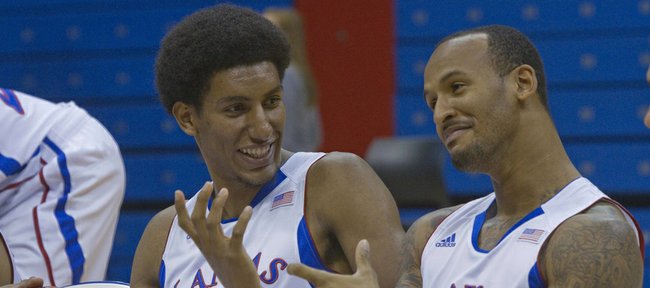 A bit tall for the position, 6-foot-8 Kevin Young and 6-6 Travis Releford have played some point guard — yes, point guard — during this week's Kansas University basketball practices.
Both have fared well at the lead guard position, starting point Elijah Johnson declared.
"I respect Kevin so much just knowing every play coach (Bill Self) called and knowing exactly what to do, not even looking at me to tell him what to do," Johnson said of senior power forward Young.
"He didn't really turn the ball over. He got us in the offense. He can feed the post better from being on the perimeter, seeing all the defenders. I thought he looked good, honestly," Johnson added.
Of senior shooting guard/small forward Releford's work, Johnson noted: "He knows how to run the point. He doesn't try to do too much. He gets us in the offense. Once the ball gets to the third or fourth side, he knows to attack and give us something to feed off of."
Johnson joked that a certain power forward from last year's team truly would have relished a chance to run the offense.
"T-Rob would have loved that," Johnson said with a smile, referring to 6-10 Thomas Robinson, now with the Sacramento Kings.
Self has used sophomore Naadir Tharpe at the backup point-guard position during the first seven games. He's averaged 4.0 points a game with 15 assists to seven turnovers. Freshman Rio Adams has also played sparingly in five games.
"Maybe we should play Rio, but maybe take some pressure off of him (by putting him at 2-guard) and play Travis at the point, something like that," Self said Thursday at his weekly news conference. "We just haven't found the one guy that says, 'Hey, you're his (Johnson's) backup.' We've looked at some different things to try to get some guys back there," Self added, noting Young's point guard stint only lasted about 10 minutes, despite the fact "he passes it well."
Self wants Johnson to attack the rim so he can get to the free-throw line. Johnson has attempted just 11 free throws all season, making eight. He averages 10 points a game with 34 assists against 20 turnovers.
"He's played OK. He hasn't played great yet. I think there's another big step he'll take," Self said of the senior. "This is not anything unusual about him starting out maybe a little slow and then kind of getting his feet under him and then kicking it in. It's just different than the way it's looked in the past because he's the only handler we have. If we had somebody else we'd put back there and play two guards at once, everybody would be talking about how good our point-guard play is."
Johnson bruised his left knee — the one he had surgery on last April — in KU's Nov. 20 victory over Saint Louis. He bruised his right hand after getting hammered on a driving layup attempt Nov. 30 against Oregon State.
"It's not bad," Johnson said of his knee. "I feel like I'm getting stronger. I feel I'm taking care of myself," he added, noting his hand felt fine heading into Saturday's 1 p.m. home game against Colorado.
"I feel I'm getting to the point I'm realizing I'm the one who has to make the plays all the time, and we're better off with the ball in my hands," Johnson said. "The rest of the guards are really there just to help me. It's my job to get it going and be able to control the ball and have the ball in good hands."
Johnson said he's "getting used to playing that role (of point guard) again. I'm studying everything. It's noticing stuff like I get tired at different times in the game. It's usually when everybody else is rested and I'm having to control the game, hold the ball so long or make a play or set everybody up and get everybody organized. Sometimes that wears on you. You don't realize it when you play on the wing. At point guard you have to make sure all five people are in order as opposed to another position when you can think about, 'What should I be doing?' and just get out of the way, just feed off what the point guard starts. I have to react to everything. Thinking gets you nervous or causes turnovers," Johnson added.
Hard work: Self said the Jayhawks have been showing great effort at practice.
"We play harder in practice than we do the games. That's what blows my mind," Self said. "We'll have a possession in practice, seven guys on the floor diving for a loose ball. And we'll go through a whole half and not have anybody dive against Oregon State. So it's kind of a weird deal. If we keep practicing the way we've been practicing, I know it's going to click in and become a habit. It just hasn't quite clicked in yet."
Buffs coming to town: Colorado, which improved to 7-1 after Wednesday's 70-61 home win over Colorado State, is led by third-year coach Tad Boyle, who played two years for Ted Owens and two for Larry Brown at KU. Colorado, of course, was a longtime member of the Big Eight and Big 12 before departing for the Pac-12 last season.
"I have no ill will toward Colorado. They left the league because they had to. I mean, with the league potentially breaking up, they had to jump and take what was available," Self said. "We certainly understand that. We primarily did it (scheduled CU in a home-and home series) for our fans that live in western Kansas or the Denver area (to see next year's game in Boulder)."