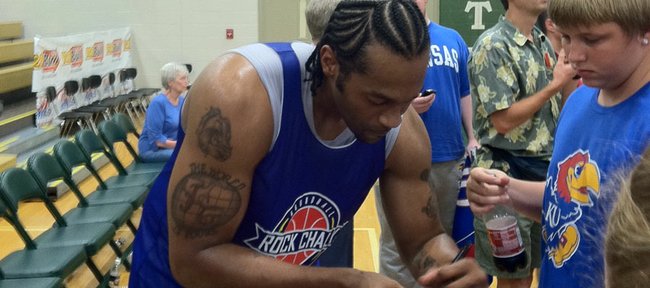 Former Kansas University basketball power forward Jeff Graves — who has played for pay in Slovenia, Turkey and Croatia and in the NBA's Developmental League but been idle the past two seasons — says he's not ready to retire at the age of 29.
"Keep on watching TV. I'll be there," vowed Graves, a 6-foot-9, 270-pounder out of Lee's Summit, Mo.
Graves — he played on KU's 2003 Final Four team — is on the comeback trail after fully healing from the torn ACL he suffered while playing for the NBADL's Idaho Stampede early in the 2009-10 season.
"Right now I'm trying to go to France, then from there try to get back to the NBA," said Graves. He scored 18 points and grabbed a batch of rebounds in Thursday's Rock Chalk Roundball Classic at Free State High.
"I work out a lot. That's all I do," added Graves, who also coaches AAU ball in the Kansas City area.
He received a thunderous ovation Thursday after ramming a vicious dunk early in the charity game consisting of former KU players, plus boxer Victor Ortiz.
"It felt like I was rejuvenated," Graves said. "It seems like everybody was waiting for me to come back and see how I'm doing."
Graves signed autographs for KU fans for a half hour following Thursday's game. He never even made it to the official autograph table because fans mobbed him shortly after the final buzzer.
"It's always good to come back and visit where you went to school. It's so much of a Cloud Nine when you come here. Everybody makes you feel at home and makes you feel you never missed a beat," Graves said.
Graves — he averaged 6.0 ppg and 6.8 rpg at KU in 2002-03 and 6.4 ppg, 4.9 rpg in 2003-04 — was asked why he's not spotted more often in Lawrence.
"Just the commute between here and Lee's Summit. I've got a daughter now. I'm enjoying being a father," said Graves, who along with girlfriend Kristin, are proud parents of 2 1/2-year-old daughter Kori Anne.
"It definitely felt good to see the guys. Back in the day we were all playing together. It's good to come back, get together and hear the stories."
To relive one Graves story ... he scored 16 points and grabbed 16 rebounds in KU's 81-78 loss to Syracuse in the 2003 NCAA finals.
Some say he would have been a legitimate contender for Final Four MVP had the Jayhawks upended the Orange for the crown. Of course, the overwhelming favorite would have been Nick Collison, who had 21 rebounds and 19 points in the final, not to mention Keith Langford, who scored 19 in the final and 23 in a 94-61 semifinal win over Marquette. Graves had nine boards and five points against the Golden Eagles to go with his 16/16 final.
"I don't know. That's up to everybody else," Graves said with a smile, asked if he was KU's MVP of the title game. "You could ask a lot of people and they would disagree."