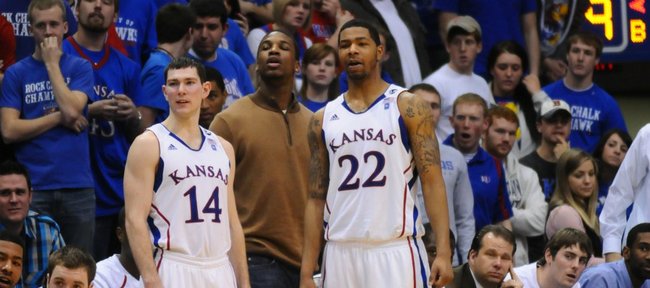 Thomasine "Angel" Morris provided some tender, loving care to a fallen Kansas University basketball player Friday afternoon.
She drove her vehicle to the surgeon's office to pick up woozy sophomore forward Thomas Robinson, who'd undergone a procedure to repair a meniscus tear in his right knee.
"I took him to the house. I made him some soup, made sure he got his medicine, checked to see if there was anything he needed," Angel Morris, mother of KU's Morris twins, said. "After that he woke up, his teammates came over and had a good time. He went home, woke up today and felt better."
Angel Morris and some of the other mothers of KU players who live in Lawrence have watched over Robinson lately.
Robinson's mom, Lisa, died on Jan. 21 of an apparent heart attack in Washington, D.C.
"Thomas is a strong kid and a good kid. We talked about it last night: 'It's another situation you have to get through,'" Angel Morris said of Robinson's surgery, which should keep the 6-foot-9, 237-pounder out of action just a couple of weeks.
"He went in like a soldier, came out, got some soup, got some rest and basically now is back to normal. To me, it's like a minor surgery. To me, kids bounce back faster than adults do. In the next couple weeks, I think Thomas Robinson will be back on the court better than ever."
Angel Morris, like everybody in KU's extended basketball family, was saddened at the passing of Lisa Robinson. Angel, with the NCAA's blessing, was allowed to travel to Washington with KU director of basketball operations Barry Hinson to help plan the funeral.
"It was heartbreaking because I knew Lisa," Angel Morris said. "I got to meet Lisa because I'm from D.C., like she is. I got to meet her in New York (for this year's KU-Memphis game on Dec. 7) and at Temple last year.
"She's a good girl, a good parent. She's young. It's a sad situation, but you can't say, 'Move on (to Thomas),' because that's your mom. You are always going to think about your mom. Thomas is still sad about it. He still knows he has to do well for his sister, his brother and also himself."
Angel Morris downplayed her role in helping out in D.C.
"I think I did what any other parent would have done," Angel said. "I'd say the funeral wouldn't have gone on without coach Hinson. He's a great person."
In addition ... "All the mothers are fantastic. They are pitching in," she reported. "They didn't know Thomas was getting surgery. When they found out, I got a bunch of texts concerned about him, seeing if there's anything he needs and if they could be of any help."
Her sons Marcus and Markieff are KU's top two scorers and rebounders in their junior campaigns.
"I am very proud of Marcus and Markieff," Angel Morris said after watching Marcus hit for 16 points and 11 rebounds and Markieff 14 points and 11 boards in a 89-66 rout of Iowa State. "They are developing real well, growing into nice young men (and) doing a good job on the court as well."
They've come a long way since their freshmen campaigns.
"I think they were scared of Kansas," Angel Morris said. "Kansas scared them to death because they were freshmen. Now that they are used to Kansas they can play basketball like they did in high school."
She was asked what to tell KU fans who'd like the duo to stay for their senior seasons and put the NBA on hold for just a while longer.
"I would tell the fans, 'Hold on,' because I'm hoping they'll be around another year," she said with a laugh.