Videos
Bill Self weekly press conference: Dec. 8, 2011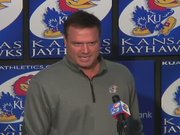 Kansas head men's basketball coach Bill Self addressed the media at his weekly press conference Thursday, Dec. 8, 2011 at Allen Fieldhouse.
Nothing's official yet, but it sure sounds as if Jared Sullinger will be healthy enough to play in Saturday's Ohio State-Kansas University basketball game in Allen Fieldhouse.
"He just told me he feels great," Ohio State coach Thad Matta said Thursday afternoon, referring to the 6-foot-9, 265-pound sophomore All-America candidate out of Columbus, Ohio, who has been limited at practice this week because of back spasms. "He said he woke up dancing this morning, but I don't know what that entails."
Sullinger missed Saturday's 64-35 home rout of Texas Pan American.
"It'll probably be Saturday," Matta said, asked when he'll know whether Sullinger will be able to answer the call in the 2:15 p.m. tipoff.
"I'll be perfectly honest with you: Saturday is not the most important thing in my mind for him. We definitely want him to play. I think he's the best player in college basketball, but I want to make sure what we do is right by him as well."
KU coach Bill Self is counting on Sullinger being able to participate in the battle between the country's No. 2- (OSU) and 13-ranked (KU) teams.
"If I was a betting man, I'd say Thad is probably not a very good poker player, because I think that he'll probably play," Self said. "I hope he does play. He's one of the better players that's played in our building in recent memory.
"One of the draws of playing Ohio State and a great team is getting a chance to play against great players. Our guys like that. It's an unbelievable game where you have two terrific teams and sets of players going after each other."
KU junior Thomas Robinson, who averages 17.4 points and 12.0 rebounds for KU (6-2), hopes Sullinger (19.1 ppg, 10.3 rpg) takes the court for the Buckeyes (8-0).
"I mean, (it's) competition. At the same time, it's a health decision, but if it was my pick, I'd definitely have him in the game," Robinson said.
Robinson and Sullinger attended the Amare Stoudemire, LeBron James and adidas Nations camps last summer.
"He's fun to play against. He's a smart player, very good player. We definitely had a good time," Robinson said.
One of Sullinger's teammates is convinced the big man will be in the lineup Saturday.
"Jared looks kind of tough, but he's a big teddy bear," point guard Aaron Craft said. "He was walking around really gingerly about four or five days ago, but now he's looking a lot better. Now he's got the bounce back in his step."
Self said KU senior guard Tyshawn Taylor would return to the starting lineup. Taylor "tweaked " his knee at practice Monday, yet played 34 minutes in Tuesday's 88-80 victory over Long Beach State.
Home and home: Matta was asked if the KU-Ohio State series would continue.
"We're going to play next year. They come to our place (in Columbus, Ohio, to complete two-year deal). Hey, by that time, who knows? Maybe they'll be in the Big Ten or we'll be in the Big 12 with how all this stuff is shaking out," he joked of conference realignment.
Big game: KU-OSU game figures to be the marquee game of the weekend. It will be shown live on ESPN.
"I agree we have a chance to make a statement for our team. We have a chance to do something that would be really good for our team and program," Self said. "We get a chance to have a great team come to Allen Fieldhouse, and it'll be a juiced atmosphere. I thought we had the national stage in Maui (vs Duke in final) and in the Garden (vs. Kentucky in New York). We have been in a situation where there has been a center stage, and we've been a part of it. Now we get a chance to be part of the biggest stage we have a chance to be a part of (this season). I know our guys will look forward to it and the coaches will as well."
— The Associated Press contributed to this report.