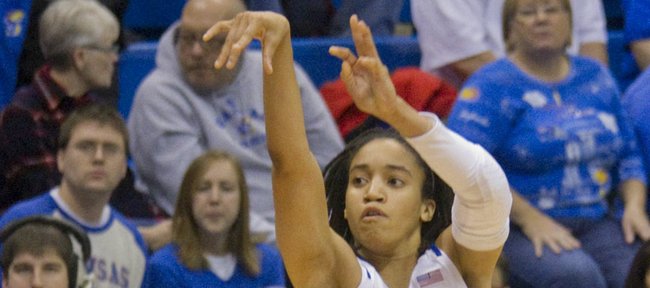 Keena Mays admits she still needs to work on her poker face.
During Thursday's shoot-around, Mays, Kansas University's sophomore guard, let out a quick smile when she was told that she would be starting her first game of the season.
"I was happy, but I couldn't express how happy I was," Mays said. "I just had to come out and play like I know how."
The 5-foot-7 Mays was impressive in her new role, scoring a team-high 17 points to lead the Kansas women's basketball team to a 73-44 rout over Wisconsin at Allen Fieldhouse.
Mays, who scored a career-high 21 points in KU's previous game against Alabama, said that "a little birdie" gave her a heads-up that she might be entering the starting lineup.
That birdie was actually one of the assistant coaches, who told Mays she had the opportunity to start if she continued to practice well.
"That's what I wanted from the beginning," Mays said of starting. "I just proved that I can be the player (coach Bonnie Henrickson) needs me to be."
Mays found first-half success by shooting jumpers over a sagging Wisconsin defense. She made five of seven shots and two of three three-pointers for 14 points before the break.
The Arlington, Texas, native finished 6-for-11 from the floor with four rebounds, one assist and no turnovers.
"She's produced," Henrickson said of Mays. "She's practiced well. She's been who I thought all along she can be."
Much of KU's effectiveness offensively could be attributed to ball security. The Jayhawks turned it over just six times, which tied for the second-fewest turnovers in school history.
The Jayhawks' previous low for turnovers this season was 16 against Alabama. KU entered the game averaging 21 giveaways per game.
"I think (it was) just focusing and not rushing things like we have in the past," Mays said. "Just hitting (shots) when they were there."
KU senior forward Aishah Sutherland posted a double-double with 12 points and a career-high 16 rebounds. That included a 10-point, 10-rebound effort in the second half.
Angel Goodrich added 12 points on 5-for-9 shooting while also contributing five assists, four steals and no turnovers.
Meanwhile, KU junior forward Carolyn Davis failed to hit double figures for the first time all season, scoring nine points on 3-for-6 shooting in 23 minutes.
Wisconsin (4-6) was led by Morgan Paige's 14 points.
KU (8-1) will play host to UMKC on Dec. 17.