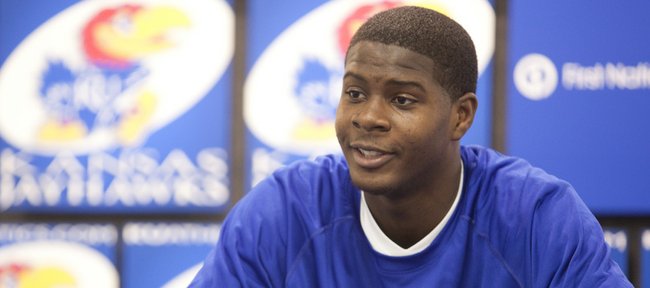 Kansas University freshman basketball point guard Josh Selby will attend class Tuesday but has not yet been cleared to participate during the 2010-11 basketball season, coach Bill Self told the Journal-World on Sunday afternoon.
Self would not issue any further comment.
The NCAA has been looking into Selby's relationship with Robert Frazier, the business manager of NBA player Carmelo Anthony while also examining Selby's academic record. The 6-foot-3 Baltimore native attended three high schools — Lake Clifton High, DeMatha Catholic and John Carroll School.
The NCAA is apparently freeing Selby to attend class 13 school days into the semester — and letting KU honor his scholarship agreement — while continuing to look into his eligibility.
Self would not comment on any aspect of the situation.
Last year, Kentucky freshman John Wall was not cleared by the NCAA until Oct. 30. He was handed a two-game suspension for accepting $800 of illegal benefits from a former AAU coach.
• Turner sick on U of L visit: Josiah Turner, a 6-foot-3 senior point guard from Sacramento (Calif.) High, didn't attend Saturday's Louisville-Kentucky football game as part of his official visit to U of L "because he was sick," the Louisville Courier-Journal reported. Turner will visit UCLA next weekend, Arizona on Sept. 17, Oregon on Oct. 1 and KU for the Oct. 15 Late Night in the Phog.
• Ellis to be here Tuesday: Perry Ellis, a 6-8 junior forward from Wichita Heights, still plans to make an unofficial visit to KU on Tuesday. Heck, if he wants, he could shadow Selby on his first day of class in accordance with NCAA rules.
More like this story on KUsports.com