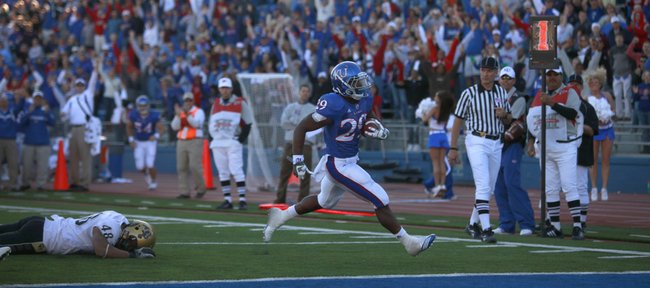 Kansas vs. Colorado
With 26 different buzz words at his disposal, Kansas University football coach Turner Gill flipped through his notebook at the beginning of the week and decided the key term for Week 9 would be "relentless."
Great call.
Trailing by 28 with 14:47 to play, Gill's Jayhawks defined the word as they unleashed a rally of epic proportions and claimed a 52-45 victory over Colorado at Memorial Stadium.
Onside kicks bounced KU's way.
The turnover-challenged Jayhawks picked up two crucial second-half takeaways.
And a couple of long-standing school records fell.
"At halftime, we just talked about being relentless," said Gill, whose team looked sluggish in the first two quarters and trailed, 35-10, at the break. "We've got to keep playing, keep executing and keep bringing intensity. I think that's what happened."
The biggest comeback in school history, which also featured the most points scored in a quarter in school history, unfolded so fast, nobody in the Kansas locker room was able to describe the incredible comeback in the same manner.
"I feel like I lost track of the score," senior offensive lineman Brad Thorson said. "All of a sudden, we look up and we're down seven. Those turnovers at the end were unbelievable. I'm still in shock."
Added Johnathan Wilson: "We were down. We didn't make some of the plays we should have. But somewhere in the second half, I don't know where, I need to go back and watch the film, but we just clicked."
Saturday's victory started off like so many of the losses the Jayhawks (3-6 overall, 1-4 Big 12) had experienced this fall. KU quarterback Quinn Mecham threw two first-half interceptions. The KU defense was torched for 316 yards in the first two quarters. And the Buffs (3-6, 0-5), led by seniors Cody Hawkins and Rodney Stewart, did whatever they wanted on offense in building the commanding halftime lead.
CU struck first in the second half, too, with a third-quarter field goal that made it 38-10.
Then KU's comeback spark began to flicker.
A one-yard run by James Sims cut the lead to 38-17, but CU answered with an eight-yard TD run from Stewart, and it looked as if this would be another embarrassing beating for KU.
One problem. The Jayhawks weren't interested in repeating history. So they made it.
"We just let all the pressure go and went out and played football," Wilson said. "I just told the guys, go play street ball, go play like you're playing two-hand touch or whatever. And that's basically what people were doing. They were just making plays, letting loose."
Added Thorson: "Just to have the pieces start falling into place for us, to have things start going our way, was incredible."
The first thing that sparked the comeback was an onside kick recovered by Kansas with CU leading, 45-24.
"It was discussed," Gill said. "We kind of went back and forth on it. Being behind 21 points, I thought (that) was really the chance for us to do it. Maybe it would be a little bit of a surprise."
Indeed it was, as Bradley McDougald recovered the kick and, four plays later, Wilson cut the lead to 45-31 with a 38-yard touchdown grab.
On the ensuing drive, red-shirt freshman Tyler Patmon made the first of two huge plays that helped decide the game. After defensive end Toben Opurum walloped CU's Toney Clemons on a reverse, the ball came out, Patmon picked it up and rumbled 28 yards for a touchdown.
KU trailed 45-38.
On the next drive, Patmon intercepted Hawkins on the second play from scrimmage to set up an eight-yard TD from Sims that tied the game at 45.
"We have been waiting on that for so long," Patmon said of the turnovers, KU's sixth and seventh on the year.
From there, the KU defense, fueled by an improbable flurry of good fortune, forced Colorado into a three-and-out.
Jake Laptad's sack — for a third consecutive game — sealed it and gave the ball back to KU's offense. Five plays later, Sims put the capper on the day with a 28-yard TD run that proved to be the game-winner. It marked the first four-touchdown day by a KU running back since Jake Sharp did it in 2008 against K-State.
"We've worked on that play at the end of every practice," said Sims, through a university release. "Coach (Reggie Mitchell) just said to hit the A-gap, and the hole will be there. I just listened to what he told me, and it was there."
Sims finished with a career-high 123 yards on 20 carries.
The announced attendance for Saturday's game was 40,851, though it appeared the actual attendance was smaller. By the start of the second half, Memorial Stadium was no more than half full. But those who stayed were loud and were treated to one heck of a finish.
"This is an unbelievable victory," Thorson said. "This is an unbelievable feeling. This is why I play football."
More like this story on KUsports.com