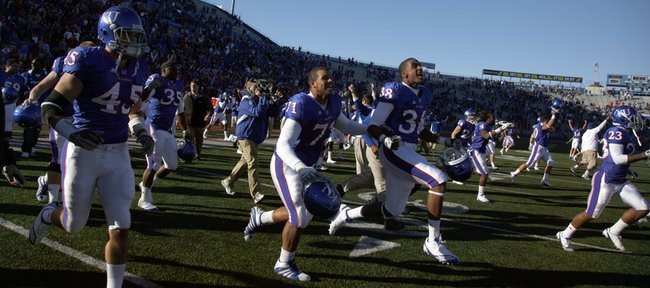 Kansas vs. Colorado
Purchasers of a ticket to watch Kansas University battle Colorado on a sunny Saturday afternoon for the right to avoid last place in the Big 12 North could be grouped into three categories:
Those who had seen enough of this team and ate their tickets because they couldn't give them away;
Those who took the trouble to go to the game, but left at halftime;
Those who didn't quit on their team, stayed until the end and witnessed the biggest comeback in the history of Kansas football.
Members of Groups 1 and 2 will be picking eggshells out of their eyebrows for months. The ones who stayed until the end of KU's 52-45 victory won't soon forget watching a tidal wave of emotion sweep the sidelines and spill onto the field during a fourth-quarter comeback that rewrote the record books.
Kansas scored 35 consecutive points in the game's final 11 minutes and five seconds. That would be the same team that in the 14 quarters (210 minutes) leading up to Saturday's game — the second half of the Baylor game and complete games against Kansas State, Texas A&M; and Iowa State — had totaled 33 points.
Those who stayed put until the end of a game that was not televised gained respect for so many participants in a comeback that was even more improbable than the team's punter standing up in the locker room and giving an unsolicited pregame pep talk in which he vented his fury against a Colorado team that started Kansas on a seven-game losing streak to end a 2009 season that started with a 5-0 record.
"He kind of surprised me by standing up and addressing the team," receiver Johnathan Wilson said of Alonso Rojas. "I feel like it gave a spark to the team. It might not have showed in the first half, but it showed in the second half. I was really proud of him for standing up, and he's not a real vocal guy."
If it helped, it was a delayed reaction. Colorado's Rodney Stewart, so short and so quick, continued his domination of KU's defense with an eight-yard touchdown run that put Colorado up 45-17 with 14:52 left.
As the diehards who stayed until the last second dropped off the clock could tell you, this was when Kansas freshman running back James Sims went to work behind an offensive line that had its best day of the season. Sims' 13-yard rush for a TD cut the deficit to 21 points with 11:05 left. Sims ran for 75 of his 123 yards and three of his four touchdowns in the final quarter.
First-year KU coach Turner Gill made the call of the season with an onside kick recovered by receiver Bradley McDougald.
"I didn't know we were doing an onside kick," Wilson said. "I was on the sideline thinking about the next drive, and people started yelling we had the ball. It was a great spark in the fourth quarter. I thank coach for making that call."
Down 21 points, defensive end Toben Opurum said he turned to D-tackle Patrick Dorsey on the sideline and said, "You know we're really not out of this game. You realize that, right?"
Opurum added, "He looked at me and said, 'Yeah.' Maybe a couple of guys were like, 'Man, same thing again this week.' We came back, big play after big play after big play."
The next would come from Wilson, who did a nice job of catching a Quinn Mecham pass and relentlessly making his way toward the end zone and diving in.
"Once I scored that touchdown, I felt like the stadium came alive," Wilson said. "Even though we were down by 14, I knew we were going to win the game. I just knew it. That was crazy. I love the game. That's what football's all about, especially college football. We showed a lot of passion and we didn't give up. We didn't quit."
Two plays after Wilson wouldn't be denied the end zone, red-shirt freshman nickelback Tyler Patmon stepped in front of a short Cody Hawkins pass intended for Luke Walters, got his hands on it and dropped it.
"It hurt my heart," Patmon said.
It also motivated him toward redemption that came soon.
Three plays later, Colorado tried a receiver reverse. Just as the handoff was being made, Opurum hit receiver Toney Clemons with so much force, so much passion, the ball spit out. Patmon scooped it up and took it to the end zone. The call stood after a review.
"Toben, he's a freak athlete, man," Wilson said of last year's leading rusher who started this season at linebacker. "Running back, linebacker, defensive end, whatever. He's just a good athlete."
Opurum sniffed out the play perfectly.
"I saw the tackle go away from me, and I just looked down the line to see if anyone was coming to block me, and I saw the receiver coming around, and I read the reverse, and I knew I could get there real quick, just hit him hard," Opurum said. "I didn't even know it was a fumble until I heard the crowd cheering. I looked up, and I saw my roommate running down the field."
His roommate, Patmon, who had made the game's first tackle, for a three-yard loss, was just warming up.
Two plays from scrimmage after Patmon's touchdown, Hawkins dropped back to pass to the sidelines, 15 yards upfield. Patmon intercepted it and stepped out of bounds.
On the next play, the loyal fans still in the stands saw Daymond Patterson pull a pass headed for the sidelines in with one hand, a remarkable catch for a 22-yard gain. Sims covered the final 20 yards on four carries, and with 4:30 left the game was tied.
With 52 seconds left, Sims put KU ahead with a 28-yard run. The Buffaloes almost tied it, but their quest died at the seven-yard line.
But then, you already knew that, didn't you? You were one of the ones who stayed until the end. At least that's what you'll claim for the rest of your life, won't you?
More like this story on KUsports.com