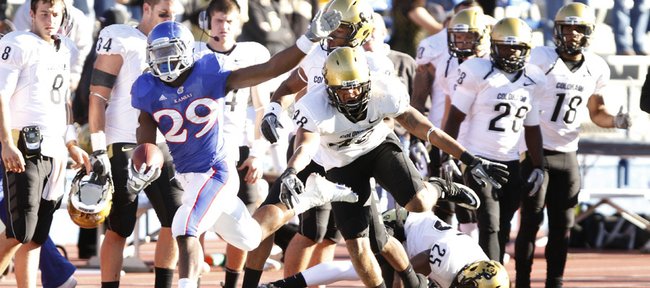 Kansas vs. Colorado
In 121 years, the University of Colorado never had blown a 28-point lead in a football game.
Until Saturday.
Against Kansas.
At Memorial Stadium.
"They came back and scored five straight touchdowns. I mean, that's not human," Buffs' wide receiver Paul Richardson said.
He was admittedly "shocked" after seeing CU's 45-17 fourth-quarter lead disappear in a one-for-the-ages, 52-45 defeat — the Buffs' 16th straight loss on the road, 12th straight in Big 12 Conference play.
"I don't know what went wrong. Of course it's eating me alive. I'm still shocked," added Richardson, who caught 11 passes for 141 yards and scored two touchdowns.
He thought he had a third TD, one that, along with an extra point, would have forced overtime with two seconds left. A pass from Cody Hawkins to Richardson in the corner of the end zone on a second-and-goal call from the KU seven was ruled incomplete.
"I definitely caught it. I made the catch and landed in bounds," Richardson said. "They said I didn't have control of the ball, but I did have control of the ball if I was able to take the hit and land. I let it (ball) go when I got up to celebrate."
There was nothing to celebrate after a final Hawkins pass soared out of the end zone on a third-and-goal play from the same seven.
"I thought he (Richardson) caught it," said Hawkins, who completed 29 of 44 passes with three touchdowns and two interceptions.
"I am still trying to figure out why it wasn't a touchdown. I don't understand it. Does anyone have an idea?" CU receiver Scotty McKnight asked the media.
The media had no answers.
Coach Dan Hawkins' take?
"No comment," he said.
He also had a "no comment" regarding results of an onside kick recovered by KU's Bradley McDougald with 11:05 left, with CU still up, 45-24.
"It didn't look like it, he had it," coach's son Cody Hawkins said of CU's Cameron Ham, a player the Buffs felt had possession of Jacob Branstetter's squib kick.
"I was right there. I think you could clearly tell Cam had the ball. They didn't touch it. He (McDougald) jumped over the guy's back. I don't know how you are going to reach over behind your back and take the football away from somebody who has it."
Cody said the disputed calls didn't decide the game.
"Obviously you have to play with the referees because they helped us out on a couple calls today, too," the QB said."There was a roughing the passer that I should have won an Oscar on and a couple pass-interference plays down the field that played in our favor.
"You can't blame it on the referees. They (Jayhawks) were playing like they thought they were the best team in the country, and we were allowing them to do that."
The Buffs (3-6, 0-5) still were in decent shape when coach Hawkins huddled the team after a KU score that cut the gap to 45-31 at 9:26.
"He said, 'Cmon, guys, we are up by 14. We can still win the game.' That's when we knew like, 'Man, there might be a chance we could lose,''' said running back Rodney Stewart, who gained 175 yards off 27 carries and scored three touchdowns.
Coach Hawkins explained his own message as: "Just go relax. We are still up by 14. Let's go. We're the team that's ahead. We're still in control here."
Senior QB Hawkins was hurting emotionally as he iced his right shoulder after the game.
"I mean, shoot, was that 35 unanswered?" Cody asked. "This is by far the worst I've ever felt after a game. When you think you have it in the bag and all of a sudden the bag rips open and everything starts going against you, it's tough."
More like this story on KUsports.com