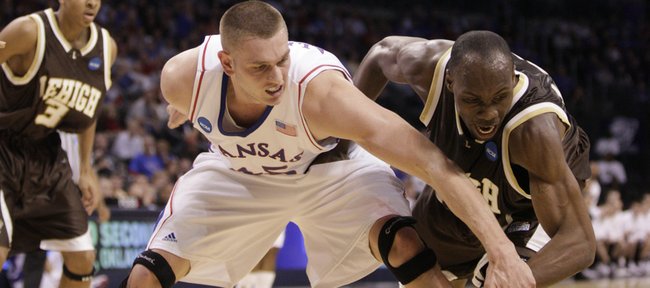 Videos
KU vs. UNI pregame
Kansas will take on Northern Iowa Saturday in the 2010 NCAA tournament. The Jayhawks are looking to advance to the Sweet 16.
Photo Gallery
Pregame interviews: KU vs. UNI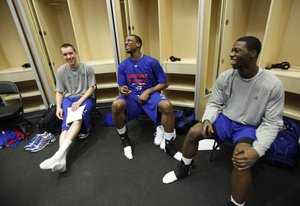 Kansas basketball players answer questions from the media Friday, March 19, 2010. The Jayhawks will face Northern Iowa Saturday afternoon.
Oklahoma City — Underpublicized University of Northern Iowa center Jordan Eglseder knows all there is to know about renowned Kansas University big man Cole Aldrich.
"I see him on TV all the time. He blocks 100 shots a game," said Eglseder, a 7-foot, 280-pound senior man mountain from Bellevue, Iowa.
Eglseder takes a team-leading 11.9 scoring average and 7.4 rebound mark into today's second-round NCAA Midwest Regional game, set for a 4:40 p.m. start in Ford Center.
"He's skilled, powerful. I need to get into his body to see what I can do," added Eglseder, who, like Aldrich, is not afraid to throw his weight around.
Of course, Eglseder has more body to work with. Aldrich, who averages 11.2 points, 9.8 rebounds and 3.5 blocks, tips the scales at 6-11, 245 pounds.
"He's just a big body," Aldrich said of Eglseder, who scored nine points and grabbed 10 rebounds while playing 18 minutes in Thursday's 69-66 first-round victory over UNLV.
"Dexter Pittman (Texas' 6-10, 290-pound pivot) is probably one of the best you can compare to him. He moves his feet well and has great hands," added Aldrich, who had seven points off 2-of-10 shooting with five rebounds while holding Pittman to three points off 1-of-5 shooting with three boards in KU's 80-68 victory over the Longhorns on Feb. 8 in Austin.
Eglseder had 20 points and 14 rebounds in a huge 63-60 victory on Dec. 2 at Iowa State
Like Aldrich, Eglseder recalls facing just one true pivot this season. That'd be Garrett Stutz, a 7-foot, 240-pound sophomore from Wichita State.
He had 10 points and four boards, compared to Stutz's 11 points and six boards in UNI's 67-52 victory in the Missouri Valley postseason-tourney title game. Stutz, who is just a sophomore, played sparingly in the other two games versus UNI.
"I'd definitely rather play against one bigger guy than two 6-6, 6-7 guys who guard me. It makes it a lot easier," Eglseder said.
"Just going out and seeing another true center is always fun. It's going to be a battle in the paint tomorrow," said Aldrich, who had five blocks in KU's 90-74 first-round victory over Lehigh and needs just seven to tie Greg Ostertag as KU's top shot-blocker in history (he has 251 to Ostertag's 258).
Actually, these two pivots have played against each other before, though details are somewhat sketchy.
"His 15-year-old AAU team, the Minnesota Magic, came down to Cedar Falls. I was a junior (at Marquette High). He was a sophomore. They made a three at the buzzer to beat us," Eglseder said. "We were both around the same size. He was more athletic than I was. It was pretty physical."
Aldrich has a recollection of going against the left-handed shooter.
"My dad called me today to share a memory about that," Cole said. "It's tough to remember. We've played so much basketball between now and then. I do remember going there for an AAU tournament. He was good back then, and he's only gotten better."
Eglseder, who has never fouled out in a college game in a career spanning 163 games (Aldrich has fouled out in two of 110 games), will find out today if Aldrich is the best big man he ever has faced.
His current No. 1 foe? Andrew Bynum, a 7-footer who plays for the Los Angeles Lakers.
"He was a handful," Eglseder said of Bynum, whom he faced in a camp setting.
KU coach Bill Self, who has to worry about more than stopping Eglseder (UNI has made 220 of 617 threes for 35.7 percent and has held foes to just 54.6 ppg), knows what Aldrich has to do to win the matchup and help KU win the game.
"One of the keys is Cole needs to be the most athletic, quicker of the two," Self said. "He's not going to go through this guy at all. He didn't go through Pittman at all. He has to go in understanding he has to make a quick move because there's going to be some other purple jerseys down there on top of him.
"It'll take footwork and catching the ball in areas where he (Aldrich) can go to work as opposed to catching it outside the scoring area."
More like this story on KUsports.com