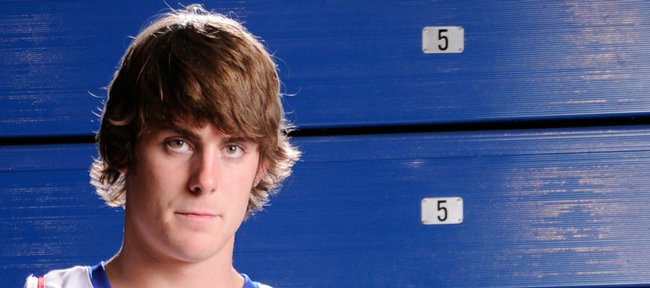 Photo Gallery
Pregame interviews: KU vs. UNI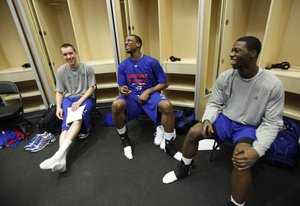 Kansas basketball players answer questions from the media Friday, March 19, 2010. The Jayhawks will face Northern Iowa Saturday afternoon.
Oklahoma City — Kansas University football coach Turner Gill won't know who his quarterback will be until he sees all the candidates compete for the job during spring practice. It's possible Gill will have one more candidate than even he knows.
Conner Teahan, a junior walk-on on the Kansas basketball team who was highly recruited as a quarterback out of Rockhurst High, said once the basketball season ends, he'll give thought to whether he wants to resume his football career.
"I would be lying if I told you it didn't cross my mind, that's for sure," Teahan told the Journal-World before Friday's basketball practice inside the Ford Center. "But I don't know. Would I do it? I'm not saying I wouldn't do it, but we'd have to see where we are at the end of the basketball season."
Teahan repeatedly emphasized he is training his mental and physical energy on the goals of the basketball team. Proving his mind is trained on basketball, Teahan, a 6-foot-5, 215 pound three-point-shooting specialist, said he has not spoken with anyone from the football program.
"I would only do it if I thought there was a chance to compete for the starting job," Teahan said. "I've always been very confident in my football skills. I've always had a strong arm, and I feel like my height has helped me. I'd have to put on some pounds and get a little bit stronger, which I understand. But, I mean, it's something that I definitely have not put that option away."
Teahan said he was offered a football scholarship from Tulsa and was told by a Missouri coach that he would be offered one if a player the Tigers were waiting to get a commitment from went elsewhere. He also said he talked with former Kansas State football coach Ron Prince and was recruited to play both sports by K-State.