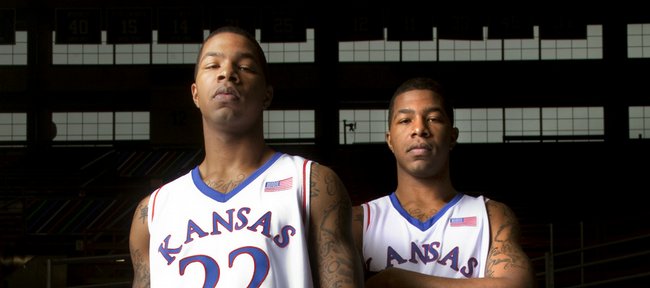 Videos
KU vs. UNI pregame
Kansas will take on Northern Iowa Saturday in the 2010 NCAA tournament. The Jayhawks are looking to advance to the Sweet 16.
Photo Gallery
Pregame interviews: KU vs. UNI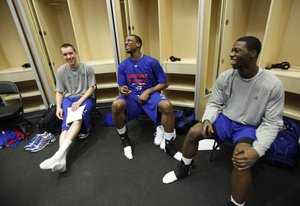 Kansas basketball players answer questions from the media Friday, March 19, 2010. The Jayhawks will face Northern Iowa Saturday afternoon.
Oklahoma City — If Philadelphia hadn't already been coined the City of Brotherly Love, someone familiar with the city's basketball-playing Morris twins might have thought to name it that.
Marcus Morris, a star on the Kansas University basketball team, and Markieff, the most valuable reserve, never shy from talking about how close they remain. They take great pride in each other's accomplishments and never display even a hint of jealousy.
"Just having him around is fantastic," said Marcus, coming off a career-high 26 points and 10 rebounds in an NCAA Tournament first-round victory against Lehigh. "I love him, and he loves me, and we're best friends. We just enjoy being around each other."
The tendency of those of us who are not identical twins is to feel bad when look-alikes are mistaken for each other or grouped together when one of them makes a mistake. Watching the Morris twins interact would be enough to make any non-twin wish he or she had one.
Markieff had no trouble rattling off a few of the benefits.
"Growing up with somebody just like you, I guess," he said. "Always having a friend in need, always having a brother, always having someone there for you."
When they arrived at Kansas, the Morris twins didn't have a clue how hard Div. I basketball players had to work. Fully appreciating that became the springboard to rapid improvement. Marcus might be the most improved high-profile player in the country, and it can be traced to more than increased effort.
He, as does his twin, has an extremely keen aptitude for basketball.
It's not a surprise that the twins have sharp basketball minds because they've been talking basketball with each other all their lives, sharing critiques that make each other better and restoring each other's confidence after rough performances. Neither one of them ever had to go back to a room alone with negative thoughts eating at them after playing poorly.
"Having somebody you played with your whole life on the court with you, telling you how everything is, never sugar-coating it, it's good," Marcus said. "We've always had each other, so if he's doing something wrong I'll tell him, and if I'm doing something wrong, he'll tell me. We're so close that we keep each other in check and tell each other what we could do better."
They have differences as basketball players. Markieff is an inch taller, a better three-point shooter and a better shot-blocker. Marcus is significantly quicker, particularly moving his feet on defense, a far more skilled ball-handler and smoother with his pre-shot moves. Both have soft touches, even softer hands and excellent passing radar.
They are similar enough as players that their basketball brains also benefited from being able to do what amounts to watching film of a reasonable facsimile of themselves by watching their twin play basketball live every game.
"He knows my game better than anyone," Marcus said of Markieff. "It's also bad when we're playing one-on-one because he knows every move I'm going to make, and he knows where I'm going to shoot the ball."
The brotherly love can motivate one twin to relieve pressure from the other.
"In high school, if I had an eight-point game, I knew he would have a 20-point game and the other way around," Marcus said. "And that's what's been going on this year. If I'm not stepping up, 'Kieff is always coming off the bench and giving good minutes."
The twins' considerable aptitude in the hands of assistant coach Danny Manning, one of the smartest big men ever to play the game, has made for a nice combination.
"Danny taught us the game, and he's also been a father figure to us," Markieff said. "It's not always about basketball with him. Anything we needed to know, he taught us. Coach (Bill) Self has made us even smarter with his mentality of the game."
The twins' mother, Thomasine Morris, moved to Lawrence when they enrolled at Kansas. Their father?
"He's not really in our lives at all," Markieff said. "I know him. He's just not there, I guess. I know who he is, and I see him sometimes when we're home, but we just don't have a father-son relationship."
Markieff added: "When I have kids, I'm always going to be a father to them."
He always has his brother at his side and said he's happy their mother moved to Lawrence.
"It's a good way to get away sometimes," Markieff said. "Get home-cooked meals, washing clothes, small things like that."
Her specialty?
"Cornbread, fried chicken and white rice," said Markieff, who added he and his twin always will be grateful for the double shifts she worked in the emergency room while they were in Philadelphia.
Markieff said he doesn't get to have his favorite meal as often as he'd like during the basketball season because of the demands on his time. Most of the twins' time away from basketball and books is spent playing video games, sleeping, and watching ESPN. Markieff has been seeing a lot of his brother on the highlights lately.
"It definitely makes me proud of him to play the way he's playing," Markieff said. "I'm happy for him."
And he'll be ready to step in for him the moment he needs it most. That's what being a twin is all about.